Leeds United Only gave United  3000 tickets for this match on spurious crowd control grounds, then failed to sell out their tickets for a match gagainst man yo. United fans are in great voice with all the old classics coming out like Yip Jaap Stam, He scores goals galore…Paul Scholes, Keano's f$ckin magic and of course "Ooh aah Cantona" sang to the tune of La Marseillaise. It's a sign of United's on field dominance when United fans start trawling the old songbook, Uniteds support relaxed in the knowledge that the team are comfortable on the pitch. At no point during this match tonight were United under any threat. One more thing I noticed tonight was Michael Owen yet again nipping out of the traps to steal one goal and score another belter. Whatever anybody thinks of Owen personally, with his baggage and all that, one thing is obvious is that when he's on the pitch, he makes himself busy and never stops prowling for an opportunity.
The fabled Elland road atmosphere was nowhere to be heard from the supposedly passionate Leeds fans. Listening to the Alan "your nose is offside" Smith on SKY tv lionise the Leeds fans for continuing to support their team with such noise when all I could here was United fans was typical of this idiots ignorance. I wasn't mad on Andy Gray, but after listening to this boring berkshire hunt for the past six/nine months, it's a case of come back all is forgiven, either that or give Gary Neville more prominence. He reminds me of Trevor Francis when he had, a thanfully brief, time behind the microphone for ITV in the late 80s early 90s.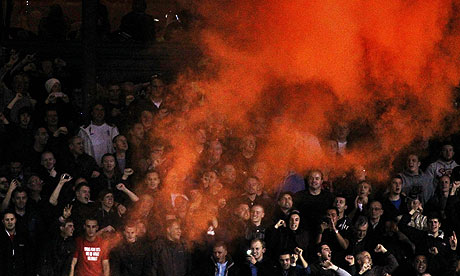 Leeds to me is nothing more than a jumped up rugby town with a collective of fans that are an embarrasment to knobheads. Association football dosen't suit the psyche of this place, the ball's the wrong shape. With their denial of tickets for United fans, coupled with their failure to sell out their tickets, I only hope that this has an adverse long term financial effect on this Ken Bates owned, joke of a football club.