In alphabetical order, a review of the teams United have played this season.
Aldershot Town
Two days after the 6-1 defeat to City, United played Aldershot Town. The timing of the game was a godsend bearing in mind what had happened 48 hours earlier. Any outside hope that Aldershot would have had by pulling a shock off were evaporated by the City result. League Cup or not, there was no way Sir Alex Ferguson was going to tolerate a defeat to Aldershot in the aftermath of the City match. Everything went alright on the night. Travelling United fans weren't extorted on the ticket price, United won 3-0 without getting into third gear and 4,000 loyal, salt of the earth and local club supporting Aldershot fans went to their first and last match for ten years.
A mock up picture of Sir Alex Ferguson outside Aldershot's Recreation Ground
Amsterdamsche Football Club Ajax
As consolation prizes go for getting knocked out of the Champions League go, a trip to Amsterdam for the travelling Red army was probably about as good as it could get. After a frenzy of excited text's bounced back and forth, harsh reality kicked when the cost of flights suddenly suddenly took off and United were allocated 2,000 tickets for a match I reckon they could've taken 15,000 too.
The general belief amongst the media and football people before this tie was that United would be too strong for Ajax. Over the two legs their predictions were proved right, JUST. United won the first leg comfortably after the odd scare in the first half. It was the second leg where the ultimately ignored wake up call occured. At Old Trafford, United were crusing with a 3-0 aggregate lead when Ajax suddenly took control of the match, going into a 2-1 lead with five minutes to go and giving United a very nervous ending to the tie.
Ashley Young puts United 1-0 up in Amsterdam on the hour
Arsenal
Never a match or a team to be taken lightly, Arsenal came to Old Trafford and gave a defensive display so bad that it looked like they'd never met each other before never mind played. Arsenal were lucky United only scored eight, there was at least four other good chances that United had, which were spurned. Predictably the return fixture at Ashburton Grove was a lot tighter but even then, it would've been a travesty if United wouldn't have won.
Arsenal are so unpredictable that next season, I wouldn't be surprised if they come to Old Trafford and deservedly won. As their results have shown this season, they can comfortably and deservedly beat AC Milan, City and Tottenham at home and Liverpool & Chelsea away for good measure then lose at QPR, Fulham, Wigan and draw at home to Wolves. I have no problem admitting that I enjoy watching their matches as a neutral if they're on the telly. This season they took part in two classic matches that I can quickly recall when they beat Chelsea 5-3 at Stamford Bridge and lost 3-2 to Swansea at the Liberty Stadium. On their day, they're a great side but they have too many off days to be in serious contention for anything other than a knockout cup. They remind me of the United side's of the 1980's that Ron Atkinson managed, great to watch but they don't win a fraction of the silverware that they should.
Ashley Young makes it 3-0 against Arsenal last August
Aston Villa
On the both occasions United played Aston Villa this season, Villa were garbage. Disjointed, dispirited and mostly disposessed. With Villa losing their star striker, Darren Bent to a season ending injury in late February coupled with the loss of Ashley Young last summer and throw into the mix the fact that the team were managed by the now dismissed Alec McCleish, a man the Villa fans clearly despised means that Villa park is not a happy place. I'm glad they didn't go down purely because it's a great away trip with an abundance of welcoming pubs and the match is played in one of the best stadia in the country. If there's one first prize Aston Villa can claim it's that through the West Midlands Police force, their stadium is policed by the biggest load of officious, supercilious and belligerent wankers that any travelling red has had the misfortune to come across.
The Villa Park crowd, Aston Villa and Manchester United players have a minutes applause in memoriam of Gary Speed on the 3rd of December 2011.
Athletic Club (Bilbao)
This was a rude awakening. Nobody was silly enough to think Athletic Club were mugs but there was enough confidence flying around before the match that some United fans, myself included, were looking at potential itineraries for a few days in Bucharest come early May. Until this night, Man City had given the best opposition performance I'd seen at Old Trafford since Red Star Belgrade had come and played United off the pitch in November 1991. By the end of the Old Trafford match against Athletic Club, City weren't even the best side I'd seen at Old Trafford this season. Just in case nobody had noticed the warning signs that were evident against Basle earlier in the season or even Ajax, two weeks before this fixture, Athletic Club came to Old Trafford and firmly put United in their place. That United only lost 3-2 on the night and 5-3 over the two legs is an anomaly. The peformance that Athletic gave a week later in the San Mamés was if anything and if possible, even more emphatic. The most worrying thing about the performances against Athletic Club is that they were thrashed as comprehensively in the Europa League final as the the beating they gave United. Where the hell does that leave us ?
Wayne Rooney scoring for United in the San Mamés
Fussball Club Basel 1893
The Basel match at Old Trafford was United at their most complacent and arrogant worst. Apparently cruising 2-0 at half time with two goals in rapid succesion from Danny Welbeck, Basel who'd shown in the first half that they were not to be taken lightly hit back with two goals in equally quick succesion on the hour from Fabian Frei and his none related near namesake, Steven Gerrards old pal, Alexander Frei. A soft penalty conceded by Antonio Valencia allowed Alexander Frei to put Basel deservedly 3-2 up before Ashley Young saved a point and some face for United in the 88th minute. United were unlucky to lose the return game in Basel but the main damage for Uniteds ambitions for the Champions League was done at Old Trafford against Basel, the defeat at the St. Jakob-Park just sealed it.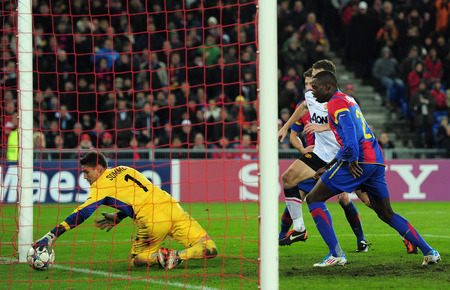 Phil Jones scores in Basel for the second match in succesion
Sport Lisboa e Benfica
After Uniteds rampant start to the season, the away game to Benfica was the first sign that United weren't the world beaters they'd look like until then. United started defensive mindedly against an originally terrified Benfica side in Lisbon. Once Benfica realised that they weren't gonna get obliterated they gained confidence and deservedly took the lead with a great swivelling volley from Oscar Cardozo halfway through the first half. Ryan Giggs equalised with another great goal just before half time but United could do nothing else in the second half. In the return game at Old Trafford, suicidal defending against Benfica cost United in a match that ended in a 2-2 draw. It's as much performances against Benfica than against Basle that cost United in the Champions League this season. Benfica are not a bad side but they shouldn't be knocking United out of a European competition.
An early Phil Jones own goal puts Benfica 1-0 up in the match at Old Trafford
Blackburn Rovers
A nasty shock came United's way on New Years Eve when Blackburn deservedly won at Old Trafford. Although Blackburn were in a self destructive mess when they turned up at Old Trafford, they had only a few days before ground out a point at Anfield. With United scoring five in succesive matches prior to Blackburns visit, most people expected a cricket score against a beleagured side. Blackburn who played their traditonal spoiling game were full of fight and bluster for the match, going two up then scoring a winner from a David De Gea mistake after a Dimtar Berbatov brace brought it back to 2-2.
At the return game at Ewood Park, Blackburn were as usual stubborn and difficult to break down. Lethargy and a stroke of genius from Antonio Valencia in the last ten minutes set United off to a 2-0 win. As for Blackburn, I'm not at all sorry to see them go down. I don't think anybody outside their tiny core of support who will be, most people in Blackburn can't be arsed with them from what I can see. A club that has thousands of empty seats for the visit's of United, Arsenal etc have no place in the top league. Then you have the Blackburn fans that do go, they who conduct a witchhunt against their manager that what have the Ku Klux Klan shaking their heads at the severity of it. After having the title bought for them by an embittered benefactor, the chickens (sponsored by Venkys) have now well and truly come home to roost. Good riddance Blackburn, don't be rushing back. Cluck fuckin' cluck
Grant Hanley heads Blackburns winner on New Years Eve after a David De Gea mistake
Bolton Wanderers
An early season 5-0 romp in what is sometimes a tricky away match was a sign of how poor Bolton are as a side. United were 3-0 up within 25 minutes and the reds went into cruise control for the rest of the match. . The return match at Old Trafford was a far more tense affair. Bolton were never in any danger of winning the match but they managed to do what they do best and stifle the match until first half injury time. Paul Scholes started the ball rolling in with his first goal for United after his return from his sabbatical.
I'm glad Bolton have been relegated and are now back where they truly belong taking their streaky haired, moustachioed four fingered Munich singing fans with them. Them and their nearby cousins/lovers from Blackburn are in their correct place, like Blackburn, I hope they're not in any rush to get back. The Premier League will cope just fine without them
Paul Scholes breaks the deadlock against Bolton Wanderers in January
Chelsea
The most intriguing thing about Chelsea at the start of this season was to watch how new manager Andre Villas Boas handled the more senior players and the powerful clique that they've fostered. They had already seen off a pretty robust character in Felipe Scholari. the most obvious thing to me was that while Villas Boas is very intelligent man who clearly knows his football, he was too callow and ill equipped to deal with the cesspit of poison at Chelsea which revolves around their senior players. From where I'm standing, this is a great thing. As daft as it sounds, it seems that players like Frank Lampard, Ashley Cole and John Terry have got a place in the first team for as long as they want. At least two of them three players just mentioned are past it.
Chelsea were blown away at Old Trafford in first half performance which at the time looked like echoing the massacre of Arsenal two weeks prior. In the end United took their foot off the pedal in the second half. Fernando Torres scored a brilliant goal for Chelsea in the 46th minute but what the game will forever be remembered for is the open goal miss Torres did with five minutes to go. At Stamford Bridge, United found themselves 3-0 down before two Rooney penalties and a late header from Hernandez secured a draw. It was the very least United deserved. There was a lot of frustration in the end that United didn't win the game. Normally when I hear people saying that, after United have recovered a 3-0 deficit, I'd tell them to get over themselves but this time, I agreed. Chelsea were there for the taking and United should have won the game.
August 2011 was the first pre-season since the summer of 2003 where it was obvious that Chelsea had no chance of winning the title. At the other end of the season the Chelsea side are showing no signs, bar the signing of Gary Cahill that there's any handover of personell. The fact that they won both the FA Cup and the Champions League might persuade Roman Abramovich and John Terry that there's not much need changing there. As for Roberto Di Matteo or any near futured Chelsea manager, who cares what they think ?
The first of Wayne Rooneys three penalties against Chelsea this season, he missed this one and scored the other two
Crystal Palace
This was a United performance so bad that it prompted a rare Fergie apology. Crystal Palace played like a team who wanted to win against a United team packed with fringe players, several whom I believe signed their Old Trafford exit visa's with this performance. Crystal Palace fully deserved this win in this League cup quarter final match, they would be knocked out by Cardiff City on penalties in the next round.
Darren Ambrose scores one of the best opposition goals I've ever seen at Old Trafford for Crystal Palace
Everton
The fact that this season Everton have beaten City, Chelsea and Tottenham Hotspurs as well as getting to the F.A Cup semi final is to me, testament to the brilliance of their manager, David Moyes. Operating on a net spend less than United under the Glazers and a playing budget that would've seen his fellow Glaswegian across Stanley Park sectioned, he has Everton in a position of stability after the turbulent decade that preceded his appointment. Everton's conundrum is that under the present regime and financial constraints, they have next to no chance of winning anything. Everton are not a good side but as we are only too painfully aware, they have a stubborn resilience which means that you can never relax or take the foot off the pedal no matter where you are in the game with them. The fact that in consecutive seasons, United have blown two goal leads against Everton late in the game is also a show of how spirited a side they are. Last season, United got away with that carelessness, this season, well, we all know what the result of that was….
Danny Welbeck goes past Everton full back Tony Hibbert at Goodison Park in October 2011
Fulham
Craven Cottage has been in recent times, a pretty unforgiving ground for United to visit. This season in the last match before Christmas, United went to Fulham and obliterated them 5-0. The match at Old Trafford was a far more tense affair, United survived a last minute penalty shout when Michael Carrick fouled Danny Murphy. Wayne Rooney's goal just before half time giving United a 1-0 win. Fulham are a pretty mediocre side but in Danny Murphy, Damian Duff and Clint Dempsey, they have players that can create problems if allowed to play. Should manager Martin Jol stay for next season, I'd expect Fulham to be a harder side to beat.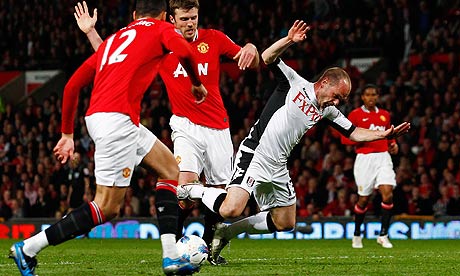 Michael Carrick and Danny Murphy collide in the United penalty area
Leeds United
Last September in the League Cup, a fringe United side beat Leeds United 3-0 with all three goals, two from Michael Owen and one from Ryan Giggs coming in the first half. This was slight atonement for the disgraceful United performance against Leeds in the F.A Cup at Old Trafford in January 2010.
As for Leeds, they were shit on the night, shit now and even when they have or more accurately, had a good side, they were shit. I hate Liverpool FC with a passion but I'm honest enough to admit that if they weren't around, I'd miss the matches between United and Liverpool. Leeds have been back where they belong in the lower divisions since they were relegated in 2004, long may they stay there and then some more.
Ryan Giggs scores against Leeds and ask's the sheep fornicators, just what was it you were saying ?
Liverpool
With Liverpool becoming this season's League Cup Champions (© Glen Johnson), I was hoping that it should cement Kenny Dalglish's position to finish off the destruction from which he originally did a runner from in 1991. The more pragmatic and less sentimental bostonians who've invested so much money into Liverpool FC were not swayed by that success, alas. Looking at the reaction of Liverpool fans being interviewed around Anfield after Dalglsh's dismissal, one thing was abundantly clear. This was a rare unifying moment for United and Liverpool fans. Liverpool fans appeared to be distraught that king kenny had been sacked, over our end of the 62, we were equally disapointed. I'm just waiting for the howling marches and protests down Scotland Road.  Liverpool are rubbish and their more knowledgable fans know it too.
The league match at Anfield was a typical modern day Liverpool performance against United. Liverpool played above themselves yet if it wasn't for United's profligacy in possesion, United would've won comfortably. Same thing occured in the FA Cup match where United played Liverpool off the park and but for some poor finishing and at the end of the game, poor defending, United would've knocked Liverpool out. The match at Old Trafford finally provided a fair result in this fixture when United won 2-1. A typically frantic finish was provided after a needless free kick was conceded by Carrick and the pride of LFC, Luis Suarez score with ten minutes to go.
Every pre-season unrealistic optimism on Liverpool rears it's head. Some football pundits and scribes with no apparent rationale, predict that Liverpool will win the title. This season there was so many Liverpool matches that ended up in a draw, the scousers ended up with a raging dose of the munchies.
For all my disdain of Liverpool FC though, this is still the first fixture I look for when they're published in June. No amount of money can buy or manufacture the rivalry we have with Liverpool. All said, I bet not even though the most biased or deluded Liverpool fan or ex-player will be tipping them for next seasons title come August.
Wayne Rooney put's United 1-0 up against Liverpool in February
Manchester City
A lot of people who witnessed Mike Summerbee make a complete berk of himself on the television after the Old Trafford derby of 2010/2011 forgot one very prophetic thing he said that afternoon when he stated with some vigour that "we'll come here soon and turn these over". As good as his word, City returned in October and gave a devastating performance in possesion and counter attacking football, Yaya Toure and David Silva in particular outstanding in City's 6-1 win.
After City blew a 2-0 lead against United in the Community Shield, I wrongly thought that it was the usual City getting gobby but having no bottle. The August bank holiday weekend made me think again when they thrashed a very good Tottenham side 5-1 at White Hart Lane. City began the season playing well and looking good despite the hiccup of ceding a 2-0 lead at Craven Cottage to draw 2-2. After City won 6-1 at Old Trafford, for the second year in succesion, City fans had declared themselves league champions before the clocks went back. In the Autumn on 2010, United fans laughed at City fans getting ahead of themselves again, this season, the laughter wan't so prominent. City fans had until then, had all the cool of a fourteen year old lad who'd been smiled at by the pretty girl in the year above.
City survived a tricky pre Christmas run with just one defeat and that was an unlucky but from my eyes, very welcome defeat at Stamford Bridge. In January, City won their first trophy of the season with their moral victory when they were beaten by United in the F.A Cup third round, they were later to complete the moral double against Sporting Lisbon in the Europa League. After a dip in luck and form at the begining of the home straight, City recovered from a loss at Arsenal to win their next six games and capitalise on on a dip in United's form. With the respective run-in that both United and City had, United should have won the title, City did and if nothing else, for that alone, City deserve to be champions. There are other reasons too but with City fans popping out of holes like a labor of moles, all my fellow reds over the summer will find out why over the summer, without me going into it here.
City's ex-captain and beloved prodigal son, Carlos Tevez show's his class on the open top bus alongside his deliriously happy team mates who are not giving a single thought to their summer holidays 
Newcastle United
Started the season well, not losing a league game until the middle of November when they visited City, the following week they stole a draw at Old Trafford due to a penalty given by a linesman of staggering incompetence. After the United's New Years Eve debacle at Old Trafford against Blackburn, United travelled to the Sports Direct arena and after a promising start to the game from the reds, ended up being well and deservedly beaten 3-0.
Newcastle have punched well above their weight this season and have surprised a lot of people, especially after the departure of (in my opinion) their best player, Joey Barton on as free transfer in the summer transfer window. Their goalkeeper, Tim Krul has been a revelation but also they've been bolstered by the excellent Demba Ba, attacking midfielder Hatem Ben Arfa and January signing, Papiss Demba Cissé. Whether these players are one season wonders or not, remains to be seen but one thing I'm confident of is that if them players carrying playing to that form, they'll be gone from Newcastle by the end of next season.
Rio Ferdinand concedes a penalty against Newcastle at Old Trafford by performing a perfect tackle on Haten Ben Arfa, given by linesman/assistant referee, RAF flight-sergeant John Flynn.
Norwich City
On the surface, United did the league double over Norwich this season but in both games the canaries gave United a scare. The last minute smash and grab by Ryan Giggs has to be one of the highlights of the season for the insanity which greeted it and also it's sheer injustice for once working in our favour. Norwich are a good side stewarded by, in Paul Lambert a good, level headed manager. I can't see Norwich ever winning anything with him but he'll keep them safely in the Premier League for the forseeable future if they, like Everton, Sunderland etc are happy with that. Any reds thinking of going to Norwich next season, I'd advise them to do it. Norwich is well worth a visit but do an overnighter either the day before the game or the night of the match. Going there and back in the same day feels like a flight to Sydney.
Anderson scores United's first against Norwich last October
FC Otelul Galati
I had little to say about Otelul Galati when United played them in October and November last year, I have even less to say about them now. Two 2-0 wins for United and job done.
Antonio Valencia tussles with Adrian Salageanu of FC Otelul Galati
Queens Park Rangers
United swept QPR away in both fixtures with 2-0 wins without too much of a problem. QPR are a strange team, they beat Arsenal and Liverpool at Loftus road, the latter in a glorious 3-2 win having been two goals down. They were very unlucky to lose 3-2 to at home to an unstopable looking City side, they also lost by the same score in the return game, that was more careless. Over the two fixtures this season they didn't pose United a single problem. If I judged them on their performances against United I'd be wondering how they stayed up. There's obviously something more to them than they've shown against United. If Mark Hughes sticks around at Loftus road then they will shock a few teams next season.
Michael Carrick put's United 2-0 up at Loftus Road
Sunderland
Sunderland gave a stubborn performance at Old Trafford in a game in which United won by an own goal in first half injury time by Wes Brown. In the return game at the Stadium of Light, United should've won by a cricket score but for some sloppy finishing, most memorably from Wayne Rooney. Now managed by boyhood mackem, Martin O'Neill, I expect them to a harder team to beat next season, particularly at home.
Wayne Rooney being Challenged by Sunderlands' Lee Cattermole
  Stoke City
It has been mooted that as an experiment next season, games involving Stoke City won't be refereed but instead monitored by an air traffic controller. The first points United dropped this season was at the atmospherically over-rated Britania stadium. On the day Stoke deserved the draw but that was down to United's typically sloppy and complacent play when in front against a team as mediocre as Stoke. At Old Trafford on the last day of January, United went through the motions in beating a poor Stoke side with two penalties, one from Javier Hernandez and the other from Dimitar Berbatov. As for the generally well lauded Stoke City fans, anybody who boo's Aaron Ramsey for having the temerity to suffer a compound leg fracture at their ground, like Stoke fans did, are sick. Nobody would miss this club if they went down. I said in my blog after the Stoke match that I'm grateful to my parents that I don't come from Stoke, I repeat it here. Thanks Mam, Thanks Dad
Javier Hernandez put's United 1-0 against Stoke up from the penalty spot
Swansea City
Managed by a young, intelligent and ambitious man from Carnlough, Swansea City have in Brendan Rogers a manager who's gonna go a long way. With a side mostly inherited from Roberto Martinez reign, Rogers has Swansea playing the same kind of football which Martinez so stubbornly and in my opinion admirably has his teams playing. Swansea buck the trend of recently promoted teams by playing football on the floor. They took part in one of the best games I saw this this season as a neutral when they beat Arsenal 3-2 at the Liberty stadium in January. United beat Swansea with some ease in both fixtures this season but for all that, Swansea have proved that they are no mugs having beaten Arsenal and City as well as getting draws at places like Anfield and St James Park.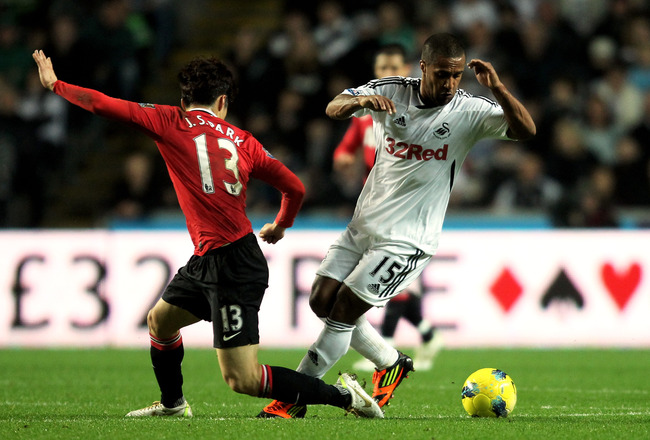 Ji Sung Park and Luke Moore battle for the ball at the Liberty Stadium in November 2011
Tottenham Hotspur
Tottenham are cursed playing against United. No win against United at all since May 2001, since then they have blown a three goal lead and a two goal lead in matches against United and still lost. Despite what Harry Redknapp said, they were well beaten at Old Trafford but they were robbed by United at White Hart Lane. Tottenham are a good side but how long they remain so, remains to be seen. They frequently in record time, hit the peaks and depths but one thing I do know is that when they do finally record a win against United, they'll celebrate like they've won the title. I'll forgive Tottenham that, I have and always have had, a great respect for the club and the type of football they traditionally play.
As for Tottenham's season, they as per usual, promised so much without winning anything. This season they've had the misfortune to be in a qualifying spot for the Champions League, only to see Chelsea nick it off them by beating Barcelona then Bayern Munich in the final. Routed by Chelsea in the FA Cup semi final with a final score which told as many lies as goals it displayed, Tottenham also blew a two goal lead at Arsenal and lost a last minute goal away at City scored from a penalty by a player who shouldn't have been on the pitch. The weather may be glorious but it will be a long, overcast and miserable summer at White Hart Lane
Nani goes past Luka Modric in the match at White Hart Lane
Wigan Athletic
An absolute shambles pre Christmas, Wigan had been thrashed at home by Arsenal. They'd also drawn at home to Liverpool in a game that's now better remembered for the Luis Suarez t-shirt fiasco just prior to meeting United on Boxing Day. After their performance they gave at Old Trafford, they were to my eyes, a racing cert for relegation. In the four weeks from the middle of March, they were robbed of a point at Chelsea by poor refereeing but they had deservedly beaten Liverpool at Anfield, Arsenal at Ashburton Grove, inflicted a very expensive defeat on United and clobbered a Newcastle side chasing Champions League qualification. Managed by a man who believes in playing football on the floor and a team with a lot more balls than I'd previously given credit for, my only downer on Wigan is their piss poor support. The ball's the wrong shape for the most the towns inhabitants.
Dimitar Berbatov scores the second goal of his hat-trick against Wigan on Boxing Day
West Bromwich Albion
United's first opponents in the Premier League this season. In the first twenty five minutes, United threatened to overwhelm West Brom at the Hawthorns with Rooney putting United into an early lead. Shane Long equalised for WBA on 37 minutes, forcing an error from United's new and obviously nervous Spanish goalkeeper, David Dev Gea. In the end, United were lucky to beat West Brom with an own goal which came from Steven Reid after an Ashley Young cross. At the time of the return match at Old Trafford, West Brom were still celebrating their recent thrashing of their local rivals Wolves, away from home (not the first time I've heard that this season). They were never going to repeat that feat at Old Trafford. They played looking like a team striving for damage limitation.
Wayne Rooney takes on WBA's Youssouf Mulumbu and Jonas Olsson
Wolverhampton Wanderers
Wolves had a chance of staying up until they inexplicably sacked manager Mick McCarthy in late Ferbruary without having a replacement properly lined up (they would still have to pay McCarthy's contract up). Terry Connor who took over is clearly a decent bloke but he's also a classic number two to the manager. Popular with players and a knowledge of what really goes happens on a football pitch, like Brian Kidd, he's just too nice a guy to be a manager.
United merely went through the motions in beating Wolves 4-1 at Old Trafford on a freezing Decmber afternoon. In the return game at Molineux, United ran riot winning 5-0 against a spirited but hapless Wolves side. I do hope Wolves come back up ASAP. The footballing romantic in me believes there should always be a place in the top league for real football clubs like Wolves, Blackpool, Notts County etc. Contrary to what a lot of post EURO 1996 football fans believe though, there's not much room for sentiment and romance in football.
Jonny Evans scores his first ever goal at Molineux to give United a 1-0 lead and ruin everybodies first goalscorer bets