Let me get one thing straight, United don't do moral victories. We leave that to big time and small minded clubs like City and tonights opponents, Chelsea. If however United have to lose a match, then the fashion it was lost in tonight is perfectly acceptable to me. It's obviously disapointing to be knocked out when literally seconds away from winning but find me anybody who would swop Sundays result for tonights outcome.
Ryan Giggs brings the score back to 5-4 in the last minute of Extra time
Both teams came out on the pitch with sides of equal calbre in regards of age and experience. After a lively yet cagey start, Ryan Giggs scored for United on 22 minutes after brilliant work by Anderson who disposessed a dozing Oriol Romeu who'd been given the ball from a short goal kick by Chelsea keeper Petr Cech. When the goal kick was taken, Ryan Giggs was near the halfway line but alert as ever to opportunity, ran upfield to be fed by Anderson for his first goal of the season.
Anderson mugs Oriol Romeu to set up a waiting Ryan Giggs for United's first goal
Nine minutes later, Chelsea equalised when Victor Moses forced Alexander Büttner into giving away a definite penalty. United keeper Anders Lindegaard was painfully close to saving the penalty from Chelsea's poodle headed centre half, David Luiz. Worryingly though, several times tonight, Victor Moses had run Büttner ragged, it was a small mercy when he was taken off at half time. My understanding is that Alexander Büttner is the long term replacememt for the now erratic Patrice Evra. I'm hoping tonight was just one of them nights for him as there are better wingers out there than Victor Moses. Just before half time, Anderson capitalised on a David Luiz mistake to play Javier Hernandez through to put United 2-1 in front. It was a truly brilliant finish from Hernandez.
Javier Hernandez puts United 2-1 in front just before half time
Some naive defending by Scott Wootton and Michael Keane caused the 2nd Chelsea goal when ex Bolton Centre half Gary Cahill was allowed a free header to head home. Rafael headed the ball out but it was definetly over the line. With Chelsea bringing on a trio of senior players in Ramires, Eden Hazard and Oscar in the second half, they were playing their final hand and showing how desperate they were to stay in the competition. United could've been overrun with them and Juan Mata in the side but the reds held firm and never really looked in any danger. Six minutes after Cahill's equaliser Nani scored a beautiful goal, flicking the ball over an oncoming Petr Cech to put United 3-2 in front. United could've run riot here, a poor finish from Anderson and Hernandez could've put the game to bed before Scott Wooton gave away a daft penalty deep into injury time. With virtually the last kick of the 90 minutes Eden Hazard rolled the ball down the middle to equalise.
Nani flicks the ball over Petr Cech to make the score 3-2
With all the momentum in Chelsea's favour, I didn't think extra time boded well. In the end, United gave a performance tonight both on and off the pitch which reminds me why I love the club. Scott Wooton was caught out by a combination of youthful naivety and lethargy to gift body popping City reject Daniel Sturridge a goal in the 7th minute of extra time to put Chelsea in front for the first time on the night. Four minutes before the end of extra time, Ramires, who'd been set up by Eden Hazard danced around Anders Lindergaard to make the score 5-3. In the last minute of extra time Ryan Giggs brought the score back to 5-4 from the penalty spot after a foul on Hernandez by César Azpilicueta. It was too little too late but for me, even though United lost, there were far more positives tonight than anything to get upset about. Danny Welbeck had an awful game which will hopefully be out of his system next time he plays. Scott Wooton made a couple of glaring errors but he's young and if he has to make them mistakes, a match like tonight is the right time to do it. Ryan Giggs was to my eyes tonight immense. A lad of his age playing the whole 120 minutes against a pretty experienced Chelsea side and only once did I think he looked tired.
Chelsea fans only woke up in extra time and then only when they went in front. With their sudden determination to remind us that they're the Champions of Europe, that is obviously true but who will remember this Chelsea side in five years time apart from the clueless bigots that follow them ? People of my age will all remember the AC Milan side of the early 90's, the Ajax side of 1995, theUnited sides of 1999 and 2008 as well as that magical Barcelona side of recent years. Chelsea will be forgotten like the Steaua Bucharest side of 1986 and the Porto side of 2003. The United support was awesome. Relentless encouragement to the players, going through the songbook both old and new, boisterous and mostly good humoured. Of a whole host of great chants tonight, the best one from the travelling reds for me was 'Clattenburg, Clattenburg running down the wing…' to the tune of Robin Hood/Ryan Giggs song. The chant aimed at Daniel Sturridge early in the match of 'are you Torres in disguise' after he tripped over ball run it a close second. Now fasten your seatbelts for Arsenal on Saturday. After the unbelievable match of theirs at Reading last night and the way both teams play football, I feel we're on for a classic. Can't wait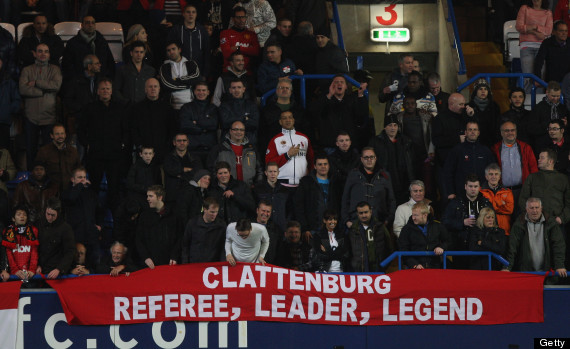 'We want Clattenburg, say, we want Clattenburg' Chelsea stewards did try confiscating this banner but like their team on Sunday, they failed miserably