You can always tell it's a big match when there's an announcement in the media that a load of tickets have been stolen for the forthcoming game. The first time I heard this was in 1983 when United were playing Brighton & Hove Albion in the FA Cup final and an envelope containing tickets for the match had apparently vanished from Gary Bailey's car. The fact that I have never heard of anybody being convicted for selling, being in possession or attempting to use a stolen ticket tells me that the police have been, at the very least, spectacularly unlucky in all these years of chasing the thieves who've stolen the tickets. Only the most cynical of people would think that these announcements were made to scare people from buying tickets off the child eatin', puppy drowning, mother trading *ticket touts (City fans, please look to the bottom of the page). Ticket touts as we all know, use the proceeds from their labours to fund terrorism, the importation of drugs and facilitating prostitution.
Next Monday will be without doubt, the biggest Manchester derby to have happened in my lifetime. I first went to a Maine Road derby in September 1985, shortly after City's promotion from the second tier, for a match which United won 3-0. It was the last time United ever outnumbered City in their home ground. In those days, virtually every United fan that wanted a ticket for Maine Road, got one. Over the years, particularly since the 5-1 in September 1989, it's been harder and harder getting tickets for City away but this match next Monday, is the first time I can say that no United fan of my aquaintance has, to my knowledge, got a ticket for the game. I don't even know anybody who knows anybody that's got one either. Some of the more outlandish claims have been, that tickets for the United end, have been changing hands on the black market for £800.00. Hence the sheer coincidence of the announcement that tickets have been stolen, alluded to in the last paragraph.
I can't say for sure who's going to win Mondays match or the title. One thing I know is that whoever wins the title between the two Manchester clubs, the other team will spend all summer rueing a blown opportunity. City fans have recently been frantically washing the towels they threw in after their loss at Arsenal nearly three weeks ago. At the time, they tried being philosophical about United's impending coronation. Suddenly, they were saying it's a season too early. Absolute rubbish, City's form in the first half of the season was that of champions, playing good football and winning games when they weren't playing well. As for United, a dreadful performace at Wigan was compounded by losing a two goal lead to a mediocre Everton side last Sunday. I'm confident of one thing, if United defend as badly against City as they did against Everton, Monday night will be a horror show. We could have a situation where the league title is decided on goal difference for the first time since Arsenal's magnificent win at Anfield in May 1989. SKY TV, never slow to hype up the most tedious of events, suddenly have a bona fide classic on their hands.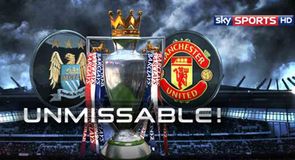 SKY Sports going for their usual understated subtlety
For years, City have been the cause célèbre of visiting southerners (love of the underdog), wacky students (hey, we're ironic), groovy dudes that say cool a lot and people who finish their sentences as if asking a question? One thing City have done brilliantly over the last twenty or so years is manage to convince people that don't live in Manchester that they're the most popular team/club in Manchester. If you read the backpackers bible, the lonely planet (UK edition), they claim Manchester is mostly populated by blues. 18 year old fresher students who move to Manchester for three years are given info packs making the same claim, that the lonely planet make. It's no wonder that so many of them end up getting a slap in their first couple of weeks in Manchester. We've also got ex cool cat (sic) and one man 1980s crimewave, Noel Gallagher, brainwashing everybody with his cat sat on the mat staring at the moon in june lyrics and re-cycled Beatles melodies, that Manchester is blue. We have the southern dominated national media spinning the same rubbish. They know very well the truth but the truth to them in this case, dosen't make a good story (or in any other case come to think of it). They're quiet happy to have the world believe that Manchester is inhabited by a load of rain soaked, flat capped, half witted and downtrodden lovers of mediocrity. The subtext of the mischievous media manipulation is that mancunians are not worthy of such a great club as Manchester United. Manchester people don't appreciate the type of football played by United or the success the club enjoy. The reason that Old Trafford is mostly populated by southern tourists, is because they're the only people in the UK sophisticated enough to appreciate the football. To use a culinary metaphor, United are the Kobe beef compared to City's steak and kidney pudding. Us earthy northerners don't go for that poncey rubbish, but of course…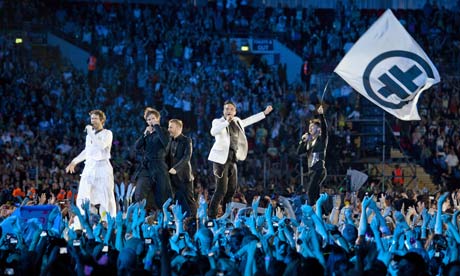 *To any City fans that may be reading this, a ticket tout is somebody who trades in tickets at sold out events for a premium. Obviously the only time they normally get seen at Eastlands is when there's a rock/pop concert on