Former Arsenal & Scotland goalkeeper, BBC sport anchor and all round nice guy Bob Wilson recently said that when he was a goalkeeper "you could tell where the ball was going to go five yards after it left your opponents foot, nowadays a goalkeeper doesn't know where the ball's going to go until it's five yards away from him". I quote this because Uniteds' talented but heart stopping goalkeeper, David De Gea, gave a performance today which reminded me of what Wilson said. His handling of crosses is diabolical. If a keeper comes out for a cross then his defence should know about it through a shout. This is something you learn at the age of eight. The fact that he ends up challenging his own defenders for a cross means either he's not putting a shout up or worse, his defenders don't trust him. On other occasions he flaps and completely misses the ball and creates chaos in his own area. A mistake of his from a cross on the 51st minute nearly caused a goal for Newcastle United. Newcastle fans were screaming at referee Howard Webb and linesman Darren Cann to award a goal after Papiss Cissé headed the ball goalbound following De Gea's mistake. The referee and the linesman called it right due to the fact that they had to be sure it crossed the line. Having now seen the incident from more angles than a protractor can give, you still can't be sure it's a goal so how they can tell it in real time is a mystery. How the on form Papiss Cissé didn'put the ball away with almost the entire goal at his mercy is the biggest surprise. David De Gea did what he does best and made a fantastic instinctive save even if he did cause the problem in the first place, today, in the space of 30 seconds, we saw the best and the worst of our young Madridian goalkeeper.
David De Gea pulls off an amazing save from Papiss Cissé
The most positive thing I can say about United for this season is that the reds have been erratic. Even though United deservedly lost to Tottenham last week, I took heart from United's second half performance (under no circumstances though a moral victory !!). In the second half of that match, for the first time this season United played the way we demand United play and the atmosphere was phenomenal. For all the spirit gained in that second half, I thought United blew the good momentum in Cluj the other night with a typically frustrating performance. On the quiet today before the match, what with the recent slapstick defending between the the trio of Rio, Evans and Evra and after last seasons New Year debacle at St James Park, I would've happily taken a draw, especially with the recent form of Papiss Cissé and Demba Ba.
Jonny Evans scores his second goal for United on 8 minutes
United started today with a very aggresive intent, Danny Welbeck missed a good chance on five minutes but we only had to wait another four minutes for a United goal after constant pressure. Robin Van Persie shown our absent portuguese flanker Nani how to take a corner where he found Jonny Evans for a true centre halfs goal. The goal reminded happily of the glut of goals Steve Bruce scored for United during his nine years at the club. Rafael was looking rampant flying down the right flank and on the 13th minute Danny Welbeck robbed Newcastles' vastly experienced but jittery Keeper Steve Harper. Welbeck should've scored but having done the hard bit, he lost his tracking and put the ball wide. After Harper had made an excellent save from a Wayne Rooney free kick on 16 minutes, I thought Steve Harper had found his bottle but a minute later Robin Van Persie floated in another exquisite corner to help Patrice Evra score his first goal for United since November 2010.
Patrice Evra brilliantly heading United 2-0 up on 15 minutes
Tom Cleverley gave us a stroke of déjà vu today. 11 days ago after making a terrible miss in the League cup match at Old Trafford, he scored a fantastic goal. That night it took him 24 minutes to atone for his error. Today it took him 14 minutes to make up for a similar error and what a goal it was. SKY commentator and part time psychologist Martin Tyler said he thought it was a cross. Bollocks, it was a brilliantly executed goal from a player who might now be finding his feet after losing a year of his career due to that cakey carthorse Kevin Davies of Bolton doing him just over a year ago. If that goal would've been scored by Steven Gerrard, David Silva or his teammate and predecessor Paul Scholes, everybody would falling over themselves to deliver platitudes. Because it was Cleverley, there was doubt as to his intent to score. If Cleverley scores a better goal than that in his career then we'll have something really special on our hands. The other thing I noticed today was that Rooney's finally getting back to his best. Last week against Tottenham, United gave us a taste of the fast and furious game we love to watch, today was the same. Now nearly two months in, I think the season's finally started.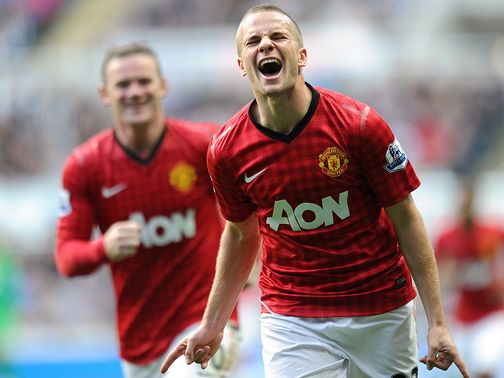 Tom Cleverley, shadowed by Wayne Rooney runs off to celebrate his fabulous goal
Newcastle played today in their usual mint humbug kit after wearing their light green shirts which made them look like Lemon sherbets for the visit of FC Girondins de Bordeaux in the Europa League on Thursday. Fair play to the Geordies, people not known for their sartorial guile, even they haven't fallen for that abomination.
Newcastle in their Lemon sherbet kits against Bordeaux last Thursday
As for the New'astle fans, they were as per usual singing songs about how great they are, when they could be bothered singing at all. United fans were in great voice as always at St James Park. Where's you famous atmosphere getting a good few reprises throughout the 90 minutes whilst the Geordies stood there nonplussed at what was happening before them. Newcastle fans are so commited to the cause that when King Kevin Keegan (courtesy of Brut 33)  first resigned his position as manager, thousands of Newcastle fans turned up outside the now monikered Sports direct arena to hold a vigil. I've often wondered why they did that, did they think he'd change his mind ? Newcastle fans can be thanked for the single handed propping up of Kleenex tissues after they blew a 12 point lead in 1996. It has been suggested that a brazilian rainforest about the same size of Wales was chopped down through Geordie tears that summer. Geordies started this modern day phonemena of crying at football matches. They probably think it shows passion for their club, rubbish, it just shows them to be mard arses. You cry at a birth, funeral and sometimes when you've received surprising news be it good or bad. You don't cry cause your bleeding football team have lost a friggin' game.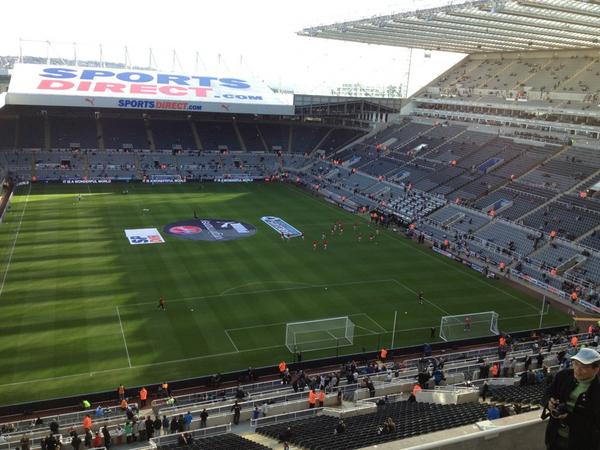 St James Park about half an hour before kick off with subtle advertising and a fanatical Geordie nation building up a thrilling atmosphere (Photograph courtesy of Daniel Burdett from http://thefaithfulmufc.com/author/luzhniki2008/ )