Watching Luis Suarez run away from the Gwladys Street end of Goodison Park in celebration deep into injury time after winning the game for Liverpool, seconds later I got a good feeling about today. For some reason, the goal was disallowed by the linesman in front of the Bullens Road stand and a crestfallen Suarez had to get on with the last few seconds of the game. This wasn't the last controversial decision made by an official today.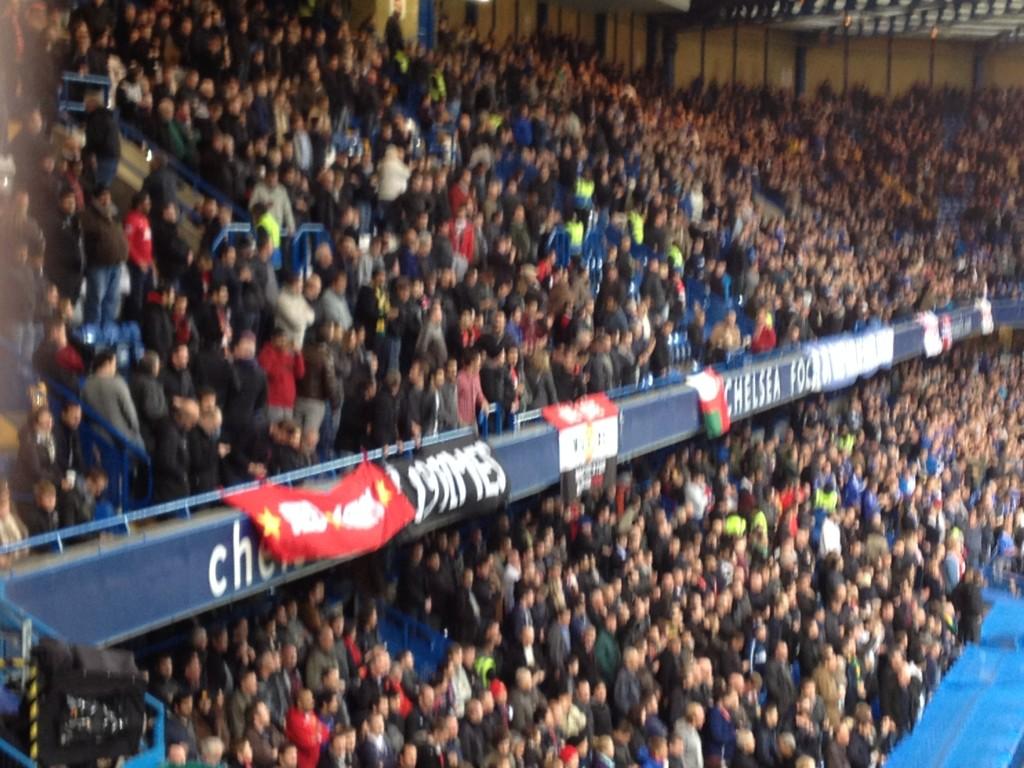 United fans in both tiers of the Shed (Photo courtesy of Daniel Burdett  http://thefaithfulmufc.com/author/luzhniki2008/ )
United won a league game at Stamford Bridge this afternoon for the first time since a 3-0 win in the spring of 2002. The most satisfying thing (apart from the three points obviously) was that United for the first time this season came sharp out of the traps and for once, caught the opposition cold. Before Chelsea knew that the game had kicked off, Wayne Rooney attacked the right flank, crossed the ball for Robin Van Persie to hit the post and from the rebound, the ball went in the net off David Luiz's arse. Nine minutes later in the 12th minute, an almost identical move but this time an Antonio Valencia cross resulted in Robin Van Persie putting United 2-0 up. Chelsea had plenty of possesion but United were in full control of the match. The first real sign of any Chelsea danger was from a bizarre but brilliant David De Gea save from a Juan Mata free kick on 24 minutes. Ten minutes after that save was the turning point when Tom Cleverley went to sleep for a Chelsea throw in. John Obi Mikel was allowed to cross the ball and leave Jonny Evans very close to repeating his own goal at Stamford Bridge last season when he hit his own post. From that moment, Chelsea suddenly woke up and there was relentless pressure on Uniteds goal. This culminated in a stupid free kick conceded by Wayne Rooney on Eden Hazard just prior to half time which left Juan Mata in a prime position to make it 2-1. As Mata stepped up to take the free kick, there was an inevitability similar to a penalty that he was going to score. David De Gea was agonisingly close to the save.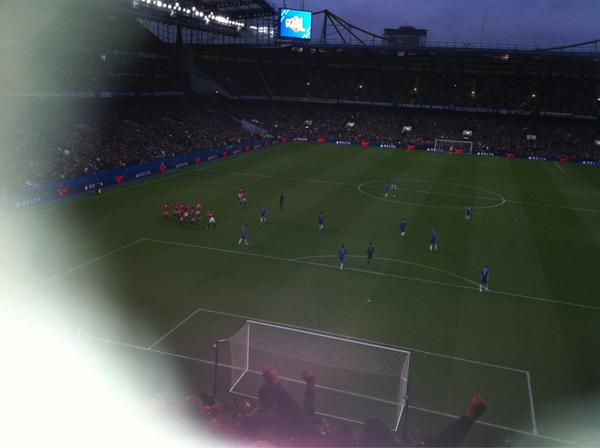 Celebrations in the upper tier of The Shed when Van Persie made it 2-0 (Photo courtesy of Barney www.rednews.co.uk )
As expected, Chelsea came out all guns blazing for the second half and to nobodies surprise in the 53rd minute, Ramires equalised with a header from an Oscar cross. After chances for both Juan Mata and Eden Hazard, out of the blue the pendulum turned back in United's favour in the 63rd minute when Branislav Ivanovic was sent off for a professional foul on Ashley Young.
I later found out that this was the first time todays referee, Mark Clattenburg had ever sent a Chelsea player off. Five minutes later, Clattenburg doubled that number by sending Fernando Torres off, just as he was about to be substituted. The referee said Torres had dived, I think that Jonny Evans had caught the lower part of Torres shin. For a reason only he can explain, Torres went down clutching his knee. Soon after Torres dismissal, Sir Alex Ferguson made his wisest decision of the day and took off Wayne Rooney and replaced him with Ryan Giggs. Rooney had been booked for the foul on Hazard which lead to Mata's goal.
On 74 minutes, Javier Hernandez scored Uniteds winner. He was offside but after the multitude of bad decisions that have gone against United in this fixture in recent history, I'm not too upset about that. I remember Didier Drogba scoring a goal at Old Trafford a couple of years ago which was (a) miles offside and (b) effectively won Chelsea the title. What I don't remember was any complaints about poor refereeing decisions from Chelsea.
John Terry, suspended for this game due to racially abusing Anton Ferdinand just over a year ago was sat in the stand behind the Chelsea dug out watching the match. Rumours of him being in full kit to join in any potential post match celebrations are, I'm pleased to say, only now ever going to be rumours. After the match, Chelsea lodged a complaint reporting referee Mark Clattenburg for "inappropriate language". According to the Daily Mail, the complaint is regarding a racial insult aimed at John Obi Mikel. If Clattenburg has said anything out of order to that paragon of honesty, then his microphone would've picked it up for his linesmen and fourth official to hear. After the courtroom events of the summer just passed, he could say that whatever was said, was said sarcastically, this is also known as the John Terry defence. Chelsea have previous for this, when Tottenham beat Chelsea in a bad tempered game at White Hart Lane in November 2006, there were serious allegations made about the integrity of referee, Graham Poll, by Chelsea players that came to nothing. Whenever something goes wrong for Chelsea, there's always a bad smell that they leave behind them. The Chelsea fans today constantly booed Rio Ferdinand for being Antons brother. Coming from a bunch of fans at a place where the National Front magazine The Flag used to be sold outside with impunity. It just goes to show that behind the attempted respectable facade, Chelsea might have a bottomless pit of money but be it fans or club, they will never have any class. They have aspirations to be talked about with the same respect as people talk about United, Liverpool, Tottenham and Arsenal. While they've spent an incomprehensible amount of money since 2003, they will always be at heart, the club of Ken Bates, Dennis Wise and George Osborne.