It's always good to be at Goodison Park. Along with Villa Park, White Hart Lane and Loftus Road, it's a proper football ground in a proper footballing area. Like the aforementioned stadia, Goodison has houses, shops and pubs, glorious pubs nearby. Then we have St Lukes Church on the corner of Gwladys Street and Goodison Road, a place where you could pick up a drink and a butty for a reasonable price. I couldn't believe how quaint and civilised it all was. Goodison isn't perfect. The Bullens Road and Goodison Road stands are archaic, they have huge pillars which can occasionally block the view. However, compared to being stuck on the back row of the Anfield Road stand, it's a relative minor inconvenience. Whatever imperfections of Goodison, give me there anyday over being stuck in a concrete bowl in the middle of bleeding nowhere. Like Stoke, Derby or the Riverside in Middlesbrough. Those places are so bland and dull that the rats give them a wide berth.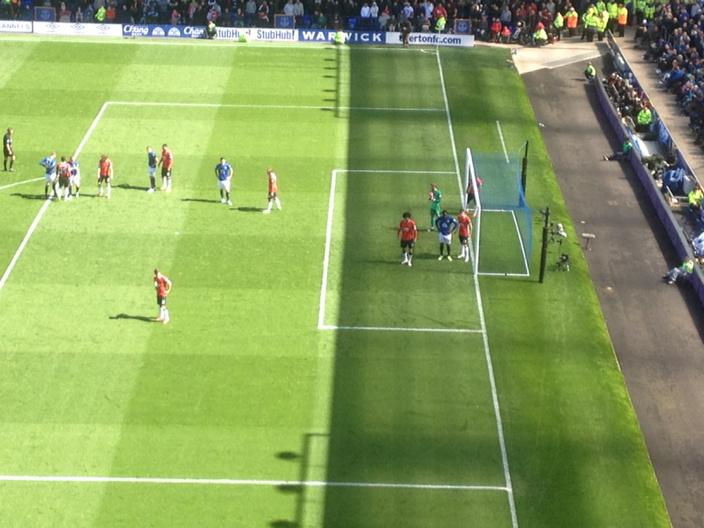 View from the back row of the Goodison Road stand's upper tier
A final score of 3-0 looks bad, but to me, it was just one of those days. Manchester United were nowhere near as bad
as the final score suggests. Put simply, Everton took their chances and United didn't take theirs, so fair enough. With the Reds having most of the possession and chasing the game from the 5th minute, after James McCarthy cooly put Everton in front, the home side cleverly picked United off on the counter throughout the match. A minute after McCarthy's goal, Marouane Fellaini served notice of how the day was going to work out for United when he sent a good chance over the bar after mugging Gareth Barry of the ball.
In the 35th minute, United presented John Stones roses, as he made the score 2-0 with a free header from seven yards. At an awkward angle, Stones rolled his header high to David de Gea's right as it bounced in off the bar. As I was sat incognito amongst Evertonians, high in the dizzying top tier of the Goodison Road, my ears popped as much through the height I was at as well as the ecstatic reaction of the Evertonians around me. They couldn't believe what they were seeing, neither could I.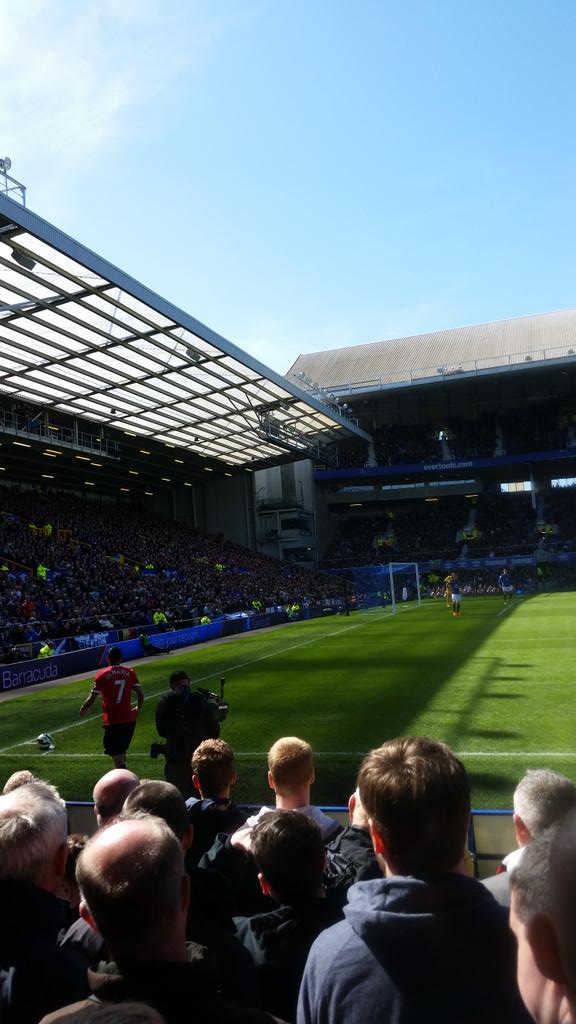 Angel di Maria taking a corner in front of United fans in the Bullens Road stand (photo courtesy of Neil Meehan)
A cagey second half, where United couldn't get past a very well marshalled home defence was made worse when Kevin Mirallas seized on a sleeping United defence to put Everton 3-0 up in the 73rd. In the run up to that goal, Romelu Lukaku was so far offside, he needed his passport to get back on. Whether Lukaku was offside or not though, United should've played to the whistle anyway, something I trust Louis van Gaal will have been telling his players after the match. Ten minutes later, de Gea pulled off a brilliant save from an excellent shot from Mirallas. That was a relief. 4-0 would've been a very unfair final score judging from this performance. United's day was summed up perfectly when Wayne Rooney tackled Paddy McNair in the centre circle. I can be grateful for one thing, United's attacking performance was never likely to have me blowing my anonymity amongst the scousers.
Inconsolable reds singing Oh What A Night…
Front row reds???? pic.twitter.com/W366tgfIWS

— Darren Webb (@United_Webby) April 26, 2015
Just over a year ago, United lost 2-0 at Goodison. It was a performance of such disgrace that it ended up losing David Moyes his job. Even worse than that, twenty three years ago today, I was across Stanley Park, watching United lose 2-0 at Anfield and through consequence, officially crown Leeds United champions. Any United fan who was at that game, will remember the glee of the Liverpool fans in the ground at what was unfolding. They are both low points in my time of watching United. Statistically, United's loss today was worse than those, in reality, reds should just shrug their shoulders and be confident that things will be alright again pretty soon.
Louis van Gaal telling it like it is and taking no shit in the post match interview