Three weeks ago, walking out of Old Trafford, Manchester United had just beaten Manchester City 4-2. The world seemed a different place. United had won and won well too. What we didn't know at the time was that United were to lose the next three games in the bounce; something they haven't done since a similar odyssey in 2001.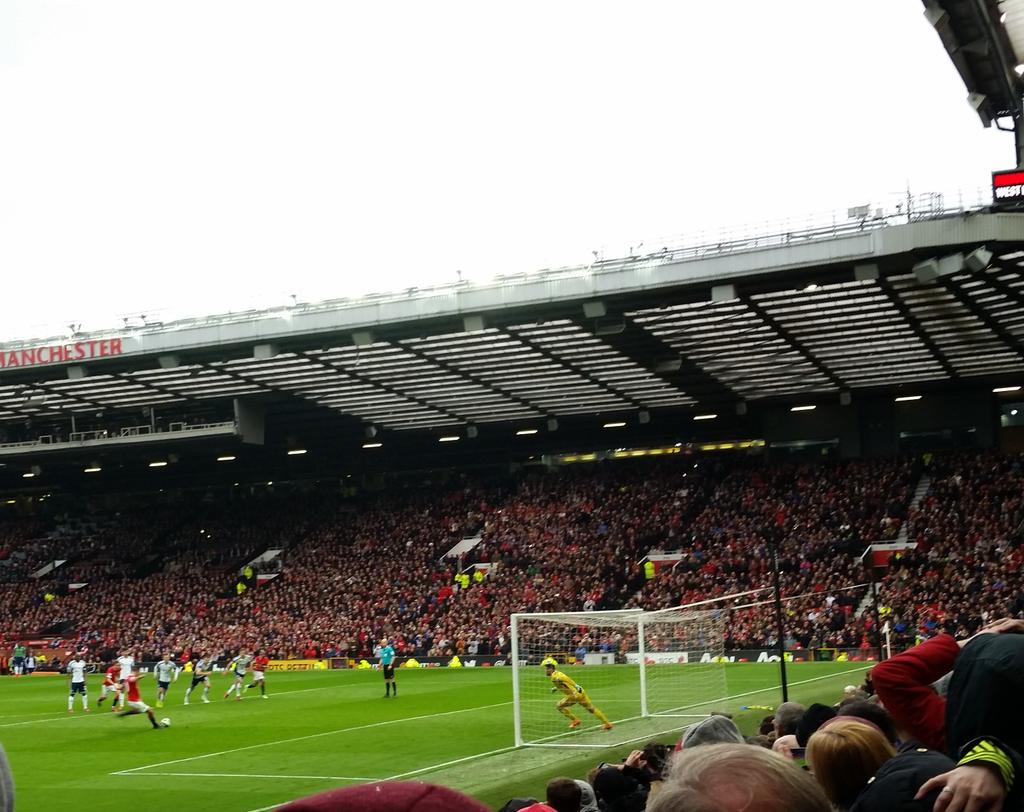 Robin van Persie about to miss his penalty in the 72nd minute (photo courtesy of Neil Meehan)
The race for fourth is still in United's hands. With Crystal Palace away and Arsenal at home, it's a potentially tricky run-in. The fact that United have obviously raised their game against stronger opposition should hopefully bode well. It also helps that Liverpool have to visit Stamford Bridge; I'm just pleased that they somehow lost at Hull the other night. What United can ill afford is another piss poor performance like the one served up yesterday at Old Trafford. It's all very United to play so well against difficult opposition and then play so poorly against teams like West Bromwich Albion.
76,000 people clapping a lady who has a passed away will ultimately achieve nothing. 76,000 people who donate £5 to cancer research, might.

— John Ashton (@thedoveman1982) May 2, 2015
Spot on from Mr Doveman and if anybody would like to make a donation to cancer research, click here
A true non-event of a first half was most memorable for the minute's applause in memoriam of Rebecca Ellison, the wife of Rio Ferdinand, who has passed away at the tragically early age of 35. Personally, I'm not big on mass public shows of remembrance like this, but if that's what makes people feel like they're showing respect, then so be it. Whatever the rights or wrongs of the applause was, did United really have to make a tannoy announcement halfway through it asking somebody to return to their car? Could they have not waited 30 or 40 seconds to do it?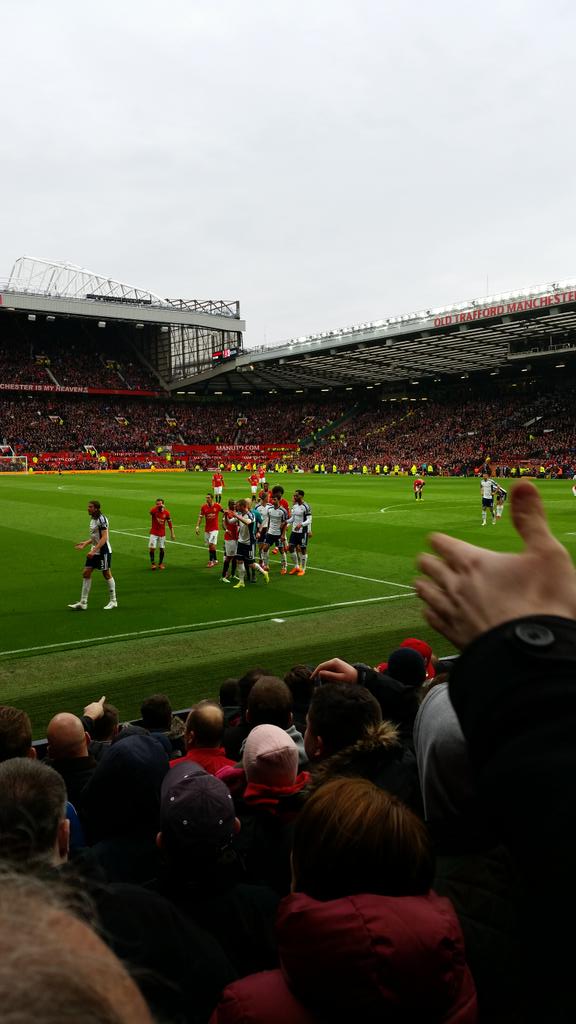 The debate raged over the penalty decision (photo courtesy of Neil Meehan)
The second half carried on much as the first had. United attacked with such incompetence that they made an organised and disciplined West Brom defence resemble the catenaccio era Inter Milan. It's no surprise that West Brom have stopped the opposition from scoring on ten occasions since Tony Pulis took over as manager on New Year's Day. All that said, I'd love to know Louis van Gaal's thinking behind playing a midfielder further forward than two top class centre forwards. 
I have the same level of excitement nowadays when United get a penalty as I do when we get a throw in. In our own half.

— Ste A. (@sarm0161) May 3, 2015
Me too alas
In the 62nd minute, a stupid foul by Paddy McNair on Darren Fletcher saw the United centre half booked and West Brom with a decent chance on goal. Chris Brunt blasted the ball goalward and it ricocheted off Jonas Olsson's arse to David de Gea's left hand side into the back of the Scoreboard End net. I knew then that United had a real problem.
I normally put a Youtube film up of the match. I cannot possibly inflict that on you, dear reader, so above is a trip down memory lane, with United's famous home defeat to West Brom in December 1978
In September 2013, the last time West Brom played at Old Trafford, Saido Berahino scored the winner. This time, 10 minutes after Olsson's goal, he gave United a lifeline with a handball, just inside the box. Robin van Persie walked up to take the penalty but Boaz Myhill guessed right and dived left to save. A couple of minutes later saw Paddy McNair head wide with a free header from an  corner. This just about summed up United's day. For the third time in succession, United have dominated possession, 81% enjoyed today. The only statistics that really matter though are the goals and at the moment, with players like Wayne Rooney, Robin van Persie, Angel di Maria, Juan Mata and Radamel Falcao, United don't look like scoring. That is wrong, plain fuckin' wrong.
West Brom legends reading Psalm 23
West Brom brought one of the lowest away followings I've ever seen at Old Trafford yesterday. Approximately three hundred Baggies bored United fans senseless with that generic bullshit of supporting their local team (in that accent too, for Christ's sake) – that's when they could be bothered saying anything at all. A few boing boings and a repetitive recital of Psalm 23 was all else we got out of them. The one positive thing to draw from today is that we won't be seeing them again until the late Summer at the very earliest. The sad thing is that a decent United performance could've helped make that wait a lot longer