Liverpool, having won the League after beating United at Anfield just under four weeks ago, have done what all teams do who win the title early and gone sloppy. Having lost at home to Southampton on Saturday just passed, tonight they lost at Old Trafford with a team that included the return of Bram Stoker's favourite Uruguayan and also skipper, Steven 'sussudio' Gerrard. Prior to tonight's match, a sizable amount of coaches carrying Liverpool fans entered Old Trafford from Trafford Park Road. Almost every single one of them had Liverpool fans banging furiously on the windows shouting all kinds of incomprehensible but clearly very excitable rhetoric. Once off the coach and mingling towards the turnstiles for the upper tier of the Scoreboard End, they weren't quite as forthcoming. About forty five minutes before kick off however, I could clearly hear the Munich song being sung loudly on the corner of Trafford Park Road and Warwick Road by what was to my eyes, a firm of about 30/40 young Liverpool fans whom were obviously 'up for it'. How they managed to get so close to the ground and evade the attention of both the local police and some of United's more 'lively' fans is a mystery to me. Inside the ground, just before Luis Suarez hit the bar on 74 minutes, a Liverpool fan threw a live distress flare into the K Stand. I know plenty of reds who were unhappy about being placed under the scousers for tonights match. After the rarely reported but notorious incident at the FA Cup game at Anfield in 2006 where a plastic cup loaded with excrement was thrown onto United fans by Liverpool fans in the upper tier of the Anfield Road, I don't blame them. I know that United fans are not perfect, only a one eyed fool would think so but bearing in mind that United have had ticket allocations slashed at Anfield for comparatively spurious reasons, after what happened tonight, I think it's time United did the same to Liverpool for the League game that's due to be played in March. I'm aware that strictly speaking, distress flares shouldn't be lit in football grounds. Personally, they don't really bother me but it is bang out of order when they get thrown indiscriminately at opposition fans in the tier below, no matter who's playing who.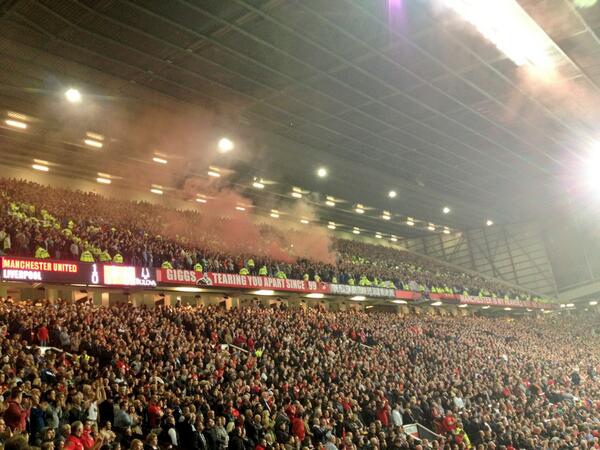 Liverpool fans about to launch a distress flare down into the K Stand (Photo courtesy of Rob Mager)
Such is the feeling of anti climax when United get a corner nowadays that when Kolo, Kolo-Kolo, Kolo-Kolo, Kolo-Kolo Toure conceded a soft corner into the Stretford Paddock on 46 minutes, I was expecting it to hit the first available Liverpool player before being cleared harmlessly. That was also the feeling around me in the K stand. When the angry, confused and most definitely revitalised Wayne Rooney found Javier Hernandez alone from six yards out, there was a split second of joyous disbelief surrounding me. Did United really just score from a corner against our most despised rivals? Hernandez left Jose Enrique standing like a Tussauds dummy and subsequently left every other Liverpool player frantically throwing their arms around in a gesture which will take semaphore experts years to decipher. Apart from a glaring miss from Jordan Henderson eight minutes after Hernandez's goal and a five minute period in the second half of the second half which was orchestrated by the admittedly excellent Suarez, United looked comfortable tonight.
After what happened on Sunday, tonight's win was a very welcome dose of morphine. Ultimately, it's only the League Cup but the thought of losing tonight was just too horrific to contemplate after the leathering received the other day. Liverpool gave United a game tonight, we always knew they would, but a heavily changed United side deservedly prevailed and sent a lively and boisterous United crowd home very happy. If there is a better atmosphere at Old Trafford this season than the one provided tonight then it will be a great night. The whole crowd were behind the lads on the pitch. Christ, you know it's a good night at Old Trafford when the main stand are on their feet making a noise for the first time since the match against Barcelona in 2008.
It's not been a bad ol' night, United have knocked their biggest rivals out of one of only two trophies they are in serious contention for this season and as an added bonus, the Leeds vermin were knocked out at Newcastle. A Leeds defeat is always good news. As for United, a draw against a staggeringly poor Norwich City side in the next round is hardly the most enticing of fixtures. It would be nice if United go through but if United lose due to playing a team of kids then so be it. Apart from a potential weekend in London in early part of the new year for this competitions final which would be a good excuse for a mass piss up, I can't see how any fixture in this seasons League Cup tournament can surpass the good feeling that of walking out of Old Trafford that tonight provided.
…To Which A Scoundrel Clings – Liverpool, September 1st 2013