In the summer of 1982, Ray Wilkins was chosen to be the skipper for both club and country, following the respective stepping down of Martin Buchan and Kevin Keegan. Fate decreed that a broken cheekbone for Wilkins, just weeks after his appointment by Ron Atkinson and Bobby Robson, led to Bryan Robson being appointed the skipper of club and country instead. This was a position he kept long after Wilkins left United and retired from international football. Wilkins was unlucky that he lost his position so quickly due to an injury but, ultimately, it was best (certainly for United) that Robson was skipper. Probably for England too if I'd have cared enough.
Safe journey home you West Ham fans I know it's a long way but well done, your support was invalid. Thank you. dg

— David Gold (@davidgold) September 15, 2014
Wayne Rooney could find himself in a similar position to Wilkins but in completely different circumstances. For reasons best known to himself, he got sent off for kicking Stewart Downing's thigh in the West Ham half of the pitch. The United defence were in position and there was no apparent danger as Downing ran with the ball in his own half in the 59th minute. In a way, I wouldn't have minded if it was a professional foul, à la Ole Gunnar Solskjaer against Newcastle United in 1998 (shown below), where he "took one for the team". This from Rooney though was senseless.
Ole Gunnar Solskjaer committing a professional foul on Rob Lee at Old Trafford in April 1998 (apologies for background noise)
All footballers have these red mist moments (with the exception of saint Gary Lineker), and Rooney has plenty of previous for it. The most famous incident being when Horacio Elizondo sent him off in Gelsenkirchen for stamping on Ricardo Carvalho's nuts during the 2006 World Cup and the British media somehow blamed Cristiano Ronaldo for Rooney's sending off. For that incident, Rooney was a 20 year old lad (albeit very experienced) but 20 year old lads do daft things and can move on. When you're 28 and you're the captain of the side, moments like that become far less forgiveable.
Wayne Rooney getting sent off in the 2006 World Cup against Portugal
Rooney's stupidity should've cost United two points yesterday. Reds around me immediately looked to the scoreboard and to our horror, realised there was over half an hour to play when Rooney was sent off. The rest of the match was like the bleeding Alamo. How United held out for a 2-1 win was a credit to a patchwork defence, Paddy McNair in particular. As for Rooney, he has a three match ban to serve. The next time he'll be seen in a United shirt will be at City on 2nd of November; if it was up to me, he wouldn't be wearing a captain's armband.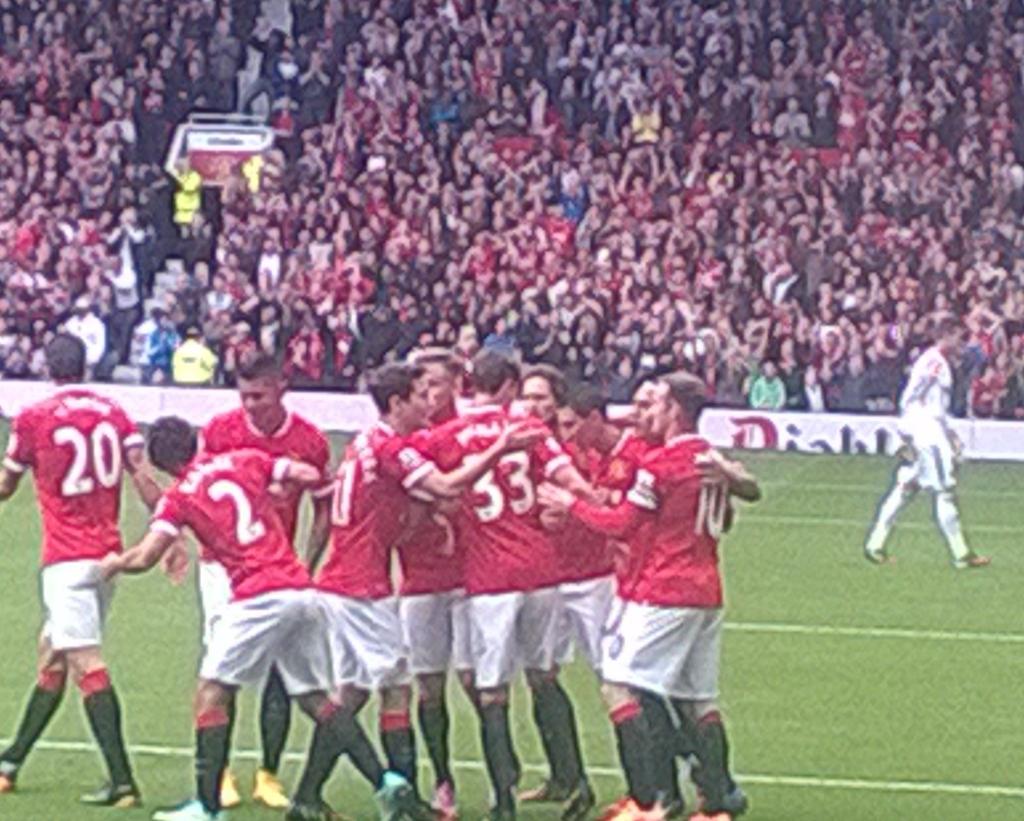 Wayne Rooney celebrates his fifth minute goal with his teamates
Before his moment of madness, Rooney had a very good game. In the fifth minute, he brilliantly hooked a Rafael da Silva cross past Adrián in the Scoreboard End goal. Seconds after that goal, Enner Valencia missed a great chance to equalise after a very sloppy backpass from Daley Blind played him through on goal to David de Gea. After 22 minutes, Robin Van Persie made the score 2-0 after some good work by Ander Herrera and Radamel Falcao. Fifteen minutes later Diafra Sakho pulled a goal back for West Ham after a de Gea mistake left the Senegalese centre forward with an open net to head into.
https://www.youtube.com/watch?v=eqM-39ikwb8
A nervous Old Trafford welcomed half time. We all hoped United would pick up in the second half but it quickly became apparent that the jitters were on the pitch. After Rooney's sending-off, the tension was unbearable. The match began to resemble the European Cup semi-final against Barcelona in 2008. West Ham's playing kit even vaguely resembled Barcelona's on that fabled night but that's really where the similarity should've ended. That night, Barcelona had Lionel Messi, Xavi, Deco, Andrés Iniesta, Thierry Henry and Samuel Eto'o terrorising our goal, albeit in vain. Yesterday, the combined might of Carlton Cole, Kevin Nolan and Stewart Downing had ex-smokers needing a cigarette (if not something stronger). I'm just relieved Andy Carroll wasn't playing as this match was made for him. There seemed to be an inevitabilty to West Ham scoring.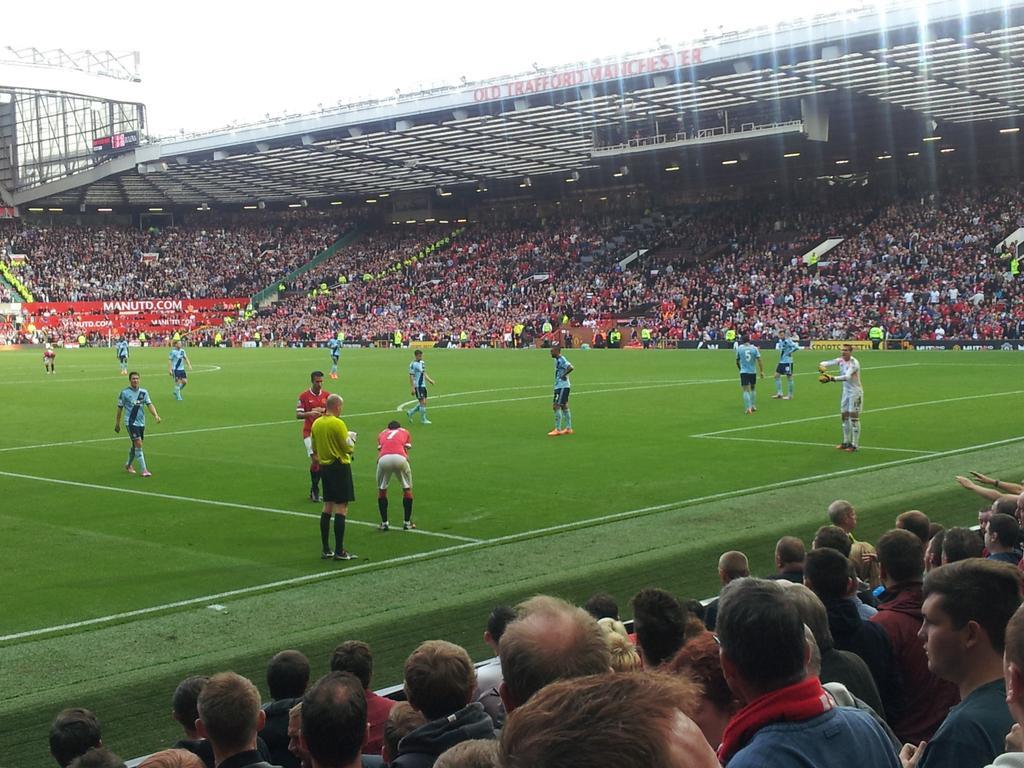 Angel Di Maria preparing a free kick in front of the Stretford End after Adrián's handball (photo courtesy of Neil Meehan)
In the 89th minute, West Ham had the ball in the net for what was a deserved equaliser. As Kevin Nolan ran ecstatically towards the nearby West Ham fans, the linesman, who was literally stood in front of me, raised his flag. I didn't see anything wrong with the goal in real time. It took me five or six looks at the action replay when I got home to see that the linesman got it right. Lucky guess or did he really know? One thing is for sure, it was lucky for United, both that the goal was disallowed and also that they weren't up against a better side.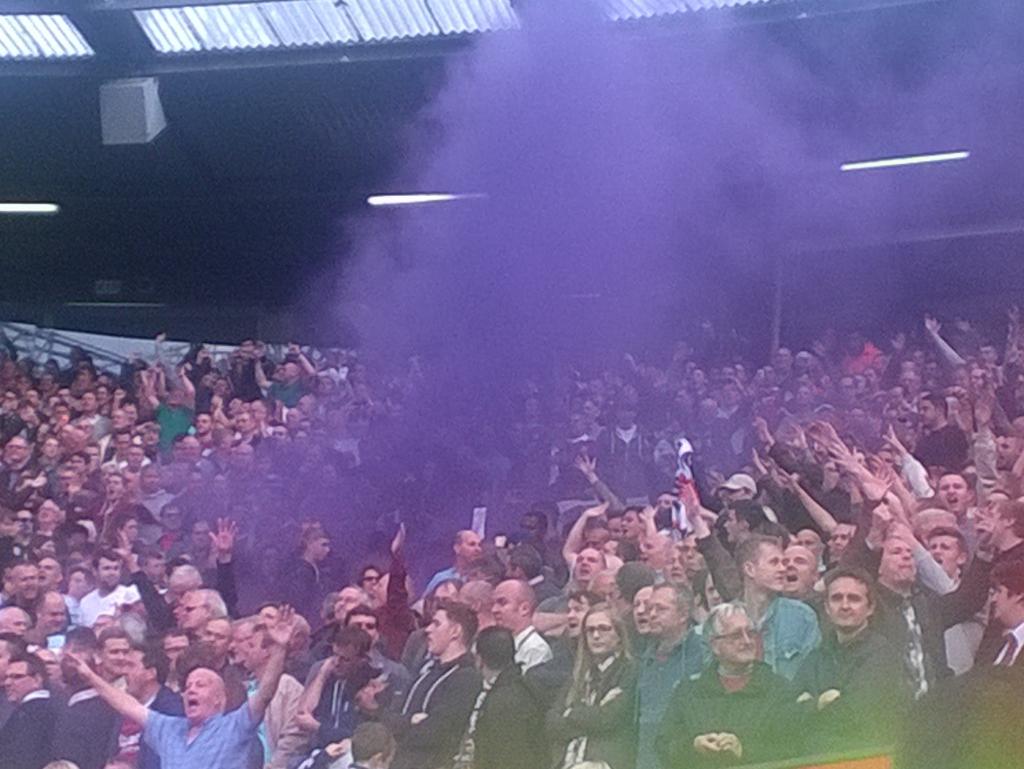 During the first half, there was a medical emergency in the disabled section where the away fans in the L Stand meet the home fans in the K Stand. Fair play to the nearby West Ham fans for keeping a respectful silence while this was being dealt with.