This could've been tricky. Newcastle have a lousy record at Old Trafford but on their last visit here, just over a year ago, they beat United at Old Trafford for the first time since 1972. The protests that were raging against Alan Pardew's incumbency a few months ago have gone somewhat muted in recent times as Newcastle had built up a good run of results which included beating this seasons likely champions Chelsea, a few weeks ago at St James Park. Such was the revival in Newcastle's fortunes that paper handkerchief manufacturers were in serious danger of laying workers off due to the fact that Geordies weren't crying in the stands, their broon ale or threatening to burst the banks of the Tyne with their relentless squawking after a bad result. A last minute goal from Adam Johnson the other day for Sunderland and United's eventually easy win today should see normal service resumed for Kleenex pretty soon.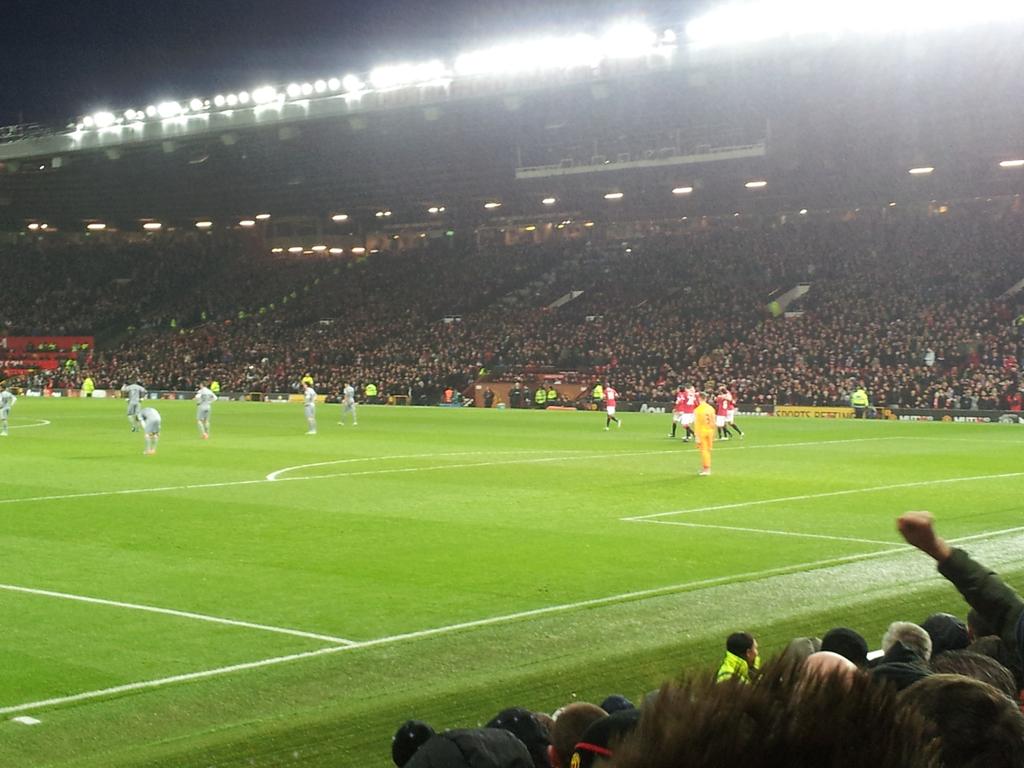 United players celebrate Robin van Persie's goal in the 53rd minute (photograph courtesy of Neil Meehan)
Without dominating play, Newcastle made a lively start. Ayoze Pérez blew a good chance on in the 12th minute and Daryl Janmaat forced a save off David de Gea on 20 minutes. Three minutes later following a very unselfish pass from the fast improving Radamel Falcao, Wayne Rooney put United into the lead. This was also the cue for perhaps the funniest thing I saw all day which was when some aggrieved visiting supporters were making me and you later gestures to United fans below them, in wheelchairs.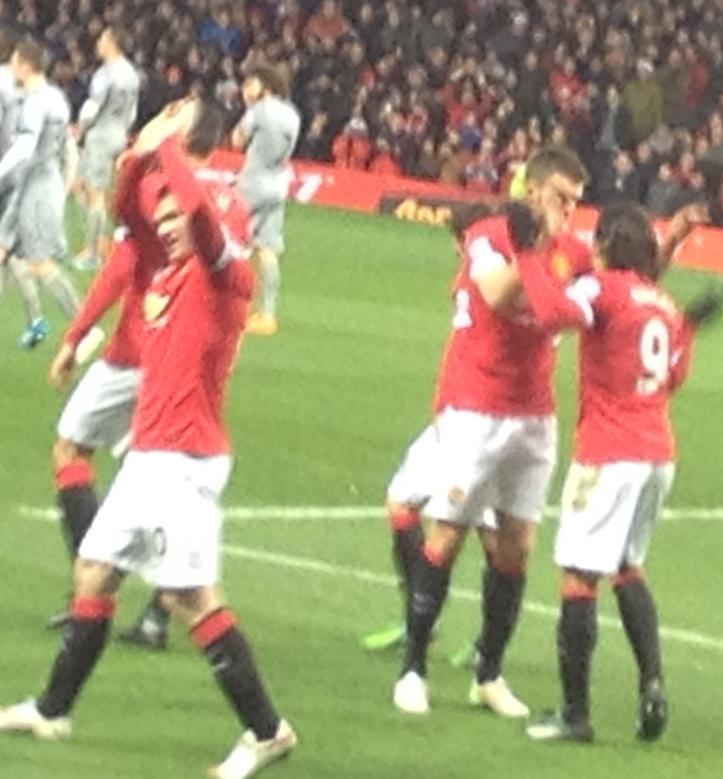 Wayne Rooney laps up the applause from the mai stand for the first United goal whilst his teammates congratulate Radamel Falcao for his part in the goal
That goal flattened what was a spirited performance from the grey clad visitors. In the 36th minute, Wayne Rooney scored his second goal after some great work by Juan Mata. This goal gave United some breathing space and it was a comfortable if freezing Old Trafford which greeted half time.
Much to the dismay of every Police horse from Hough End stables, the second half started as the first half finished. Newcastle constantly on the back foot and in the 53rd minute, Robin van Persie scored a goal of exquisite simplicity when he headed the ball past a dumbstruck Jan Alnwick to bring some daylight for United on what was fast becoming a cold and dark night for both the crowd and the visiting side. From here on in, United took their foot off the pedal. This could've been a thrashing for Newcastle but United, possibly with a trip to White Hart Lane in mind forty eight hours later, sat back and played with an efficiency that has been rarely seen since the latter days of Sir Alex Ferguson's reign. The only blot on the copy book was a penalty given to Newcastle in the 86th minute. I've yet to see an action replay of the incident in which Phil Jones was adjudged to have fouled Jack Colback so it's hard to say whether referee Mike Jones got the decision right or not. What I do know is that the visiting supporters, whom I was stood right next too didn't appeal for the penalty. Papiss Cissé despatched the penalty with aplomb and everybody in the ground just shrugged their shoulders. Three years ago, a pillock of a linesman by the name of John Sweeney gave a penalty from a brilliant Rio Ferdinand tackle which was fatal in United's title challenge. That day by sheer coincidence, Mike Jones was the referee. The penalty given today, whether correct or not, is not likely to have any impact comparable to the one that Jones gave at the Stretford End in November 2011.

Papiss Cissé brings the score back to 3-1 in the 86th minute with a penalty
The visiting supporters have to be the most self congratulatory and most self-aggrandising visitors to bore their way around the Premier League (which by the way, is sponsored by a bank that I won't mention unless they pay me to do so)
We are the Geordies, the Geordie people, for we are mental and we are mad, we are the loyalist football supporters, the world has ever had (at least one of these statements is spot on)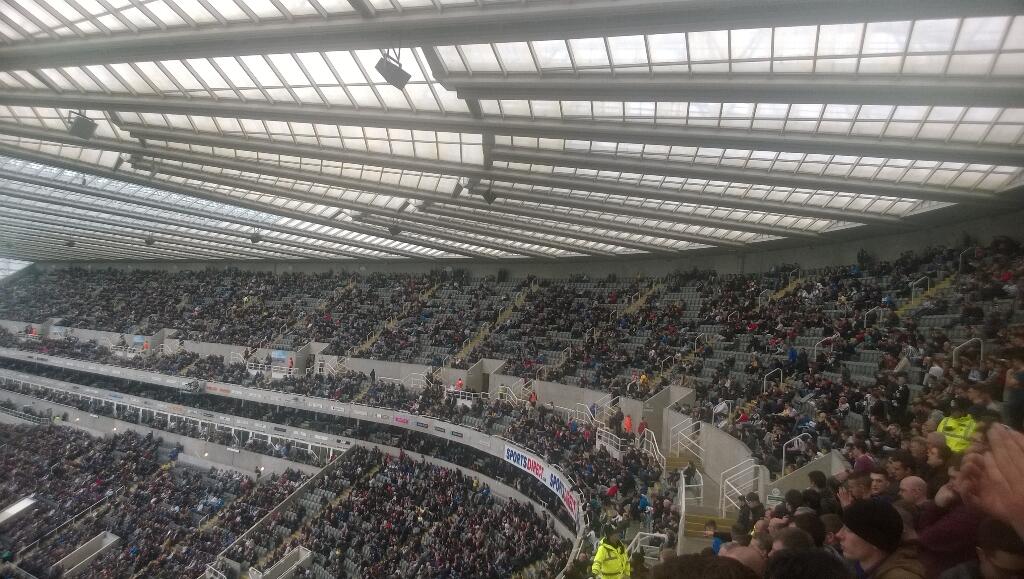 A rapidly emptying Milburn Stand of the worlds most loyal supporters at St James Park when United played there last April. This photograph was taken in the 67th minute, just after United had gone 3-0 in front.
They then took great pleasure in pointing out to us that Sheeeeerah turned us down. It is indeed true that Alan Shearer turned down the opportunity to sign for United twice (in '93 and '96) and I'm sure that when he goes home at night and looks into a cabinet which is bursting with bone china surrounding his solitary Premier League winners medal, he has no regrets at all. We just had to make do with Ole Gunnar Solskjaer, Andy Cole and Eric Cantona (amongst a good few others) in absence of Shearer. Oh how we suffered.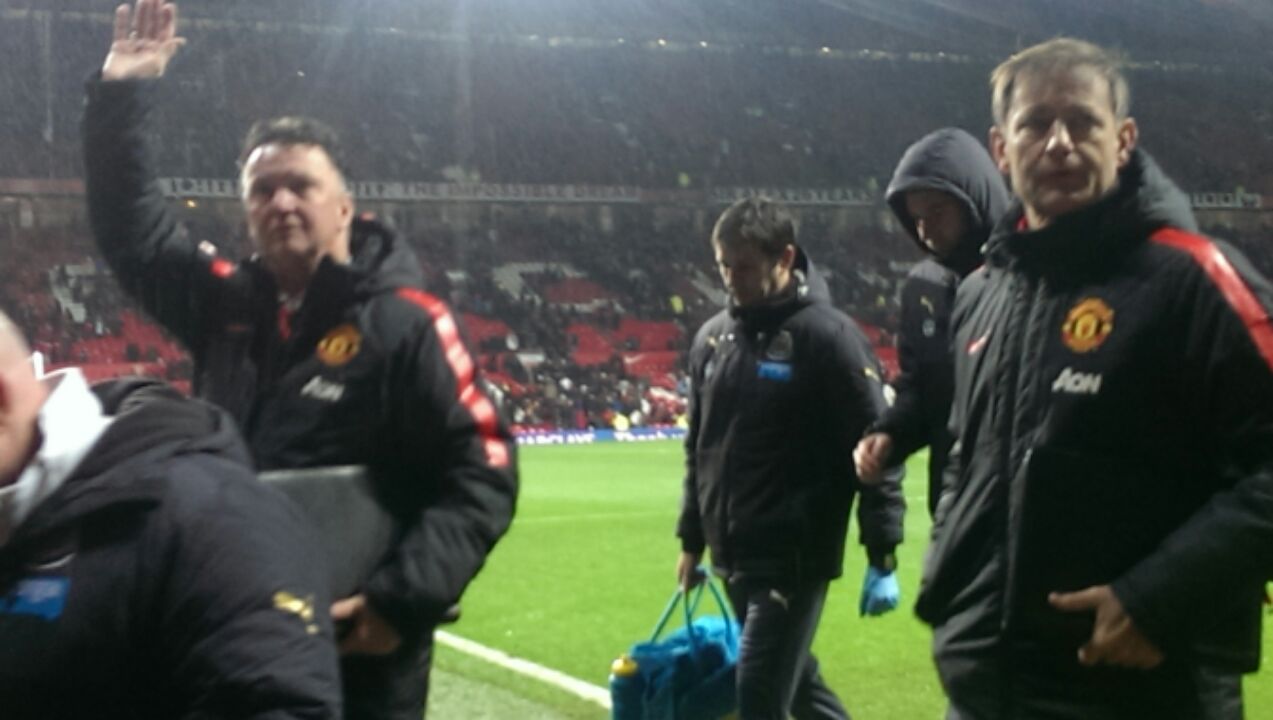 Louis van Gaal waving to the main stand at full time (photo courtesy of John Naughton)