Originally published in Red News, September 2019
Anybody under the age of 40 could be forgiven for thinking these are amongst the worst days in the modern history of Manchester United. There's no doubt that there's an awful atmosphere amongst supporters and with protests against the club's malignant ownership organised during June and with them rearing their head again recently, it's fair to say that now is the Winter of our discontent.
As bad as things are around United at present, there have been worse periods, such as the one highlighted with great clarity by Michael Crick and David Smith in Betrayal of a Legend, first published in May 1989. This piece will review what was said in that book and how it resonates with the Manchester United we watch and support today.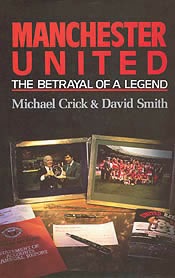 Betrayal of a Legend was written ostensibly from the perspective of David Smith, who had been deposed as Supporters Club chairman in the summer of 1987, in favour of the new fangled Membership Scheme which Margaret Thatcher's government was trying to impose on all football clubs. The policy idea for compulsory membership was thrown out in January 1990, with the Taylor Report commissioned in the aftermath of the Hillsborough disaster of April 1989 saying that it "could not support a scheme of that kind, because he could not believe that the technology would work well enough to avoid the danger of congestion and disorder." However, United, knowing that they were onto a good thing financially stuck with it to such a degree that it is now nigh on impossible to officially gain entrance to a United match without one. While the book gives a less than flattering account of the club's methods of how they dealt with Smith (Crick & Smith 1-7: 1990) and Sir Matt Busby's stewardship of the now rather quaint Souvenir Shop which his son used to run (Crick & Smith, 268/269: 1990), the forensic detail that Crick analyses the governance of Manchester United, mostly by the Edwards family and how it concurs with the modern running of the club by Glazer's is what gives the most interesting reading from a modern perspective.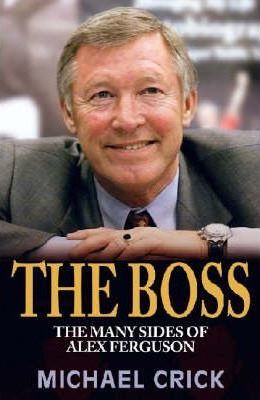 Over the eighteen months, there has been strong speculation about the appointment of a Director of Football (DoF) at United. Writing about this possibility for the Daily Mail in August 2018, Mike Keegan came out with an article which by his admittedly low bar was brimming with originality. Keegan said that "there appears to have been a belated recognition at Old Trafford that the old system and the days of Ferguson-esque tenures are over and that the club needs to come first". While Keegan for once makes an interesting point, the reality is that at United, this is nothing new. Earlier this year figures like Rio Ferdinand, Patrice Evra and Darren Fletcher were speculated as potential candidates for this 'new role'. Even allowing for the fact that at the time of writing, January 2020, no appointment has been made, in reality, it's just a rebranding of what's been happening on and off at United since Matt Busby handed over the team managerial reigns to Wilf McGuinness in June 1969, while he himself stayed on as 'General Manager' (Crick & Smith, 1990: 86). Busby eventually resigned from United's board in August 1982 (Crick & Smith, 1990: 180) and in the summer of 1984, United replaced him with his stalwart skipper, Bobby Charlton. "Martin Edwards needed Charlton as a name on the board for his football experience rather than for any business activity" (Crick & Smith, 1990: 181/182). In effect, Charlton like Busby before him, was operating as United's DoF before the job title had been invented. Crick & Smith (1990: 238) say that Ron Atkinson and Charlton came increasingly in conflict during the two years they worked together at United and that Edwards would generally defer to Charlton's opinion. Crick & Smith (ibid) point out that in the summer of 1986, the year Atkinson was sacked, Charlton effectively vetoed Atkinson's requisition of a £700,000 bid for Ipswich Town centre half, Terry Butcher. This is similar to Ed Woodward vetoing the signing of Harry Maguire when Jose Mourinho requested him in the summer of 2018. In his outstanding biography on Alex Ferguson, The Boss, Crick says that Atkinson believes that Charlton was a central player in persuading Ferguson to come to United, a claim that Bryan Robson backed up (Crick, 2002: 252). This is the classic case of a DoF at work and while Atkinson sailed off into the sunset with a £115,000 severance (Crick & Smith, 1990: 235), Ferguson, strongly aided by Charlton, set about the lengthy and at times torturous job of a root and branch rebuild of United. Without Charlton's staunch support throughout that period, particularly the grim winter of 1989/90, it is unlikely that Ferguson would've survived as United's manager without Charlton in his corner. (Ferguson & Mcllvanney, 1999: 280)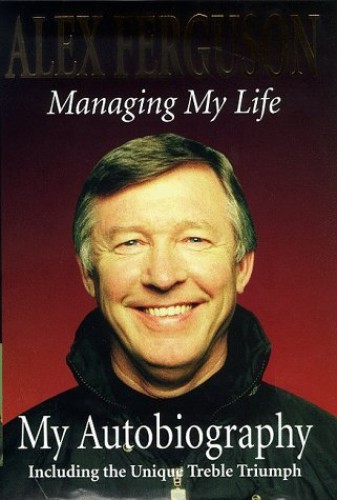 Atkinson's last match as United manager was a 4-1 thrashing at The Dell as Southampton knocked United out of the League Cup on November 4th, 1986. Two days later, his dismissal was announced and Ferguson was installed as manager post haste. Crick & Smith (1990: 240) claim that Ferguson said that offer of the United job after Atkinson's dismissal was a "complete surprise". However, a decade later, Ferguson said in his autobiography, Managing My Life, that he was approached for the United job the night before Atkinson was sacked (Ferguson & Mcllvanney, 1999: 232). Reading this, it is difficult to ascertain what it was that completely surprised Ferguson after Atkinson was sacked.
May 2005 saw the Glazer takeover of United. At Ferihegy Airport in Budapest just prior to United's 3-0 win against Debrecen the following August, Ferguson came across a pair of reasonably well known disgruntled United fans at the arrivals carousel of the airport. According to Mark Ogden (2015), then of the Daily Telegraph, One of those traveling reds said to Ferguson "you fucked us over. You could have spoken out about it." Ferguson said in reply that "I've got a job to do and fifteen staff. They come first. If you don't like it, go and watch Chelsea." While Ferguson's concerns for his staff was touching, these were also the words of a man of huge political power within Manchester United. When Betrayal of a Legend was published in 1989 and even allowing for the new three year contract granted in September of that year, it would be a safe bet to say that Ferguson would not have dared say that to any United fan under any circumstances. Then, he was far more vulnerable politically, particularly as the winter progressed and relegation became a plausible prospect (season 1989/90 concluded with United finishing six points clear of relegation).
That year though, Ferguson got some very long overdue luck, both on and off the pitch, which along with Charlton's endorsement, brought him some crucial time. As well as the completely unexpected 1-0 win in the FA Cup 3rd round away at a very good Nottingham Forest side, the ongoing debacle of the proposed sale of the club by Edwards to Michael Knighton in the summer of 1989 took a lot of heat off Ferguson. While United's abysmal form was certainly noticed by the wider world, the shenanigans at board level was providing even more amusement to everybody else.
One thing Ferguson was scathing of in that period was football agents. Ferguson said of the agents influence that "It's a rat race and the rats are winning" (Crick & Smith, 1990: 222). Happily, Ferguson to an extent made his peace with agents to such a degree that his son, Jason, ended up as one and indeed, did a lot of business with United, including transfers involving Kleberson, Tim Howard and Jaap Stam (amongst many others). In 2004, Sam Wallace of the Daily Telegraph claimed that Ferguson "has faced allegations in the past, from former players Jonathan Greening and Mark Wilson, of pressurising young players to sign up to his son's agency". Grown men obviously do move on and it was good for the club that through using his son, Ferguson could find somebody trustworthy to do the rats work for United at the club's benefit. Alas, for Ferguson, this practice was soon scuppered when he chose to get into an argument with John Magnier and JP McManus, two of the club's major shareholders, over stud rights to a horse he had been gifted a half share in. In retaliation, Magnier and McManus publicly submitted 99 questions about United's transfer dealings, many of them involving his son. To this day, the implications of that row cast a grim shadow over the on pitch fortunes of United.
The first match of the 1989/90 season saw United play the League Champions, Arsenal. A day of glorious weather saw United thrash the gunners 4-1 and as an added bonus, the club's shy and retiring new proposed owner displayed an impressive amount of ball control pre match in front of a rapturous Stretford End. The deal had been announced two days before on the ITN News At 10 and was such was the comical incompetence of the deal by Edwards, Bobby Charlton and fellow board member Michael Edelson only found about the deal "minutes before the news broke" (Crick & Smith, 1990: 278). This piss poor excuse of communication was not to be the last event of staggering incompetence over the forthcoming winter, a season which nearly turned United into a laughing stock comparable with City.
Edwards was never a popular chairman, but for right or wrong, he had a vision for Manchester United that it could be a multi-disciplinary sporting institution, à la Barcelona and Real Madrid. Some people lost their shit in a big way when United announced the formation of a ladies team in the middle of 2018/19 season. They lost it even more when it was announced on the 3rd January 1985, that a basketball side playing under United's name would soon commence. This happened because United director and solicitor, Maurice Watkins, was approached by FSO Warrington Vikings basketball club in November 1984 and asked would United be in interested in taking them over (Crick & Smith, 1990: 248). This set the wheels in motion for a deal which cost United approximately £47,000 to have a basketball side. Not only were traditional United fans baffled by this extension to the club's identity, it was also ended up being a financial drain. By the 1986 club annual general meeting, a net loss of £253,000 had been imposed on Manchester United by the basketball club (Crick & Smith, 1990: 252). To nobody's great surprise, Edwards sold the basketball club for £150,000 in January 1988. This gave even more evidence to Edwards' detractors, something that was in healthy supply in those days.
Crick and Smith (1990: 259) said that few areas of Old Trafford are not exploited to full advantage. With United's seasonal gate receipts of £5,000,000 (approx) accounting for two thirds of the annual income, the long term intention was to get outside revenue accounting for at least half of the revenue. With TV revenues and other spurious sponsorship deals, this seemingly ludicrous prediction in 1989 has now not only come true, but any other way of generating mass club revenue seems equally far fetched.
The Knighton debacle of 1989, when in desperation, he tried selling the club's shares before he had paid for them looked even worse on Edwards' part. Newspaper publisher, Eddie Shah, was called one night by a representative of Knighton, asking him if he was interested in buying Knighton's share of United, a deal which would have made Knighton a profit of £6,000,000. (Crick & Smith, 1990: 287). To put it bluntly, this made Edwards look a fool. Not only had he been taken for a ride by a smooth talking chancer with no due diligence performed, he had also drastically undervalued the club that he owned a 52% share in. There was much amusement at the time about Knighton trying to sell shares in an institution he had not yet paid any money for. That amusement wears thin thirty years hence when Darcie Glazer takes out a $6.8m loan secured against 393,000 shares in Manchester United, shares that have been procured by debt.
Eddie Shah was not the only significant media figure to have taken an interest in Manchester United during Edwards reign. Robert Maxwell expressed an interest in buying the club in February 1984, an interest which, thank fuck, never got past a preliminary meeting with Edwards as Maxwell felt that Edwards' valuation of the club at £15m was too much (Crick & Smith, 1990: 186). In 1998, BskyB came into the equation, an interest which was originally mooted in Betrayal… and first occurred during season 1989/90 (Crick & Smith, 1990: 300).
To prevent a fiasco like the attempted Knighton takeover ever happening again, or indeed United being at the mercy of a predatory asset stripper, Charlton said "I don't think any one person should have charge of United and the best safeguard is for the club to be floated on the stock market" (Crick & Smith, 1990: 298). This was eventually done in the summer of 1991. Edwards diluted his shareholding significantly, whilst retaining his political power at United, a power that lasted until the winter of 1999 when his risible handling of Roy Keane's contract demands saw him lose most of his authority, eventually becoming a ceremonial presence within the United hierarchy (he is now United's 'honorary president'). Whilst Edwards stayed in situ for eight years, Charlton's comments about a flotation remain of most interest, particularly in light of what happened in May 2005. On a pre season tour in Houston in July 2010, Sir Alex Ferguson said "when Manchester United went PLC, without doubt it was always going to be bought. It's unfair that because the Glazers' have bought the club, they should come under criticism when anybody could have bought it". It is unknown whether Ferguson and Charlton ever debated this matter in 1991 when the flotation occurred, but taking Ferguson's words at face value, it is clear that he thinks Charlton, his strongest ally on the board, was wrong with what he said about a flotation protecting the club. United were always vulnerable post flotation and there is no way that a dispute between Ferguson and the club's main shareholders over horse stud rights caused the 'inevitable' debt loaded takeover. Absolutely not. Get that silly idea out of your head right away laddie.
The conclusion to Betrayal… said "Even the world's most brilliant football manager could not transform Manchester United, so long as the club is run from the Chairman's office in the way it has been. United have been dragged into mediocrity by both administrative mismanagement and an obsession with money which has infected the whole club" (Crick & Smith, 1990: 303).
In their wildest dreams, Crick and Smith could not have seen what was around the corner for United, a turn which happened at Nottingham Forest in January 1990 and it began an era when Alex Ferguson became indisputably United's most successful ever manager. United continued to be a money obsessed club with an attitude of high handed arrogance towards fans, which barring the odd exception from certain club figures, survives to this day. The consistent success and brilliance of the United sides from 1990 to 2013 softened that blow considerably to die hard supporters (even allowing for the formation of FC United in 2005 by time served reds), but it's tragically ironic with his laughably amateurish political maneuvering over the Rock of Gibraltar, the club's most successful ever manager has inadvertently led the club to the mess it is today. Betrayal of a Legend goes to show that while there has been many huge changes in thirty years, with Ed Woodard at the helm now and Martin Edwards then, a farcical incompetence of prevails at the club. I would recommend Betrayal of a Legend to any red. It becomes obvious that some things will never change.
Buy the fanzines, they are your voices as reds.
Subscribe to Red News
https://forum.rednews.co.uk/subscribe
Subscribe to United We Stand
http://www.uwsonline.com/subscribe.php