There are some moments in life that you'll remember exactly what you were doing and where you were. Virtually everybody of my parents' generation remember precisely what they were doing and where they were doing it when they heard that John Fitzgerald Kennedy had been assassinated in his convertible Limousine in Dallas, November 1963. I vividly remember what I was doing when John Lennon was murdered, Princess Diana's car crashed and the happiest memory of them all, when Eric Cantona signed for United, twenty years ago tomorrow.
Eric Cantona shields the ball from Brian Deane of Sheffield United at Elland Road in October 1992. Leeds would eventually sign Brian Deane to replace Cantona for nearly three times the price United paid for Cantona
It was a quiet Tuesday night and I was sitting in the Regiment, a now flattened pub that was on Hulme Hall Lane just off Chester Road in Hulme when word got to me that Eric Cantona had signed for United. In that era, where only people with money to burn had mobile phones, the internet sounded like a basketball phrase and hardly anybody had SKY TV, getting decent information was hard work. The fella who told me was a man notorious locally for being the kind of person who thought the truth was something that the dentist dealt with. I first thought he'd told me that United had signed Eric Cantona's brother; I, for a split second, thought that United had picked up City's fetish for signing the shit brother/cousin of a brilliant footballer. When he told me that United had signed THE Eric Cantona, my second word to him was off.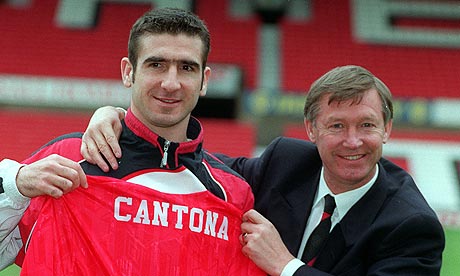 Eric Cantona and Alex Ferguson on the 27th of November 1992
To say that Eric Cantona arrived at Old Trafford in a trail of smoke may be a metaphor but it certainly felt like that. Here was a footballer of such sublime skill and imagination that mere words can't really do justice to what he was capable of. I was pleased United had signed a player  as good as he obviously was but, judging from his past record, only a fool would have put any decent money on such a volatile and mercurial character lasting at Old Trafford for over twelve months. After a turbulent career in France, Trevor Francis gave him a week's trial at Sheffield Wednesday, only to decide at the end of that week that he wanted a further week to decide. Leeds United nipped in and there's no doubt that he tipped the balance of the two horse title race of 1991/1992 in their favour. I was dismayed that a footballer of such grace and imagination should be plying his trade in front of fans who were more used to loving players like Vinnie Jones, Chris Kamara and Chris Whyte. Never have I seen a footballer more out of place, both spiritually and mentally, than seeing Eric Cantona at Elland Road, home of a load of second rate Rugby League fans. Two months before Cantona signed for United, he'd played at Old Trafford for Leeds United in a 2-0 win for the Reds. As you can probably imagine, he was royally abused by the United fans that day but the one thing I'll always remember was his overhead kick which brought out a great save from Peter Schmeichel at the barren land of the under construction Stretford End. There was a gasp around the Old Trafford crowd followed by a smattering of applause. This was truly mind boggling; United fans would rather pull their own molars out with a pair of pliers than applaud a Leeds United player.
 Eric Cantona in the Stadium of Light, Lisbon on the 1st of December 1992. This was Eric Cantona's first game for United, a friendly match to celebrate Benfica legend, Eusébio's 50th birthday earlier that year (Thanks to Andy McMinn for finding this photograph) 
What we now know is that Eric Cantona found his home at Old Trafford. We live in a world where people say frequently that they 'don't give a fuck'. The more they say it, the more we know the opposite applies. Eric Cantona truly didn't and doesn't. Whilst being a conscientious and popular team player, Cantona had a work ethic which had a profound influence on the mentality of the 'Class of '92'. Paradoxically he was also a fiercely independent, intelligent and proud spirit who used conventional rules as a guide but in reality, lived life to his own code. He was, in other words, an absolutely perfect player for a club whose players formed the first footballers' union in 1907. A club who told the Football League to go forth and multiply when they tried vetoing United's entry into the sophomore year of the European Cup in 1956 (unlike Chelsea the year before who as good little boys, did as they were told). I'm not to know if United do things the best way, but I do know that United always do things their way. Eric Cantona was to prove very clearly over his four and a half years at Old Trafford that he was of exactly the same mindset. We weren't to know it then, but this was the start of something very special at Old Trafford. He made his competitive debut for United against City two weeks after he signed. He didn't score that day, it was the only time he failed to find the net against Blues in his time of playing for United.
Eric Cantona equalising for United against City at Maine Road in March 1993
In the cold, dark Winter of 1992 before Eric Cantona arrived, United had a good side but they were going nowhere fast. Before the middle of November of the 1992/1993 season, United had already lost four league games. The most recent losses being an appalling 1-0 home defeat to Wimbledon, very appropriately on Halloween night and a clueless 1-0 defeat at Villa Park the following Saturday. United were still in the psychological trough that engulfed Old Trafford after gifting the title to an Eric Cantrona inspired Leeds United in the summer just passed. I was certain of one thing that night coming back up the M6 from Villa Park, United didn't have a prayer of winning the title for this particular season. It's said that football is a team game and that no one man makes a team. That was obviously the case with United. Despite what some idiots (normally in Blue shirts drinking brown splits) were saying, the signing of Eric Cantona didn't make United a one man team but there was no doubting his catalytic influence on the side. He reinvigorated a depressed and inert football club and was a major part of the most successful period in the club's history. That he didn't win a European Cup winner's medal is an anomaly which is just one of those things. Everybody who remembers the 1999 treble season knows and realises his importance to both that team and the history of the club, even if he had retired two years prior.
Eric Cantona being guided into the Bishops Blaize pub on today after attending the unveiling of the newly erected statue of Sir Alex Ferguson (Photo courtesy of Anthony McCormack)
The final word on the signing of Eric Cantona, I'll give to a well known and well liked face, a home and away Red, who now watches United from the same pew as George Best and Jim Holton amongst many others. He said to me in the Cornbrook pub on Chester Road the same night United signed Cantona, "I can't believe United have signed him, how desperate are we to be signing Leeds United cast offs?"