Vincent Kompany said in his post match interview on SKY Sports that 'maybe the game meant a little bit more to us than to them…'. If Kompany has ever uttered truer words than that then I've yet to read or hear them. This was as bad a United performance against City that I can ever remember. Just under two years ago, I walked away from Old Trafford having witnessed City beating United 6-1. I was consoled in the belief that even though City were deserved winners that day, 6-1 was a freak result. it was a result against a 10 man team that had gone kamikaze after they had scored a goal at 3-0 down with nine minutes to go. Yesterday was different. When Wayne Rooney scored what was arguably the goal of the match on 87 minutes, United could've been 7-0 down and it would've been a fair reflection of the game. That it was only 4-0 at the time was due to the fact that with some mercy, City took their foot off the pedal when they scored their fourth on 50 minutes with a far post volley from Samir Nasri. The last time I can remember a United performance as clueless and as spineless as this, was at the Riverside stadium, Middlesbrough in October 2005, a match that had the same result as yesterday. That match inadvertently saw the departure of Roy Keane for comments he made about the game after watching it whilst seething in a hotel bar in Dubai. With a bit of luck, yesterdays performance would have marked cards for certain players in a similar way with David Moyes. I can't second guess the reasoning of a United manager who spurned the chance of signing Mesut Özil during a summer in which he also granted Nani a new five year contract. For all that, after what I've seen from both Ashley Young and Anderson in the past nine days, the only time I'd expect to see them in a United shirt again would be on Thursday nights at Moss Lane in Altrincham playing for the stiffs and even then, only in place of an injury to one of the kids. There are others, more popular terrace figures like Danny Welbeck and Antonio Valencia who must also be skating on thin ice too.
Going into injury time of the 1st half, things didn't look too bad on the surface. United looked like they were going into half time only one goal down after been played off the pitch by City. Alvaro Negredo then had a free header from a Samir Nasri corner which was guided into the back of the United net by the knee of the imperious Yaya Toure. It was no more than City deserved but whatever the merit, it was lousy time to go 2-0 down. United didn't force Joe Hart into making a save until Marouane Fellaini tried beating the City keeper high on his near post on 67 minutes. A Wayne Rooney corner on 79 minutes saw Patrice Evra lose his marker, Sergio Aguero and head against the foot of Joe Harts left hand post. Rooney's goal eight minutes later gave a scarcely deserved veneer of respectability from a United side which hadn't earned an ounce of respect. There was times yesterday when it looked like City had 12/13 players on the pitch. Michael Carrick was anonymous and whilst Fellaini was busy, he was outperformed in this litmus test against Yaya Toure. Worst of a pretty bad bunch was Ashley Young. Tom Cleverley replaced the hilariously hapless former Aston Villa winger immediately after City went 4-0 in front on 51 minutes.
United fans were in great voice yesterday, particularly after going 4-0 down. A simple  and constant chant of 'twenty times, twenty times, Man United' to the tune of the hymn Give Me Joy In My Heart gave more encouragement to reds than any of the ensuing shambles on the pitch. Whilst the apparently mass mustachioed, blue cladded hordes, whom all seemed to be called Bertie, partied long and hard until at least nine o'clock last night on streets of Hyde and Hazel Grove, United lads'n' lasses were having a good post match drink on Deansgate, Castlefield and Oxford Road. The one thing to celebrate last night was that no matter what happens on the pitch, we were to wake up this morning still reds. Blues can have their well deserved day but ultimately, they're stuck with being blues for a lifetime, especially now that their Chelsea shirts have been quietly thrown away. For that, we should be all be grateful.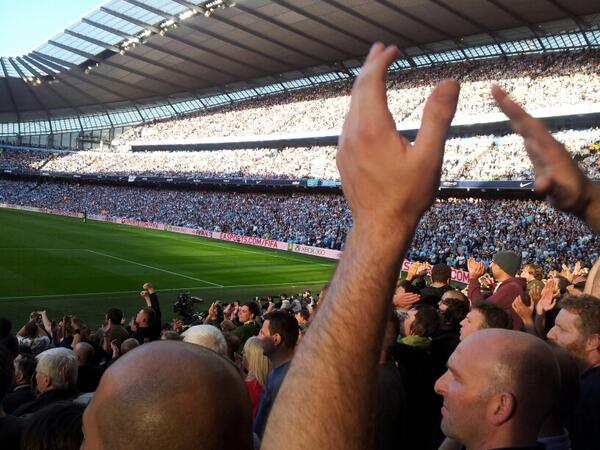 View from the United end of the rented abode of the richest club in the world (Photograph courtesy of Neil Meehan)
Thanks to Lee Thomas for his help in writing this