Southampton were robbed and United, with three goal attempts all night, all from Robin van Persie, scored two of them. This is United's fifth successive win, three of them have been lucky.
A suicidal backpass form José Fonte in the 12th minute left van Persie to put the ball through the legs of Southampton goalkeeper Fraser Forster. From here, we thought that United, after a scrappy start would build on and take control of the game, like the good old days.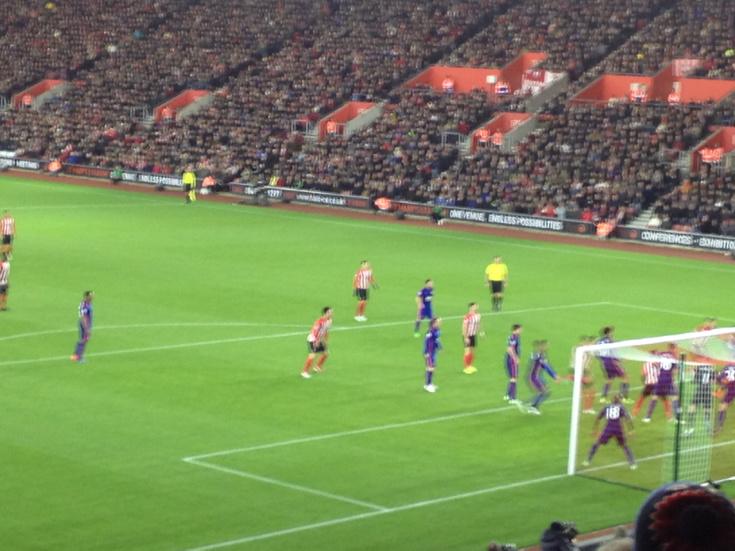 What happened for the next hour was what has been happening mostly since Sir Alex Ferguson retired. United were sloppy, sometimes diabolical in possession. Paddy McNair was having such a nightmare that Louis van Gaal took him off in the 39th minute for Ander Herrera. It's a rare occurrence in England for a player to be subbed before half time with no injury, van Gaal served notice tonight that he wouldn't tolerate a performance as poor as McNair was giving at any time on the pitch.
By the time of that substitution, Southampton had scored a deserved equaliser on 31 minutes when Marounae Fellaini gave away the ball in midfield. Steven Davis carried the ball on towards the box but with some Sunday League defending by United, Graziano Pellè suddenly found himself with only David de Gea to beat.
United's night was beautifully summed up in the 61st minute when a Wayne Rooney corner was mishit stright for a goal kick. I'll be surprised if the ball stayed in play for any more than five yards from the corner. The United fans behind the goal just groaned, the unique type of groan that 3,000 (approx) people can make en masse.
From February 2012, go to two minutes of this video and look at the goal Ryan Giihs scores
Ten minutes after that woeful corner, Rooney sent a free kick to the far post, where van Persie was on hand to score a winner that was almost identical to a winner scored by Ryan Giggs at Carrow Road in February 2012. On that day, that goal stole an undeserved win for United against a staggeringly poor Norwich City. Van Persie did the same tonight.
The most satisfying thing from tonight is the win, it certainly wasn't the performance. United are getting back into the old habit of winning when not playing well. Southampton fans will moan (and boy, can they can moan down there) about how they dominated the game and they were worth a draw at the very least, but, who said football was fair?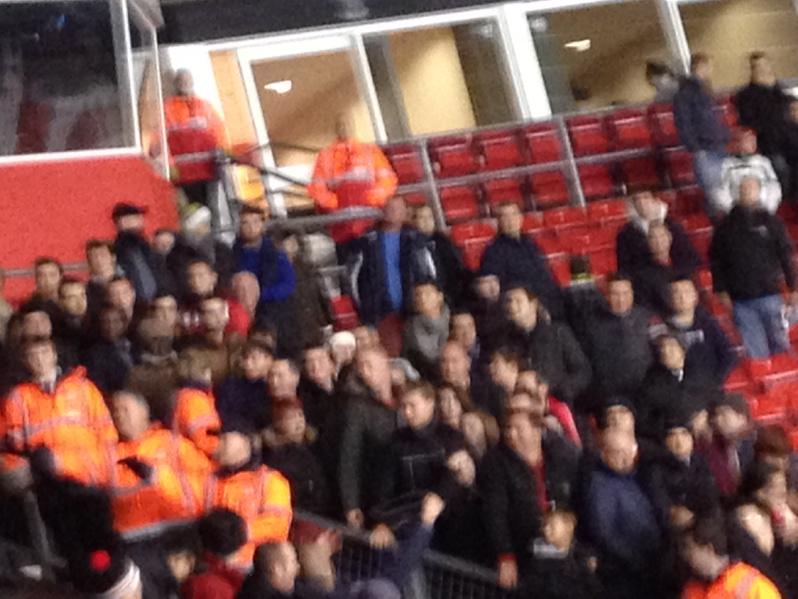 "Let me at 'em" – Southampton fans being very feisty behind a line of stewards inside the ground. Far quieter outside the stadium
Thanks to SKY Sports, the furthest away trip United are going to have this season was moved to a Monday night. This gave travelling reds a fourteen hour day (or it certainly gave me a fourteen hour day anyway). For the reds who've done an overnighter, you've got your heads screwed on. For the reds who had to endure a six and a half hour journey home because some dickhead thought it would be a good idea to close off two lanes of the M3, on the night Southampton were at home, you have my eternal respect. During the match tonight, Saints fans were chanting Who Are Ya and You're Not Famous Anymore at United fans. With a crowd of 31,420, this game has given Southampton their biggest attendance of the season to date. You know who we are. United sold all tickets and I saw several reds outside the Northam Stand trying to get tickets as kick off approached. The league champions, Manchester City, recently sent a block of tickets (approximately 900) back to Southampton due to lack of demand for a Sunday afternoon fixture. Can you imagine what it will be like when United get back on form? It's still the biggest show in town.
And to think that City sent some of their tickets back because a Sunday fixture was 'inconvenient'. Those lads won't be home until 5am.

— Mister Spleen (@MisterSpleen68) December 8, 2014
Thanks to Lee Thomas for sorting the tickets out and to Greg Stephens for driving down there (and what a drive it was…)