A strong smell of splff blissed everybody out as we headed towards half time in an awful game. Apart from a stupid booking for Patrice Evra, a Ryan Giggs shot hitting the bar and a correctly disallowed Adnan Januzaj goal for offside, nothing much had happened apart from plenty of impotent United possession. Inspired by the aroma of the Casbah, reds were looking at each other and remarking how cool everything is. This happy catatonia was brutally disrupted when Ryan Giggs maintained his incredible record of scoring in every season since 1990/1991 in first half injury time. Unfortunately, for the first time in 23 years, he had put the ball into his own net having been pressured by his fellow Salfordian, Phil Bardsley, into doing so. The feelings of a mutual loving of mankind, evaporated almost immediately and transformed itself the usual atmosphere at football matches of loathing and hostility. Normal service was resumed. Half time and there was a sense of numb disbelief. Nobody could comprehend how Sunderland, a side who didn't even know who was playing in goal for United, could be 1-0 up.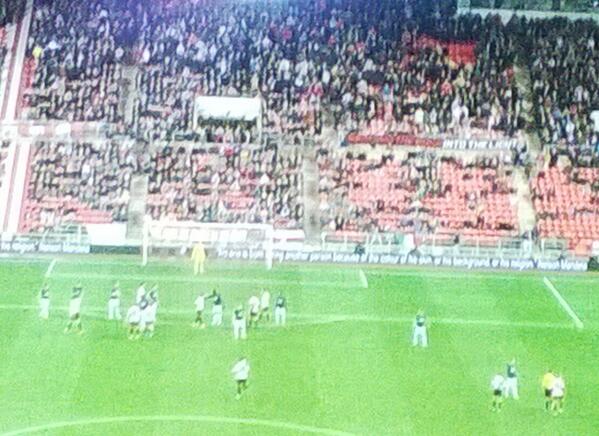 Sebastian Larsson (bottom right hand corner) about to take the free kick which lead to Sunderlands goal in first half injury time
Seven minutes into the second half, Nemanja Vidic headed home one of his occasional goals from a Tom Cleveley corner to bring United level. Whilst United had hardly played brilliantly, there was no way they deserved to be behind. Eleven minutes later, ex Middlesbrough winger Adam Johnson, bought a penalty off Tom Cleverley. The replay showed that it was a harsh decision, but from where I was in the ground, it looked like a foul. I immediately looked over to the linesman and my heart sank to see him put the flag across his chest. After Rafael Da Silva earned himself a booking for arguing about the decision, Fabio Borini and left the blameless and generally excellent David De Gea with no chance. Three minutes later, Rafael tried to emulate his older twin's recent exploits for getting sent by fouling Borini in what under normal circumstances would've been a booking. I believe Andre Marriner, not a favourite referee of mine, had to be fair, exercised a bit of discretion in not sending Rafael off. It should be appreciated. The last thing United need at the moment is to be losing players of Rafael's ability due to some stupid sending off.
The most worrying thing about United's reaction to Borini's goal, is that there wasn't a single decent attempt on goal in the last 32 minutes (including injury time). Somebody should let United know, just in case they didn't already, that goals win football matches, not possession statistics. Four years ago, United had lost a semi final first leg away at City under similarly contentious circumstances as last night. After City went 2-1 up in that game, United pummelled the City goal but were thwarted by a particularly inspired Shay Given. There was a threat and urgency about United that night which was nowhere to be seen last night. After that game at City, there was a feeling of relish amongst reds of the return leg. Coming out of Sunderland's stadium last night, there was none of "just wait 'til we get these back at Old Trafford" kind of talk from reds. United should prevail against Sunderland in the return in a couple of weeks, but I'm not taking anything for granted on the outcome. On present form, only a fool would put good money on it.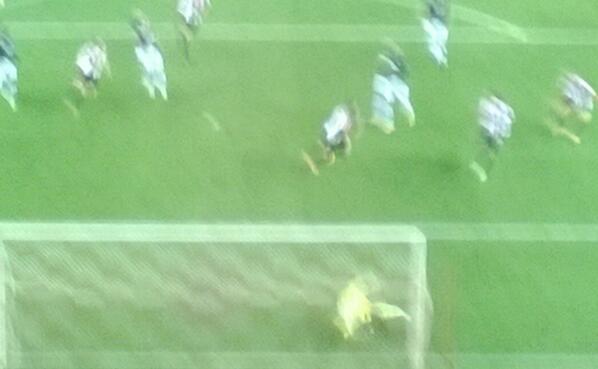 Fabio Borinin runs away in celebration having just scored the nights winner for Sunderland from the penalty spot 
The traveling reds last night deserved better than what they were treated too. Whilst United obviously have no divine right to win, the 5,000 United fans who went to Sunderland immediately after the Christmas period do have a divine right to at least some attacking flair from their team. This was Sunderland United were playing last night, not the catenaccio era Inter Milan side. The only flare instead, came when somebody in the United section threw one into the Sunderland section directly below in the lower tier of the North Stand, immediately after Januzaj's goal had been disallowed. I have no problem with flares at football grounds but it is out of order when they get thrown indiscriminately amongst anybody. We will almost certainly have our allocation cut next time we play away at Sunderland because of this…
…or maybe we won't. The official capacity for Sunderland's stadium is 49,000. There were 17,543 empty seats for last night's match. If this is from the supposed hotbed of English football, please don't ever take me to where it's cold. Bearing in mind last night was a home leg of a League cup semi final, the turn out from the self proclaimed loyalist fans in the world, who support their local team was piss poor. Before last night, Sunderland hadn't beaten United since November 2000, a match that happened to be in the the 4th round same competition as last nights was. Then, the match enticed a crowd of 47,543. Last night, for a semi final first leg, the crowd was an appallingly low 31,547.
Then we have the atmosphere. The biggest noise created by anything to do with Sunderland was when both teams came out to "Dance of the Knights" by Prokofiev being played at ear splitting volume by the stadium MC. The long reputed Roker roar was little more than a miaow from the black cats. United fans were vocal, stoic and firm in their support from David Moyes. On May 12th last year, Sir Alex Ferguson said in his farewell address to the United crowd that "Your job now is to stand by your new manager". United fans at Sunderland last night definitely did as Sir Alex decreed, I intend continuing to do so.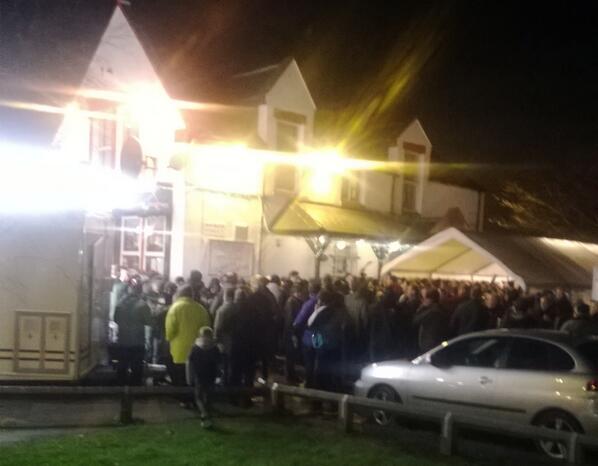 United fans took over the Colliery Tavern on Wayman Street near the ground