We can't say this hadn't been coming. Until today, United hadn't lost a first team match at any level against Tottenham since May 2001. In that time, we've seen Tottenham blow a three goal half time lead (September 2001), concede a last minute equaliser from Carlos Tevez (February 2008) and blow a two goal half time lead (April 2009), that's just off the top of my head. Last time the two sides met in March this year, United did a smash and grab that had the criminal fraternity purring in respect.
Alan Gilzean celebrates as a Pat Jennings' drop kick bounces over Alex Stepney into the Scoreboard End net in the 1967 Charity Shield at Old Trafford
This fixture has traditionally, from the era of Denis Law, Bobby Charlton and Paddy Crerand playing for United and John White, Jimmy Greaves and Dave McKay playing for Tottenham been a classic match. Today was up there with the finest of those legendary matches over the last fifty years.
 Nobby Stiles tackles Jimmy Greaves during United's 5-1 win against Tottenham in December 1965
Tottenham came to Old Trafford today and were immediately on the front foot. United had barely touched the ball before Jan Vertonghen fortuitously scored for Tottenham after 90 seconds with a deflection off Jonny Evans' hand which bamboozled United's now joint first choice goalkeeper, Anders Lindegaard. There may have been some luck in the goal but United's defending in the build up to the goal was shocking. Tottenham didn't hang back then. Like a lot of visiting sides at Old Trafford nowadays wise to the wafer thin midfield, they attacked the United defence with alarming ease. Moussa Dembélé, who's already had one outstanding game at Old Trafford this season with Fulham, was in full control of middle of the park again today. Gareth Bale, hardly an unknown quantity, was allowed an uninterupted 50 yard run before hitting hard and low into the far post of Lindergaards,'s Stretford End net. I've lost count of how many times I've seen Bale do that over the last 3/4 years, the Laurel and Hardyesque defending from Jonny Evans and Rio Ferdinand was a sight to behold. Such was the ease that Tottenham were passing through United's defence, I was quietly fearing another outcome like last season's Old Trafford derby at half time.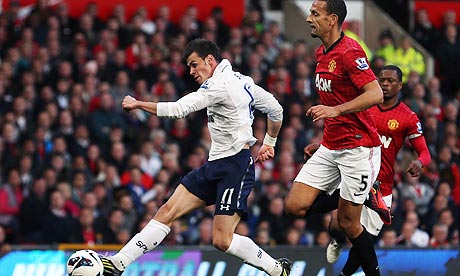 Gareth Bale puts Tottenham 2-0 up on 32 minutes
With the ineffectual Ryan Giggs being replaced by Wayne Rooney at half time, the second half was the best forty five minutes of football I've seen United play this season. During a chaotic three minutes in the second half United scored with a great flick from Nani. This was immediately followed by more appalling defending, this time from Patrice Evra, to allow Clint Dempsey an empty net after Gareth Bale had yet again cut in on the flank to force a parried save from Lindergaard. Immediately from United re-starting the game, Robin Van Persie played a brilliant through ball to Shinji Kagawa who scored to bring it back to 3-2. From that moment on it was constant United pressure, played in front of for once, a roaring Old Trafford crowd. Tottenham fans, who in the first half made a great job actually supporting their team rather than singing songs about what great supporters they are (hello Geordies), were now getting twitchy. They've seen this all before with United recovering seemingly irrecoverable deficits against their side. With a perfectly good penalty shout after a Sandro Raniere handball turned down, I had a gut feeling this was going to be Tottenham's day. United pressed constantly with Rooney hitting the post, Michael Carrick the crossbar, Van Persie shooting wide amongst many other near misses. Towards the end with four centre forwards on the pitch and an attacking fly goalie, United went kamikaze but Tottenham's defence soaked it all up. Tottenham were lucky in the second half but the good luck they had against United yesterday had been coming. If only for United's abysmal first half performance and their own stoic second half performance, Tottenham deserved the win.
No time for acrobatics as Nani retrieves the ball from the net having scored to bring it back to 1-2
Despite the defeat, this was one of the best games I've seen at Old Trafford in a long time and the second half performance from United gave heart that we might start seeing United play the way we demand they do. The atmosphere was electric for the first time a good while; Christ, even the B Stand were on their feet! More of the same next time round would be great, but does it really need a two goal deficit to wake the Old Trafford crowd up?