On the crest of the Two-Tone Ska wave, Madness played the Russell Club in Hulme during September 1979. Peter Barry, a home and away Red from Hulme, saw the Nutty Boys play there, on what was a fairly raucous night.
Peter explains: "We were Perry Boys and had a bit of a skirmish with them in The Russell the week before their first appearance on Top Of The Pops. They were gobby Cockneys, being the big-time boys, and I ended up belting Chas Smash. If you look up Madness's singing The Prince on their first appearance from Top Of the Pops, you'll notice that he is wearing a trilby carefully positioned to obscure his eyes; that's because at least one of them is black."
Madness on Top Of The Pops in September 1979
Madness weren't the only band to have trouble at their concerts. David Murray, an Old Trafford lad and United supporter, saw The Damned play at the Russell on the 3 February in the same year. David elaborated: "The Damned played there four times that year – one appearance for each season."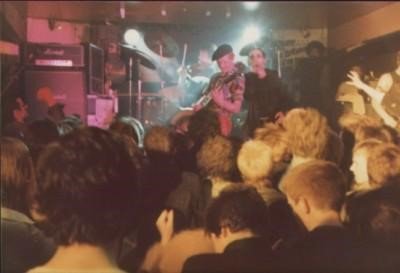 While The Damned clearly liked playing this popular Hulme venue, their fans brought a wholly foreign and unwelcome idea of 'fun' to the local populace, as David explains. "Fans of The Damned had this spitting thing. When I first saw The Sex Pistols, there was no spitting, despite all the mythology. When the likes of Stiff Little Fingers and The Damned came along, that's when people started gobbing. Hulme or Moss Side lads didn't do the gobbing thing. We were looking at each other thinking: 'What's going on here?' These people were coming in from the sticks thinking something like: 'This is a rough old place, it doesn't matter if we spit all over it.' They had no real idea what punk was about. That caused all kinds of trouble. It's a bit like the latter days of Oasis when dickheads were throwing plastic pots filled with piss indiscriminately into the crowd. None of that was happening in the early days of Oasis; you'd have been chinned for doing it and rightly so. It was the same with the spitting. None of the Mancunian punks were into that."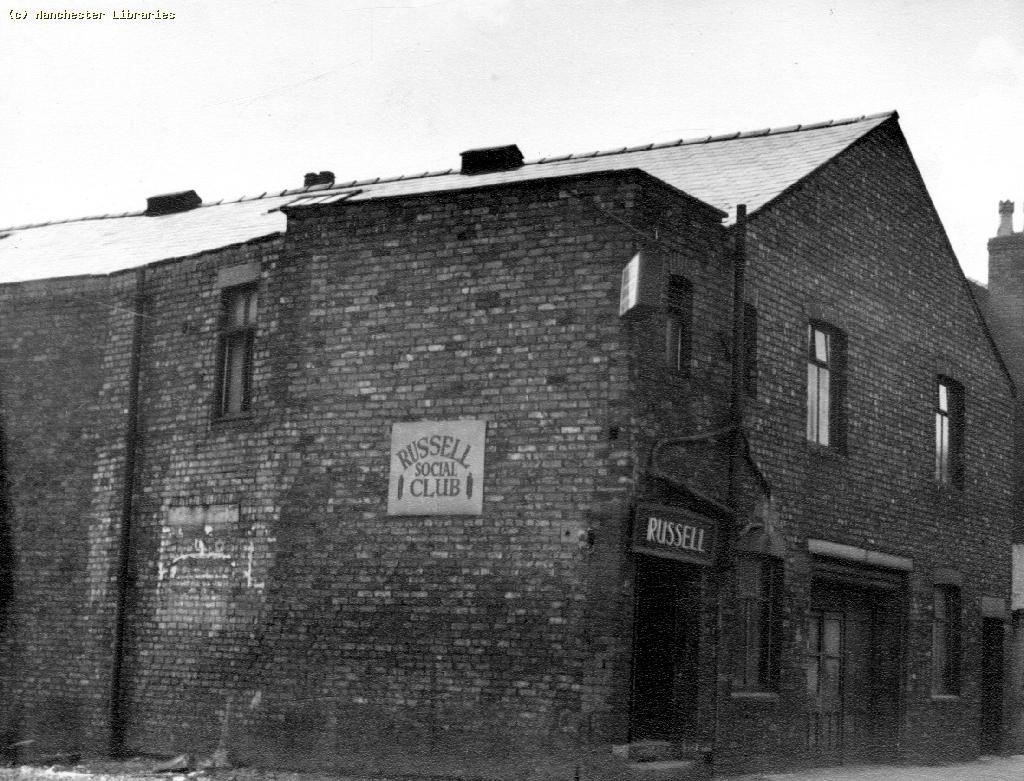 In more innocent times, the Russell Club was originally on the corner of Russell Street and Percy Street; situated in today's terms, about 50 yards towards town from the corner of Stretford Road and Chorlton Road. Originally a cinema built in the 1920′ it was converted in the 1950s, to a music hall. The Russell's house band was the Hughie Gibb Orchestra. Alan Miller of Old Trafford remembers seeing them and Gibb would sometimes have his sons, soon to be better known as The Bee Gees, singing with the orchestra. Alan reminisces: "They were very good but there were a lot of talented youngsters around at the time. I never thought they would become as big as they did, but I'm glad they did. They were lovely lads."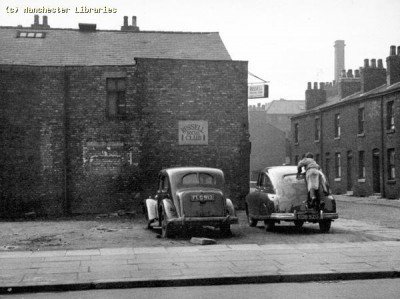 During the original slum clearance of Hulme in the late 1960s, the Russell Club was demolished but reopened in name half a mile away up Jackson Street (now known as Royce Road), near the Grant's Arms. From 1978, Tony Wilson used the Russell Club on Friday nights as a venue for staging Factory shows before the Hacienda opened in May 1982.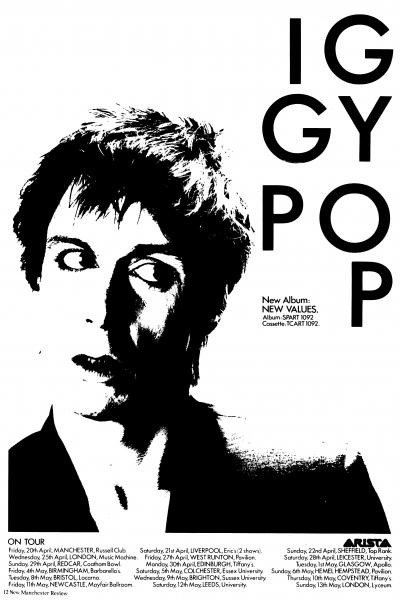 Steve Shy, editor of seminal punk fanzine Shy Talk, remembers: "All the bands that had made it played The Russell. The likes of Gang of Four, Public Image Ltd, Wire, Joy Division, Echo and the Bunnymen, they all played there. It got all the right bands and it was Tony Wilson who managed to get those bands to play there. David Murray was the drummer in a band called Emergency and knew Joy Division. David says: "We did quite a few gigs with them at the Russell. We had a big PA so they'd want to borrow it off us and we'd tour with them, playing venues like Eric's in Liverpool, Bradford and other places."
TV and Radio broadcaster Terry Christian also remembers the Russell fondly. He told Red News: "I saw Gregory Isaacs there, he was fantastic. I also saw Iggy Pop play the Russell on his New Values tour in April 1979. He had already played the Apollo, so I couldn't understand why he was doing a place as small as the Russell Club. He was really good though."
Brian Pearce, a Manchester City fan from Moss Side, was also at the Iggy Pop concert. He describes an unforgettable evening: "Iggy Pop had unbelievable energy, especially in the Russell, which I reckon was the hottest and sweatiest place I've ever been in. Health and Safety would close the place down now in a flash. We used to split our dole money to buy us a couple of pints between us. We couldn't afford a bus, so we'd walk home. In those days, walking over that bridge on the Princess Parkway towards Greenheys was a brave move."
David Murray was also at the same gig. Money, menace and beer played a similar role in his reminiscence: "That Iggy Pop show was packed, even though it was really expensive, like £5 a ticket. Bearing in mind that you could do a whole night out in the pub for a fiver in those days, that's beer, cigs and fish & chips on the way home, there was no way we were paying that to see Iggy Pop, no matter how much we liked him. Out of the three of us, only one had a ticket. So we all walked down together and, on the way back, me and my mate went for a pint in the Henry Royce pub, which was only 200 yards away from the Russell. So we'd dropped him off and we're just walking around the corner and we bumped into Alan Wise, the promoter of the show. He said to us: "Are you not going in?" and I said to him that I'm not paying those prices. So he took us round the side door and let us in as he knew us from playing in there."
Public Image Ltd at the Russell in 1979
David also agreed with Brian Pearce about the dangers of walking around there. "Mick Hucknall was a regular around that time. You'd see him in the Grant's Arms and the Russell all the time. I remember seeing him at the Iggy Pop gig with a black eye after he'd been battered, probably for having ginger hair. That's what it was like."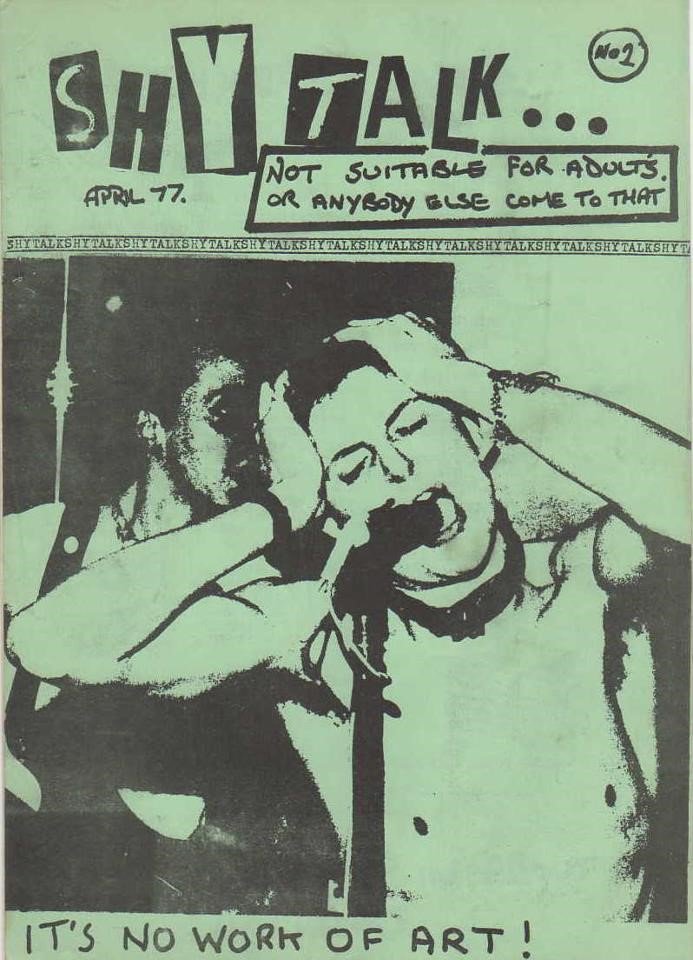 Steve Shy, however, has better memories of personal safety around the area at the time: "I found The Russell a pretty peaceful place to be. Some people used to say that they'd be scared coming out but I was a Moss Side lad and I was known around there. You also walked with the same swagger that the Hulme lads walked with, so any liberty takers would normally look for somebody else to try it on with. The irony is that I couldn't fight my way out of a paper bag but, mad as it sounds, if you had the right way of walking and nodded in a certain way, you were left alone."
Hulme lad and Old Trafford season ticket holder Mark Woods remembers when Tony Wilson first opened his night at the Russell. "There was a TV crew outside from Granada. He used his contacts at the TV station to give Fac 51 (as it was catalogued) a load of publicity.
I was only a kid at the time and, to us, because he was a regular on Granada Reports, he was a star. He was nice enough, approachable and gave us all autographs without being arsey about it."
Steve McDonough of Hulme saw The Undertones playing the Russell as a 14-year-old lad on 5 May 1979. "I'd been listening to United losing at West Brom on Piccadilly Radio, then went out and walked past the Russell and the back doors were open. I just walked in and there was Feargal Sharkey doing a sound check. I sat down on one of the speakers and I twigged that nobody's noticed me and watched them set up, start rehearsing, having a bit of a laugh. I ended up staying in there all day. Nobody said a word to me. To this day, it's one of the best concerts I've ever been to."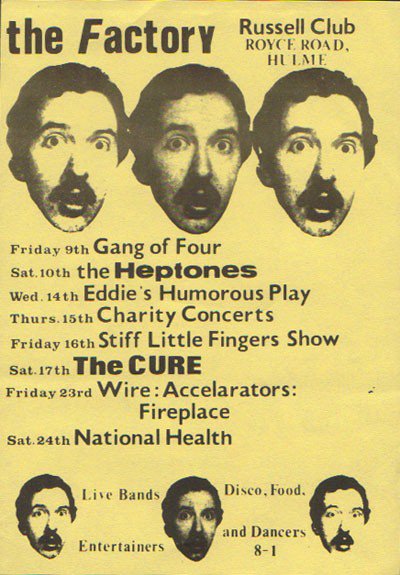 Two days after United's sickening loss to Arsenal in the 1979 FA Cup Final, Russ McKee, a seasoned swag grafter and Old Trafford lad, consoled himself by watching Buzzcocks at the Russell. This was the night immortalised in the brilliant 24 Hour Party People film, where Tony Wilson's first wife, Lindsay Reade, and Howard Devoto allegedly had an amorous liaison (although Devoto denies this). Russ says there weren't that many people there that night. However, one man who was present was the now-disgraced DJ, Ray Teret, on the decks. "He had a Ford Capri parked outside and it was covered in artificial grass. Everyone thought he was great then. Of course, nobody knew what the dirty bastard was really up to."
In 1980, the Russell Club was bought by a crew of bus drivers, headed by the brothers Pinch and Sonny Burton and renamed the PSV (Public Service Vehicle) Club.
Terry Christian remembers it being very popular with the Windrush generation of bus drivers. "Despite it changing its name to the PSV, everybody still knew it as the Russell Club; even the people who bought it still called it that. I remember there were always reggae dos. That's what always caught my eye, when they had the likes of Alton Ellis and Dennis Brown, who played there in May 1984, but it was expensive to go to these shows. To see these top-line reggae artists, you're talking about an era where nobody had any money. I was potless so I couldn't see all the things I wanted to. I mean any gig that cost more than £3, you could forget it."
In the 80s, Russell McKee became a regular Sunday afternoon drinker there: "Around 1988, we used to go in there every Sunday after playing football for the Grey Parrot and score some weed. We'd pile on over, have a spliff, a few pints and listen to the reggae music that the DJ had playing in there. One Sunday, we carried on boozing for a bit longer than we realised. At about three in the morning, the gaff got raided by the police for drugs and after time drinking. I was asleep under a table but I was dead lucky as I had a bag of weed on me. There were fifteen of us in there. How they missed me I will never know."
Mark Woods remembers there being a small gap of land between the Russell Club and a kids' nursery. "That's where some of the punks who had copped would go and take things a little further at two in the morning. Every Sunday after playing football over the road at St Wilfrid's, we'd walk past there and see badges, knives, discarded radios, used johnny bags, all kinds of stuff."
After a slow decline, the Russell/PSV closed down in the early 1990s. In its latter days, it was more of nightclub thriving on sets from knowledgeable House DJs than a live music venue.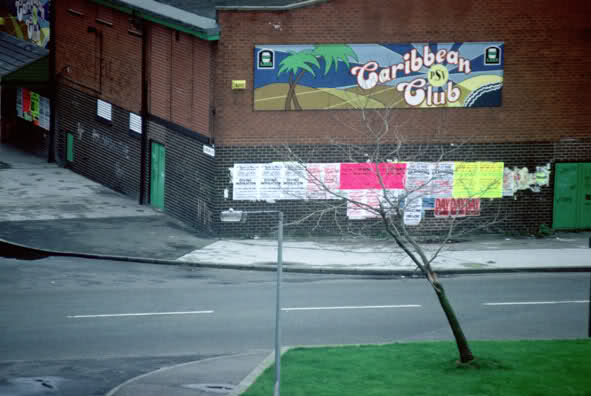 Martin Holland, a red from Chorlton, started going to the Russell as a change of scenery after becoming disillusioned with the commercialisation of the House scene elsewhere during that period. Martin says; "there was some real good street soul coming out of the U.K. at that time. This was when the Broadway Sound System were playing. Top tunes, just too much MCing and rewinding for my liking but good nights in all. Whoever was promoting the nights in there must have noticed that some of the house kids were starting to drift in to different nights and decided to put a house, drum and bass night on in there on a Saturday".
Steve McDonough explains the Russell's appeal in those final years: "The PSV was a good place for a late night drink and where others went to score spliff", but with different factions in the club and with the prevailing gangwar in nearby Moss Side during the early 90s, the police started paying more attention to both who was going into the Russell and what was being used in there. Martin Holland said: "Although I knew quite a few heads in there you had to have your wits about you as it could be moody as fuck sometimes in there. You could be having a great night in there and then there'd be a minority who'd want to ruin the night up for everyone else by kicking off. I suppose it was a bit of a sign of the times with plenty of other clubs all around Manchester having similar problems".
The Russell Club's days were numbered and with a slow decline, finally closed its doors in the early 90s. The venue may be long demolished, but with luminaries such as the Bee Gees, Joy Division and Gregory Isaacs (to name but a few) gracing the Russell, and the memories of the people who enjoyed their nights in this fabled venue, it will stay alive for long time to come.
This article was originally in Red News 233. To buy or subscribe to Red News, click here