This is what it's all about, genuinely back in the big time and the visit of Juventus for United's first European semi-final since the AC Milan tie of 1969 and the infamous goal that never was, scored by Denis Law. Juventus, with Michel Platini, Paolo Rossi and Zbigniew Boniek and the brilliant but the eternally dirty bastard, Claudio Gentile, possibly the most inappropriately named footballer I've ever seen. Of the six Juventus players that were part of the Italian World Cup winning squad of less than two years prior, five were still at the club. In Boniek, Juventus had a skilful centre forward who moved like shit off a shovel and in Michel Platini, they had the present Ballon d'Or holder, half way through his three year reign of being so and in my opinion, the best footballer in the world at that time. Platini would soon be an instrumental part of that magical France side which won the European Championships that summer. In the meantime on this warm Spring night at Old Trafford, Platini and his cohort were up against a United side that had both Bryan Robson and Ray Wilkins (captain and vice captain respectively) out injured. United had Paul McGrath, a centre half, playing in midfield alongside the tenacious Remi Moses and John Gidman, a right back who'd been out injured for most of the previous two years playing on the right wing. To say United were up against it is an understatement.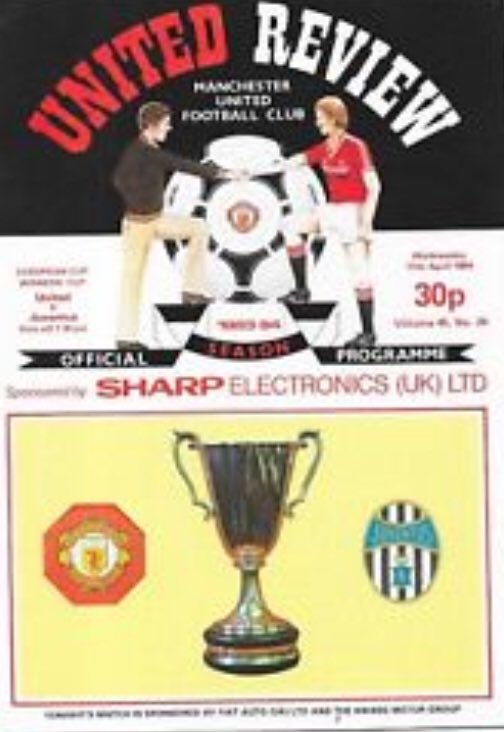 The pre match build up for this European Cup Winners Cup semi final and expectation had, if anything surpassed that of the famous Barcelona match which occurred three weeks prior. To no one's great surprise, Barcelona, with Diego Maradona and the superb Bernd Schuster beat United 2-0 in the Camp Nou in the first leg.
The return saw United unexpectedly win 3-0 against a side completely overwhelmed by an Old Trafford crowd which was given officially as 58,547. Touts that night were asking and getting an astronomical £10.00 for Stretford End standing tickets. With the confidence gained from that special night and the great momentum United had at that moment, even a side as great as Juventus obviously were held no fear for United.
The night of the Juventus match was a quintessential European Old Trafford night. The huge floodlights seemed to beam that little bit brighter, the streets en route to the ground packed with nervous anticipation and old boys stood outside the main stand in their camel coats smoking stogies. As we took our places on the Stretford Paddock, the Stretford End was in full voice with nearly an hour to go to kick off (imagine that now!). An official crowd of 58,171 was in the stadium. This was smaller than the Barcelona game, indeed, on Warwick Road touts were trying to sell tickets for below face value as what became abundantly clear was that everybody who wanted a ticket, had one. In the touting circles, this night became known as the 'Juventus bonfire' (oddly enough, tickets for the second leg of the European Cup semi final 15 years later between the two sides had the same fate)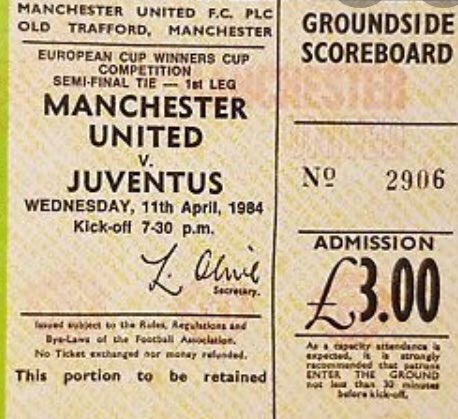 In the press before this tie, there had been heavy speculation and innuendo about referee, Jan Keizer, being spotted talking to officials of Juventus at Schipol airport. This wouldn't be the first time there had been suspicion about the behaviour of an Italian club in a European match. Both United and Liverpool lost hugely controversial European Cup semi-finals against AC Milan (1969) and Inter Milan (1965) respectively. The reactions of the managers being as their usual character, Matt Busby quietly dignified but seething inside, Bill Shankly hilariously outspoken, as was his wont. In 1973, Derby County lost a European Cup semi-final against Juventus, which led Brian Clough to say to the gathered Italian press corps that he "would not speak to cheating bastards" after Juventus centre forward Helmut Haller, he who scored the first goal in the 1966 World cup Final, was observed accompanying match referee and German compatriot Gerhard Schulenburg to the changing rooms at half time. Contemporarily, the same night United played Juventus, Nottingham Forest were playing Anderlecht in a UEFA Cup Semi Final, a match which was revealed to be corrupt in favour of the Belgians by UEFA in 1997.
It was in this suspicious atmosphere that the match progressed at Old Trafford with some very strange decisions being made by the Dutch referee. Claudio Gentile in particular with a foul on Arthur Graham that would earn him a six match ban nowadays, did not even get a booking. With all the media innuendo and the weird decisions, the Stretford End soon started loudly singing "Bribery, bribery, bribery" to the tune of Stars and Stripes Forever by John Philip Sousa.
In the 10th minute, United, already badly hampered by absences to key players saw Gidman substituted for Alan Davies after he broke down injured. Four minutes later, United were caught out by a classic Italian sucker punch. From the Scoreboard End box and a United attack, it took 12 seconds for the Bianconeri to score. Boniek picked the ball up near the D on his own half way line and with his frightening pace, ran past Kevin Moran like he was a chicane, he fed Rossi on the mid-point of United's 18 yard line, who shot and took a deflection off the luckless Graeme Hogg's knee and past Gary Bailey's left hand side of the Stretford End net. There was virtually no travelling Juventus supprters in the stadium, so the silence that greeted the goal was eerie.
From this, relentless pressure was applied by United against a team very experienced at soaking up this kind of football. Like a lot of contemporary Latin clubs, Juventus were a dab hand at the dark arts and United, like most English clubs of this era, had an almost Corinthian attitude and honesty to playing. In short, United were very naïve in a European sense. It would stay this way for at least another decade. Allowing for Juventus' impressive composure under this pressure, in the 45th minute, an Arthur Albiston cross from near the halfway line caused chaos in the Juventus box. A Norman Whiteside shot from five yards was parried by Stefano Tacconi and Davies placed the ball into an unguarded net. It was to be his only goal for United.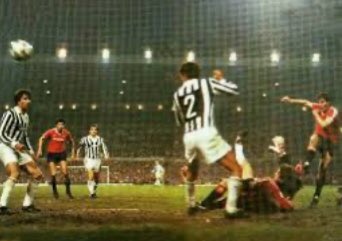 Halfway through the second half as Boniek was about to take a corner in front of the J Stand, he collapsed as he was about to run up. We then had all kinds of histrionics on the pitch as an assortment of men in very expensive suits were walking around gesticulating wildly at the referee. Later in the game, Frank Stapleton had the chance to win the game for United in front of the Stretford End. Another chaotic scramble saw the ball fall for him in a similar way it fell for Davies. Stapleton went for the big finish and the ball crashed against the bar and out to safety for a very relieved visiting side.
United don't bother with moral victories, we leave that to clubs with a smaller mentality, but there was a real feeling of pride as we left Old Trafford that night. This Juventus side, which would go onto win the tournament and the European Cup the following year in tragic circumstances were on paper, far superior to what United had available. United went for this Juventus side in the only way it knew how to, with guts and bravery. It worked against Barcelona (another technically superior side), it very nearly did against the Bianconeri, but heartbreak reigned a couple of weeks later when a last minute goal by Rossi ended any dreams reds had of heading to Basel in the middle of May. The following night, the once great Manchester Evening News had a back page photo of a dejected Paul McGrath walking off the pitch at Turin's Stadio Comunale and a headline of "The Pride Guys". It was spot on. For the return leg and like the previous tie in Barcelona, United officially took no supporters. This had become club policy after the debacle in Valencia in September 1982, when the local police started indiscriminately belting United fans with batons in the Mestalla. This caused a knock on effect after the match and United obviously felt that taking an official contingent to European aways was more trouble than it was worth.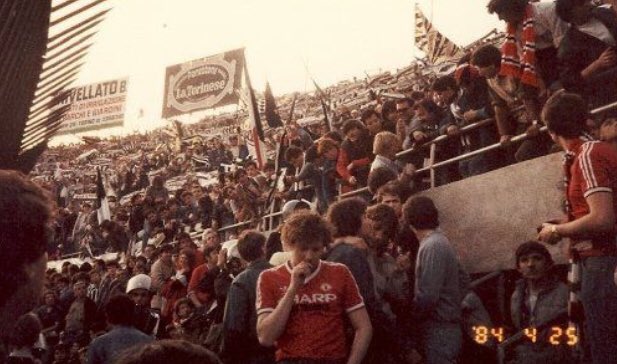 United's next match after the home leg against Juventus was an away trip to Meadow Lane, where they lost 1-0 Notts County, a club who'd inspired the Juventus strip in 1903. This result caused massive harm to a team whom still had a great chance of winning the title, but it also nicely summed up the mid 1980's United side in a microcosm. Play one of the best sides in the world on a Wednesday night and be unlucky to only draw against them with half your side out injured and then, lose to a relegation bound Notts County four days later. Nothing ever changes really.  
Originally published in Red News, November 2018.
By the fanzines, written by the fans, for the fans.
New UWS out 14th April buy here http://www.uwsonline.com/subscribe.php
New Red News out in May 2020, buy here https://rednews.bigcartel.com/product/pre-order-rednews272-273-double-issue-print-may-2020