Tonight was the trial run for the 'Singing Section', to be situated in the L stand at Old Trafford, the usual place where away fans are allocated. The idea of the singing section is nothing new. It was mentioned frequently in the fanzines in the mid to late 1990's and after much lobbying by IMUSA, was finally opened in the second tier of the Stretford End in 2001. Having watched matches in that part of the ground in that era, I can well remember the lads 'n' lasses in there making plenty of noise but because it was an enclosed part of the ground at the time, the noise stayed within confines and could barely be heard in the lower tier of the Stretford End, never mind the rest of the ground. With it now being re-placed to the L stand and the whole stadium as their audio audience, the singing section made plenty of noise and the whole exercise was very encouraging. It is a great idea to have a group of like minded people together who want to create an atmosphere rather than have them scattered around the ground like piffy. The enclosure was an experiment for tonight's game. From what my eyes showed, it should not only be encouraged, but implemented as quickly as possible as it enhanced the atmosphere immeasurably. This time last year at Old Trafford, United played Sporting Braga and the only atmosphere in the ground was provided by pre pubescent children who were there en masse via free tickets sent to their schools. By all means have groups of kids in the ground on freebies, but it is embarrassing when they set the benchmark for the vocal support. The regular use of the L stand for United's more boisterous fans can't come quickly enough.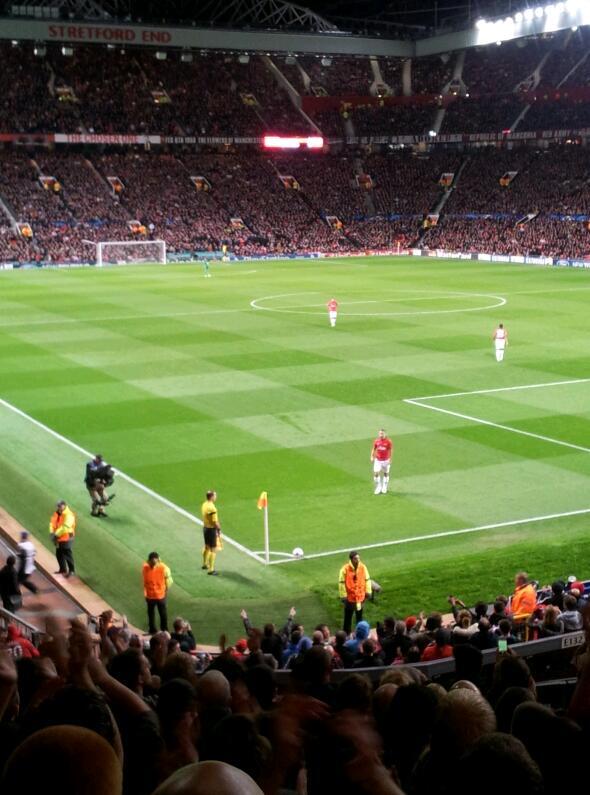 Ryan Giggs about to take a short corner and get caught offside seconds later when Wayne Rooney returned the ball to him (Photo courtesy of Neil Meehan)
The tone of the match itself was set in the very first minute when Wayne Rooney hit Claudio Bravo's left hand post from 10 yards. A fortuitous rebound (from United's perspective) hit Real Sociedad centre half Inigo Martinez on his right knee and bundled into Bravo's bottom right hand corner. The goal was as comical as the last goal to go into that net, scored by Southampton's Adam Lallana on Saturday just passed. It was just as well for United that Martinez graced us with his benevolence as judging by the performance of United's forwards tonight, they'd struggle to finish their dinner never mind anything else. Chance after chance was spurned and wasted tonight. United were lucky that they played a team that had plenty of good players but didn't play particularly well as a team itself. Any result other than a United win would have been a travesty yet if Sociedad had nicked a draw, United would have only had themselves to blame. It was good to see Shinji Kagawa back in the side, Ryan Giggs again defied father time and gravity with his performance and Rooney put in a controlled and determimed performance. Having seen teams like Bayern Munich and Borrusia Dortmund recently, to my eyes, the harsh truth is United have not got a prayer of winning the European Cup this season, but performances like tonights give me heart that there will be some good european nights at Old Trafford over the next few months. It wasn't perfect but it was easily United's best showing since the shambles at the Commonwealth Stadium four and a half weeks ago. Hopefully United can now pick up some momentum from this game.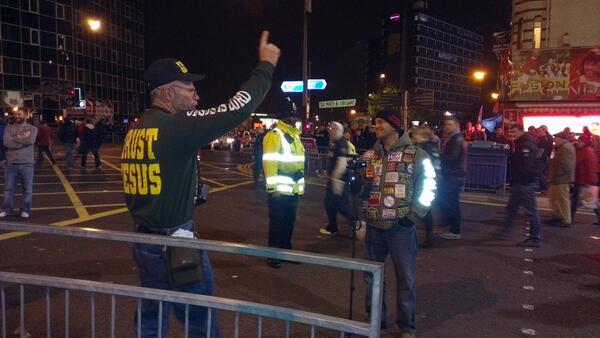 Now here is the Gospel according to Eric (photo courtesy of Lee Thomas)
After the allusion on Saturday to the Lord being unhappy over Southampton's goal and the subsequent downpouring of rain, tonight four of his self appointed representatives appeared at the junction of Warwick Road and Chester Road after the match. They had come, armed with nothing more than a megaphone and The Truth (© Jimmy Swaggart). They had come to share the good news of repent and faith whilst advising all and sundry that none compliance would result in eternal damnation in the fires of hell. Nearby United fans, overjoyed with both tonight's result and this sudden epiphany of eternal saviour (£5.99 per month plus VAT) went and joined the fab four evangelist's and serenaded them with "What a friend we have in Jesus and his name is Cantona". The preacher's looked momentarily confused, if not downright terrified, but they eventually got the message. In 2010, Mancunian poet Mike Garry issued his celebrated poem, God Is A Manc, tonight we found out who his team was. We never doubted him.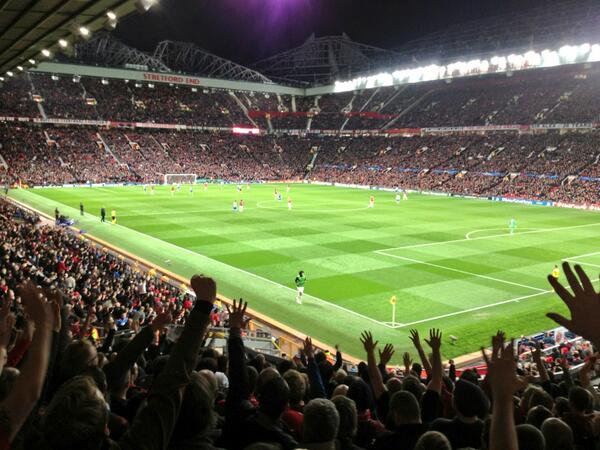 All the lads and lasses, smiles on their faces, walking down the Warwick Road… (Photo courtesy of Rob Mager)