Until today, I had never in my life seen a good game of football involving the 1992 Autoglass Trophy winners. A real see saw game saw for the third consecutive time, a farcical goal go in at the Scoreboard End. Peter Crouch forced a great save from David De Gea on 3 minutes before Jonny Evans attempted clearance deflected off Crouch's shin and into the back of the net. When Van Persie equalised on 43 minutes, the relief around the ground could be touched. It didn't last long. Two minutes later, Marko Arnautovic beat David De Gea on his near post from a free kick to De Gea's right. Wayne Rooney was again immense today, he was busy and determined. Some United players didn't have such a great game though. Jonny Evans and Phil Jones occasionally resembled Laurel and Hardy at the back, then we have Nani…(on doctors advice and some Mogadon , I'm leaving it there).
Wayne Rooney's equaliser on 78 minutes saved the world from another small time club issuing a full match DVD of their big win at Old Trafford. It also saved Stoke fans the conundrum of having to learn how to operate a DVD player and coming to terms with what a remote control is. When Javier Hernandez scored United's winner two minutes later, the ground erupted in an outburst of celebration that you only see at Old Trafford three or four times a season. The Stoke City teams flagging fitness may have contributed to United's win or maybe United were lucky. It doesn't matter which way, David Moyes has been due a good roll of the dice and he got one today. It was also very gratifying to see Mark Hughes again come a cropper at Old Trafford as a visiting manager. Hopefully tonight, he'll be pickling at his house in Prestbury, seething with bitterness at yet another injustice that's befell him at Old Trafford. With a bit of luck, he'll do a similar job at Stoke as he did at Queens Park Rangers and lead them back on the path to where they truly belong. QPR's relegation was a shame because it's a belting location for a good day out, a few drinks etc, Stoke isn't redeemed by that splendour.
Stoke fans, by Christ I've said this before and I feel the urge to re-iterate it every time we play Stoke. I'd like to thank my parents for making sure that wasn't born in or grow up in a town which is populated by half witted, seven fingered inbreds. Stoke fans latest song today was to sing "you're not famous anymore" to the supporters of the club that are present league champions. I suppose that a bit of slack should be cut to Stoke fans though. I was always told not to mock the afflicted and these are probably the most mentally deficient support in England (there's some stiff competition for that accolade). Remember, these are the people whom in January 2012 were singing to United fans in a derogatory manner, "Thursday night, Channel five" when they too were playing some games on Thursday nights on Channel five in the same friggin' competition. I recommend that if you ever have the misfortune to find yourself in Stoke for whatever reason, don't drink the local beer. There must be something in the River Trent which has such a profound effect on their brains. My favourite one from Stoke fans has to be the constant booing of Aaron Ramsey whenever Stoke play Arsenal. You may wonder why Stoke fans dislike Ramsey so much. Maybe he cheated to win a controversial last minute penalty, maybe he stuck his middle finger up to Stoke fans at some point in his career (I wouldn't blame the lad if he did) or maybe he committed a horrendous foul against s Stoke player. It was none of that, Ramsey to this day, gets it in the neck off Stoke fans because he had the temerity to sustain a compound shin fracture in a match between Stoke and Arsenal in February 2010. To put it into context, it would be a bit like United fans booing David Buust, the Coventry City player who got a similar injury in front of the Scoreboard End in April 1996.
Even in retirement, Sir Alex Ferguson is winding up opposition fans, managers and some former United players. Sir Alex's second autobiography came out this week and was launched with a press conference at the Institute of Directors in Pall Mall, London. The perfect place for proud socialist and trade unionist to launch a book. In the book, he claimed that Steve Gerrard is not or was not "a top, top player". Whether you agree with Sir Alex or not is one thing, he's entitled to his opinion as much as you or I am. What was hilariously predictable was the howls of indignation emanating from Liverpool FC with both their former and present manager placing their opinions into the public domain. As Sam Allardyce said in last night's London Evening Standard, "Sir Alex laid the bait and they have taken it, hook, line and sinker". Rodgers felt that Sir Alex wasn't "credible". That's fair enough, with Gerrard being Rodgers skipper, I would expect him to say that. My personal favourite came from Kenny Dalglish in this morning's Daily Mirror. Once Dalglish went into his usual Machiavellian modus operandi of begging for a job (this time in India), he put his two years severance pay's worth into Sir Alex's book. First, Dalglish said "Sir Alex has written so many books…". This from a man who himself has released his autobiography three times, the most recent one being last month, just in case anybody missed the point the previous two times. He also said that Sir Alex's words about Steve Gerrard was a "strange statement". I would have to bow to Dalglish's superior knowledge on this one, Dalglish, has been mumbling strange statements ever since he first took over the Liverpool managers job from Joe Fagan in May 1985 (Fagan, now there was a gentleman by the way). Nobody would know a strange statement like Dalglish. I suppose Dalglish is just displaying an admirable loyalty to Steve Gerrard. It wouldn't be the first time he's done it bearing in mind the character reference he gave to Liverpool magistrates court for Gerrard when he was up on a charge of affray in 2009.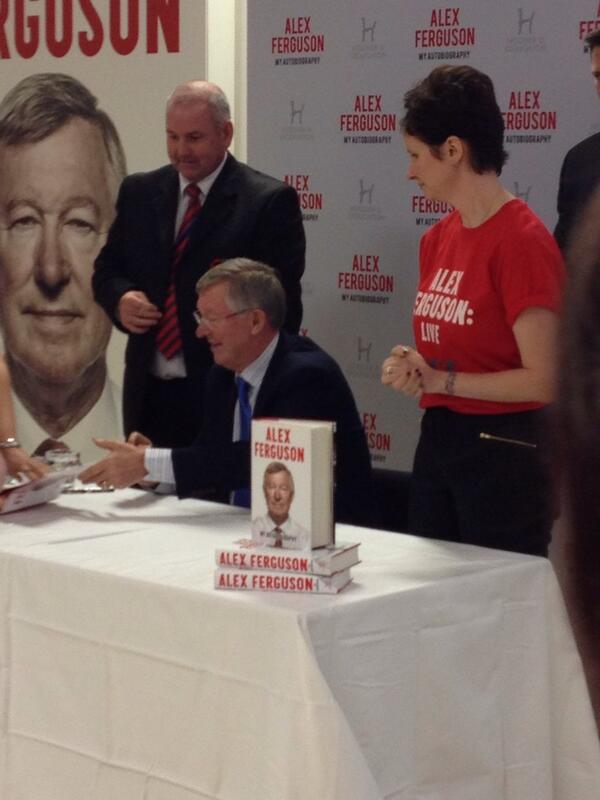 Like the feeding of the 5,000. Sir Alex signing copies of his updated autobiography on Thursday just passed (photo courtesy of Daniel Burdett)
There were a few factual errors in the book but star prize has to go to Sir Alex's claim of Gabrielle Heinze and Juan Sebastian Veron nearly coming to blows during an argument in the away changing room at Fratton Park. The problem with that claim is that Juan Sebastian Veron, left United for Chelsea during the summer of 2003 and Gabriel Heinze didn't sign for United until the summer of 2004. I'd love to know when this argument actually happened between the two Argentines.