Nobody I know fancied this tonight. Bayern Munich are to my eyes the best team on the planet at the moment and it's fair to say that United are a street or two behind them. The bookies were offering 1/2 on a Bayern win and I personally thought prior to kick off, they were relatively generous odds. Reds had all seen that video in the past week of Bayern literally running rings around City, the same City side that had outclassed United at Old Trafford exactly a week ago. Bayern Munich were confirmed champions of Germany the very same night that City murdered United. To say things didn't bode well tonight was an understatement.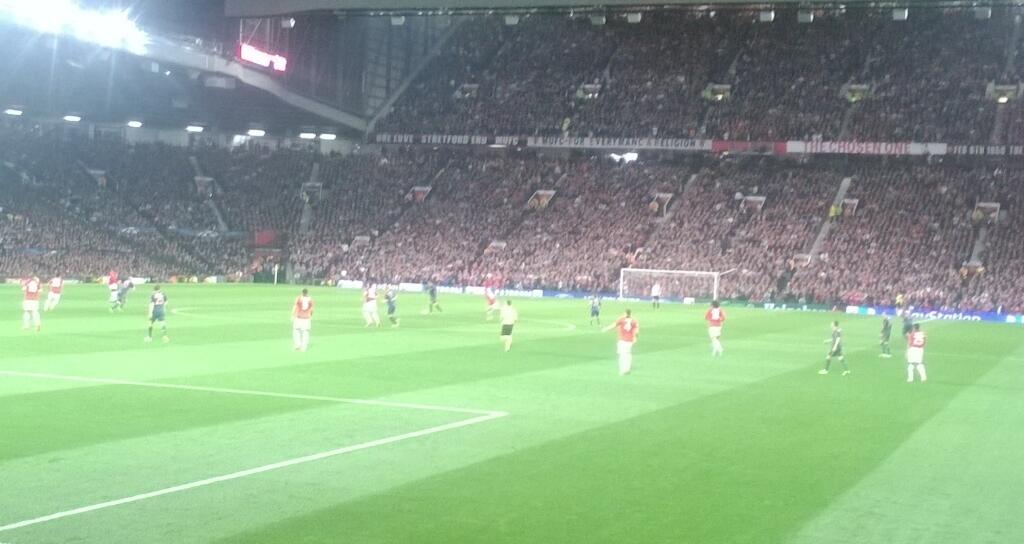 View from the Scoreboard End (Photo courtesy of Joe Leonard)
Where the hell this performance came from I will never know. There was a feeling of impending dread when we heard that Phil Jones and Alexander Buttner were up against the combined talents of Franck Ribery and Arjen Robben. The worry was misplaced if perfectly understandable. Both lads had an excellent game.
https://www.youtube.com/watch?v=IfzMXqAgfJE
Danny Welbeck's disallowed goal, a joke of a decision
In the third minute, Danny Welbeck, with brilliant ball control, scored for United, only to see the goal disallowed for high kicking as Bayern centre half Javi Martinez put his head down towards Welbeck's foot to try and head the ball away. An already daunting fixture had been compounded by referee Carlos Velasco's mysterious decision to disallow the goal. I saw the goal in real time and I have since seen it umpteen times on action replay and I can't for the life of me see what was wrong with it. If a pedantic referee naused united early in the game, United only had themselves to blame when Welbeck missed a great chance half an hour later when clean through on Manuel Neuer. The one thing I can say in mitigation for Welbeck is the Neuer is in my opinion, the best keeper in the world but for that, a centre forward should be putting chances like that away.
http://www.youtube.com/watch?v=WgCq-0_29Zc
Nemanja Vidic put United 1-0 up from a Wayne Rooney corner on 58 minutes. Why Bayern didn't have somebody on the far post to clear the ball away is a mystery, not that I'm complaining. A great header from a true United great sent an already lively Old Trafford crowd into rapture. Munich were rattled. At the moment, they are by some distance a better side than United but they were unnerved by the raw passion of both the team and the crowd tonight.  Munich equalised eight minutes later with a goal form Bastian Schweinsteiger that was too easy but on the balance of play, deserved. Swchweinsteiger ended up being sent off in the 88th minute for what looked to me, a fair challenge on Wayne Rooney. Schweinsteiger  was very irate with Rooney and Bayern boss Pep Guardiola made a diving motion with his hand in disgust at what had happened. The may have a point but fuck them anyway. I don't remember Bayern Munich being too apologetic when they worked a similar manoeuvre on Rafael Da Silva in the equivalent game in 2010. What comes around goes around.
View from the Stretford End pre kick off (Photo courtesy of Eleni MacFarlaine)
Just like tonight, United go to Munich next week as underdogs. What there is however is hope if not a lot else. Hand on heart, I expect Munich to go through, I think they're too strong a side but stranger things have happened. Liverpool beat a far superior AC Milan side in the European Cup final in 2005, Chelsea did a similar number on Bayern at the final in Munich two years ago. United probably won't win this tie, but they can. We can hope it comes right, but whatever else happens, we know that whether United play in this competition next year or not, they will maintain the respect of Europe's elite. If tonight was a boxing match, Bayern would've walked away still as champions, albeit with a black eye, this was a night to be proud.