Blue scarves, blue shirts and blue hats for a blue day were all I needed as the traditional Spring sight of daffodils was overwhelmed on Wednesday morning. By Wednesday night, the agenda had changed for the media. Some dickhead had decided to canvas contributions for an aircraft based at Barton Aerodrome to fly over Old Trafford with an anti-Moyes banner attached.
Years ago, we all laughed at attention seeking City fans who had arranged an aircraft with the legend "You're The Pride Of Singapore" attached to it on the day United won the title. We all chuckled at how small time it was. Now a truth more painful than the defeat the other night has become apparent; there are some real pricks amongst United fans. I'm struggling to think what's worse – that a small amount of United fans are prepared to pay good money on this pathetic stunt or a significant amount are prepared to chip in small amounts to facilitate it.
As some Reds had said yesterday, the publicity generated for a gleeful media over this whole sorry episode meant that it had actually become academic as to whether it happened or not. How many times has a 'Glazer Out' plane been hired since 2005? I suppose that a few bad results are fair game for something like this but the extracting of hundreds of millions of pounds on absolutely nothing is fine. David Moyes, a decent man who might be out of his depth, doesn't deserve this (and don't give me any of that bollocks about how much he gets paid). It is shameful.
For the second season in succession, the visit of Aston Villa has been completely overshadowed by events off the pitch. The build up to today's match was eclipsed by the banner fiasco. The contrast in atmosphere in the two respective fixtures was stark. Last season's fixture was one of celebration as United regained the title; today's match had the feeling of an end of season game with nothing resting on it. The sun, like Alexander Buttner, was making a rare appearance at Old Trafford. After watching today's game I can say with some confidence that the sun will get a far better welcome than Buttner on their next respective appearance.
About five minutes into the game, a ring of boos rang out from the Old Trafford Main (South) Stand. They could see the aircraft hovering over United Road with the anti-Moyes banner attached. About five minutes later, I could see the plane flying over the Stretford End from my seat in the K Stand. The idea of hiring a plane to do this was bad enough but to actually have it flying over the ground during the game just showed up the clowns behind this piss poor excuse of an idea for the attention seeking knobheads that they are.
As the plane was hovering over the Stretty in the thirteenth minute, Ashley Young played Rafael into trouble. This lead to the Brazilian full back fouling Gabriel Agbonlahor from 18 yards out and earning him a booking. From the resulting free kick, Ashley Westwood shot past David De Gea's right and into the Stretford End net.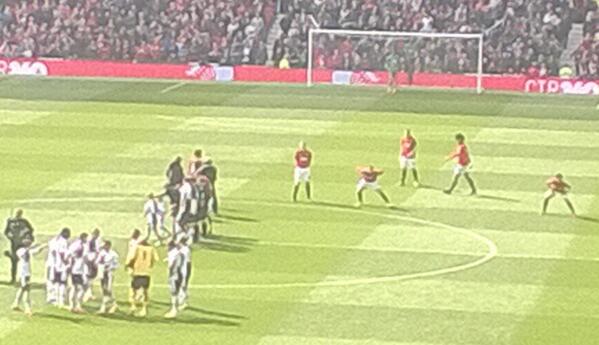 Players warming up pre-match
Seven minutes later, Rafael fed Shinji Kagawa on the left flank. Kagawa worked the ball onto his right foot and made an inch perfect cross to Wayne Rooney to make the score 1-1. The game was cagily easing to a half time deadlock when from a Shinji Kagawa pass, Leandro Bacuna fouled Juan Mata to gift United a penalty in the 45th minute. Rooney took the penalty and put United 2-1 in front.
Twelve minutes into the second half saw Juan Mata score his first goal for United after some good work by Marouane Fellaini. Aston Villa shown no fight once 3-1 down and when Javier Hernandez scored in the first minute of injury time, they could consider themselves lucky to have only lost 4-1. The Villa team were nearly as bad as the half-hearted half-wits that follow them. I've stood incognito amongst villains at Villa Park when United have been there. It's like being amongst 3/5,000 Benny Hawkins clones from Crossroads (younger readers, please look at video below). Their chants of "Oo are ya?" have to heard to be disbelieved.
The most heartening thing to be heard this afternoon was when, in the 65th minute, the Stretford End  started singing "You can stick your fucking banners up your arse". There were other songs of defiance in support of David Moyes. As a protest, it has backfired so badly that it has actually galvanised some people, who last week wanted Moyes to go, to come out in support of him. If there's one good thing to come out of United's relatively poor season, it will be the imminent departure of the mard arsed, scabbing bastards that arranged for that banner to be flown today. Good riddance when they do eventually vanish.