United were running Barcelona ragged in the first 10 minutes of the Champions League final in Rome; a lethal Cristiano Ronaldo free kick had been parried by Barca keeper Victor Valdes and Ji Sung Park put the follow up over the bar. A shoot-on-sight policy had Barcelona desperately backpeddling, two more shots from Ronaldo in that period were scrambled away.
A Cristiano Ronaldo free kick in the first minute creates chaos in the Barcelona penalty area
There was great confidence amongst Reds that night, before the match kicked off. United had a fantastic side who'd just won the title against Liverpool and were in tip top form after a wee stumble following a heavy defeat at Old Trafford to Liverpool two months prior. A spellbinding performance of counter attacking football at the Emirates stadium, three weeks before this match, had ascertained that United were in peak form leading up to this game. Barcelona had played Chelsea in the semi final, qualifying for the final via the away goals rule after an injury time equaliser at Stamford Bridge from Andrés Iniesta had knocked Chelsea out after a bad tempered match. I saw nothing from Barcelona over those two legs that I thought that United should worry too much about. They were obviously a good side but United had beaten a Barcelona side of virtually the same personnel a year earlier in the semi final.
Ji Sung Park seizes on a Kieron Gibbs mistake at the Emirates stadium in May 2009
Ten minutes into the 2009 final, against the run of play and after successive mistakes by Michael Carrick and Nemanja Vidic, Samuel Eto'o scored from close distance on Edwin Van Der Sar's near post to put Barca 1-0 up. We weren't to know it then but everything changed after that goal. A previously nervous and pensive Barcelona side had suddenly got their confidence after that lucky break and started to take control of the game. Whilst there wasn't constant pressure on United's goal, Barca were comfortably the better team and when Lionel Messi was granted a free header by a sleeping Rio Ferdinand in the 69th minute to put Barca 2-0 in front, the game was up. Over the years, we've all seen United come back from impossible positions to gloriously win/draw games that they had no right to. The main difference in Rome 2009 was that this was probably the first time I'd ever seen United so comprehensively outclassed. United didn't play too badly when they had the ball, it's just that Barcelona were unplayable. I've sometimes wondered what would've happened if Ronaldo would have scored in that first ten minutes. Barca would've probably have panicked, playing right into United's hands and I believe (obviously hypothetically) that United would have won the match. One thing I knew at the final whistle of that match was that I'd just seen a pretty special side beat United.
Lionel Messi puts Barcelona 2-0 up in Rome, May 2009
Soon after the 2009 Champions League final, to nobody's surprise, Cristiano Ronaldo was sold to Real Madrid for £80,000,000. The most disappointing thing for me that close season was not Ronaldo's departure but the loss of Carlos Tevez, a player who at that time I believed to be one of the best centre forwards in the world, to a suddenly flush Manchester City. In came Antonio Valencia from Wigan Athletic, Michael Owen on a free transfer from relegated Newcastle United, the fast but useless Gabriel Obertan from Bordeaux and the dreadful Mame Biram Diouf from Norwegian side Molde. This was the summer where Glazernomics truly kicked in and suddenly, all the Give 'em a chance  and Let's wait and see advocates of apathy four years previously, were finally seeing what Sean Bones and Andy Walsh were frantically warning them about in 2005.
The following season, United surrendered the title to Chelsea, losing the league by one point whilst Carlos Tevez was on the East side of town scoring goals from lost causes and winning nothing. Whatever anybody thinks or says about Carlos Tevez, nobody is going to tell me that United wouldn't have won the title without him in the side in 2010. United were knocked out of the Champions League by a good but unspectacular Bayern Munich side. This is where United had some stinking luck. In Munich, loss of concentration from Patrice Evra in the last minute where Bayern scored a winner and a badly twisted ankle for Wayne Rooney, which neutered him for the rest of the season, made the loss of Carlos Tevez all the more keenly felt. At that point, Michael Owen had been ruled out injured until August with a groin strain and the talented but unpredictable Dimtar Berbatov was suffering a savage loss of form and confidence.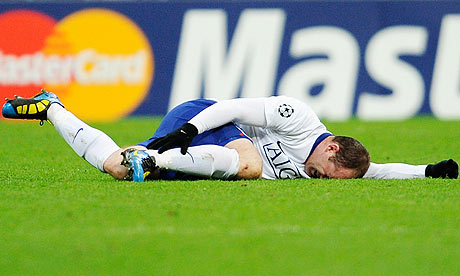 Wayne Rooney picks up ankle injury in the Alianz Arena, Munich
The lack of firepower available to United was compounded in the second leg against Bayern when Sir Alex Ferguson started with a badly injured Wayne Rooney and left a fully fit Dimitar Berbatov on the bench. The gamble looked to have paid off when United raced into a 3-0 lead before Michael Carrick dawdled to allow Ivica Olic to sneak in a goal for a Bayern goal just before half time. A naive foul by Rafael on Frank Ribbery in the 50th minute, which earned him a red card, ensured a long second half in store for United.
Rafael sent off by referee Nicola Rizzoli in the 50th minute
United couldn't hold out. On 74 minutes, Arjen Robben made it 3-2 on the night and United went out on away goals. Four days before Bayern Munich came to Old Trafford, Chelsea had deservedly won 2-1 at Old Trafford, which put them in the driving seat for the title run in. They didn't relinquish. The season 2009/2010 ended so anticlimatically that most people had forgotten that United had won the League Cup, against Aston Villa at Wembley on February 28th.
The summer of 2010 was the close season where Sir Alex Ferguson infamously said that there was no value in the market, when asked what the Ronaldo money was being spent on . This despite spending £7,000,000 (approx) on a player that he'd never personally seen, the now notorious Tiago Manuel Dias Correia, better known as Bébé. a pretty ordinary United side didn't lose a League or European match until early February where they lost 2-1 to Wolves. An average Chelsea side won the double on 2010 and this was followed by (in my opinion) the weakest United team since 1991 winning the title and also getting to the Champions League final, which was played at Wembley.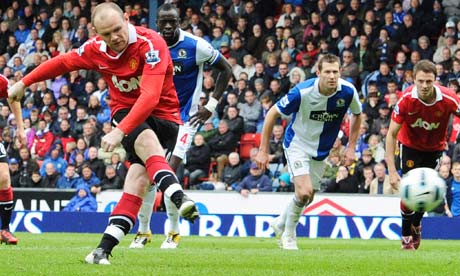 A follically liberated Wayne Rooney seals the title for United in May 2011
Like 2009, United started the 2011 Champions League final at Wembley on the front foot with a very aggressive start to the game. The only thing was, for all United's traditionally English blood and thunder begining, it actually put me in mind of Ricky Hatton's fight against Floyd Mayweather Jnr where he fought hard with all his might but didn't actually leave a scratch on him. In the 34th minute, Wayne Rooney equalised Pedro Eliezer Rodríguez Ledesma's goal seven minutes earlier to somehow send United in level at half time. This Barcelona team, as great as they are, were not invincible. Arsenal came back from behind to beat them in the first leg of the last 16, three months earlier. With Rooneys equaliser I was hoping that United might gain some momentum from this bit of luck and put Barcelona on the back foot. I realised early in the second half this wasn't the case. Lionel Messi put Barca 2-1 up on 54 minutes and David Villa finished the scoring off on 69 minutes. This was probably the most humane hammering I've ever seen dished out. That United only lost 3-1 was a relief. Before the match, I came across many Reds who thought United could win the game (myself included) but I didn't come across a single United fan who thought United would win the game. Since the 2009 match in Rome, Barcelona had improved as a side. Not even the most blindly loyal or gullible of United fans would say that United had.
Fernando Amorebieta marshals Ashley Young in the Estadio San Mamés last night
United's main outfield inbound transfers of the 2011 close season, Ashley Young and Phil Jones, with the greatest respect to them, didn't fill me with confidence that United had come close to bridging the gap with Barcelona. In this seasons European campaign, United have only beaten Otelul Galati at home and they were one of the worst sides I've ever seen at Old Trafford. What I wasn't banking on though was United being outclassed twice by Athletic Bilbao, a side that, on present position, are unlikely to qualify for next years Champions League. Sir Alex Ferguson's laughable claim on Valentines Day that United "have got the ambition to compete with Barcelona and Real Madrid and I don't feel we're that far away from them" should have instead been made on April the 1st