On Friday, Louis van Gaal said that whatever happens, United must not go down to ten men. Chris Smalling scuppered that plan when he got sent off in the 39th minute after two bookings which matched the stupidity of Branislav Ivanovic at Old Traffford last week. Against a mediocre side, you can cope with a man down but against a side as good as City, it's going to take a miracle to stop them from scoring. From the resulting free kick of Smalling's red card, Marouane Fellaini blocked his fellow Belgian, Vincent Kompany, from heading into an unguarded net on de Gea's far post.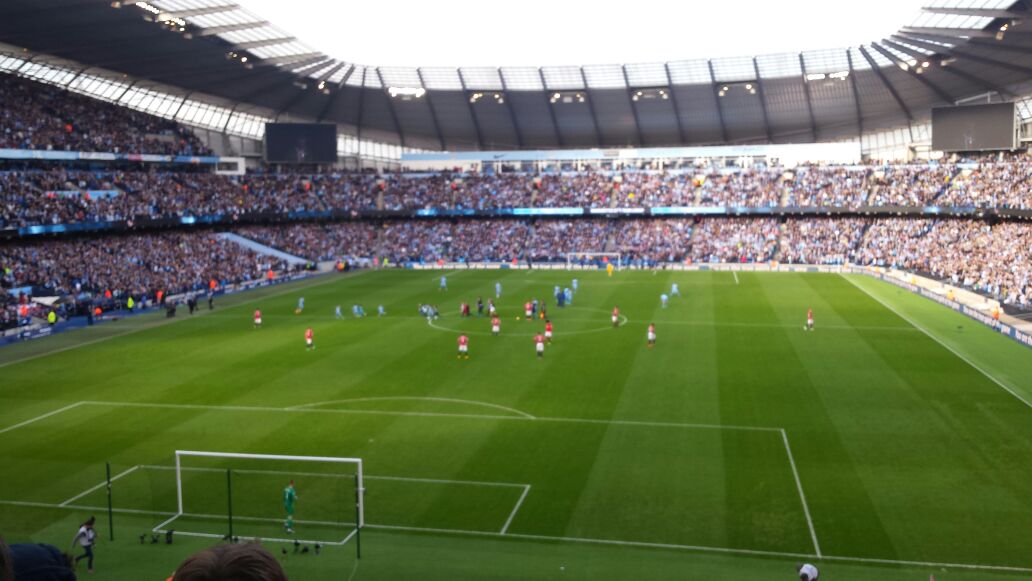 A £57.00 view of the match. Photo courtesy of Lee Thomas
Referee Michael Oliver had a stinker of a game. I have no argument with the bookings United players received but if Smalling's pathetic challenge on Joe Hart was a booking, then how Pablo Zabaleta wasn't booked for his ankle tap on Robin van Persie seconds before Smalling's block is beyond me. To be fair, City also had three certain penalties turned down. There was also the Joe Hart and Michael Oliver picture which spread like a bushfire on social media (shown below) and was timed at 30.54. This actually occurred seconds after the referee had booked Smalling.  
No doubt @garylineker & @motd will show Joe Hart get away with this HEADBUTT onMichael Oliver: http://t.co/837m23JcV7 pic.twitter.com/TslsbZ7y4o — Ben Durham (@benny_62) November 2, 2014
The big surprise was that United held out until the 62nd minute but it was no surprise whatsoever as to who it was that scored City's winner. Sergio Aguero was unmarked on David de Gea's right hand post when he scored past his old Atletico Madrid teammate following a swift move involving Yaya Toure and Gael Clichy. At this point, I feared a rout due to United having to chase the game.
Van Gaal also said Smalling apologised in dressing room and was "very humble." His face suggests it wasn't necessarily accepted.

— Daniel Taylor (@DTguardian) November 2, 2014
That didn't materialise. After Marounae Fellaini backed out of a 50/50 challenge with Martin Demichelis (who had his studs up, right in front of the referee) in the 51st minute, Marcos Rojo dislocated his shoulder seconds later. It could be argued that it was a sacrilegious for a central midfielder to pulling out of a 50/50 but with this referee, it was probably the wisest move. City, with the extra man remember, for some reason backed off against a defence of Antonio Valencia, Michael Carrick, Paddy McNair and Luke Shaw. That's a right winger, a central midfielder and two nineteen year old kids in defence for half an hour against the League Champions. After what I witnessed last season, I feared the worst. 1-0 down, playing with ten men, none of our first four choice centre backs on the pitch and having a go. I've seen worse, far far worse.
Just after Jesus Navas hit the post in the 75th minute, United could've scored twice in the following minutes. A brilliant Wayne Rooney run where he made the City defence look like static chicanes should have resulted in a United goal. A split second hesitancy stopped him, from pulling the trigger and he laid the ball off to Robin van Persie. A minute later, Marouane Fellaini lost his compatriot, the outstanding Vincent Kompany to have a free header which he somehow contrived to send harmlessly wide via his shoulder. You can bet your life that if Vincent Kompany gives you one chance like that in a game, he won't give you another. That was when I knew United were going to lose.  
Manchester is BLUE! But..we knew that even before this game, didn't we?! ?????? Another great derby win ???? Come on @MCFC pic.twitter.com/3UiZNMMxVY — Edin Džeko (@EdDzeko) November 2, 2014
They doth protest too much
I know four reds who got tickets for the United section today. They unanimously said that it was full of faces that they didn't recognise. I have a feeling that the United end was full of people who go to to one, maybe two matches a season. The pubs on Deansgate, London Road and Liverpool Street were full of time served and well travelled reds. The kind of lads 'n' lasses that you will see when United play away at Norwich a couple of days after Christmas. The kind of lads and lasses who will be at Southampton on a Monday night in a months time. The kind of lads 'n' lasses that get blown out every time United play a big away match at Anfield, Arsenal, City et al.
United. End of. https://t.co/AsMWurTU49 — Steve A. (@sarm0161) November 2, 2014
Inconsolable reds in town last night. Wouldn't have it any other way
Statistically, this is United's worst start to a season since the 1986/87 season. It was at this precise point of that season that Ron Atkinson was sacked. That team were in decline and it would take nearly three years to put right. After today's match, we know that City still have a better side than United but after last season's batterings at their hands, the gap is definitely closing. The more astute blues know that too.
Why not celebrate @MCFC's derby win by growing a moustache this #Movember, it's never too late to get involved! — CityintheCommunity (@citctweets) November 2, 2014