'twas the 24th minute. A dreaming Angel di Maria was gazing admiringly at Alex Oxlade-Chamberlain on the ball. He was dreaming of his new flat in town, he might even have been dreaming of getting a decent corned beef butty in his local shop on Quay Street. What di Maria wasn't doing was watching Arsenal left back Nacho Monreal, who he was supposed to be marking. Monreal strolled through on the left flank to beat David de Gea on his near post. Five minutes later, di Maria partially redeemed himself when he whipped in his first decent cross since walking to the other side of the road in Prestbury last December. Wayne Rooney scored with a free header from six yards, after Arsenal's defence somehow surpassed United's abysmal defending a few minutes prior.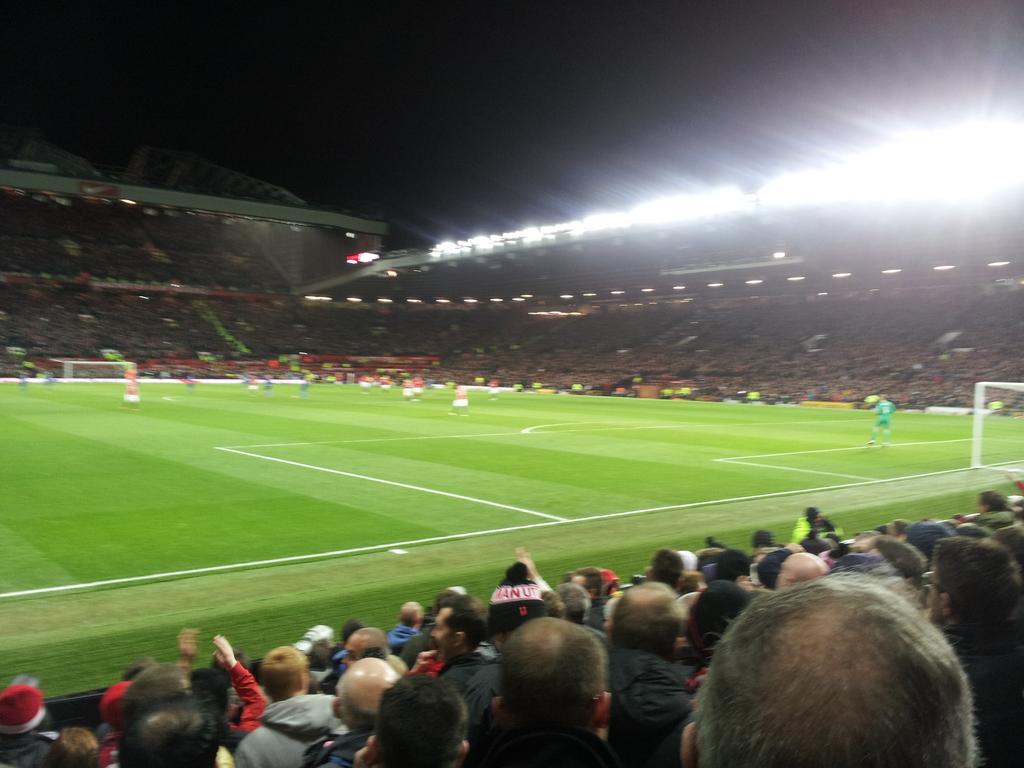 David de Gea watching a United attack in the first half (Photo courtesy of Neil Meehan)
This was the best game I've seen at Old Trafford this season and played in the best atmosphere. The first half, United played with some speed and attacking verve. It was far from perfect but despite what the clueless believe, we don't demand perfection at Old Trafford, we don't object to it either but what we do demand is fast attacking football. Tonight was the first hint of that kind of football that we've seen this season. As for the final outcome, apart from the obvious disappointment, I have little argument. Arsenal came with a plan and apart for their dreadful defending on the equaliser, played it perfectly.
1/2. I'm amazed at the the amount of ballbags out there,and I'm not going to come the "you should have been ..70s/80s" bollox …

— Andy (@Themancpatrol) March 10, 2015
2/2, so here's some of your modern slang, grow a fucking pair or fuck off, it's going to be a bumpy ride,I'll take any spare aways off you

— Andy (@Themancpatrol) March 10, 2015
Hear hear
What may have been for old times sake, Antonio Valencia set Danny Welbeck up for Arsenal's 61st minute winner. Welbeck celebrated heartily. I've no problem with that, in fact, I'm sick to the back teeth of seeing footballers score against their former teams and walk away as if they've just been to a funeral. There's a difference between celebrating a goal like Welbeck did and rubbing noses in it, like Emmanuel Adebayor hilariously did at the Stade de Beswick in 2009 when playing for Manchester City against Arsenal. When Welbeck was substituted on 74 minutes, there were audible boos near me but I'm not quite sure why. What was Welbeck supposed to do? See himself with an empty net and think, fuck this, I can't score against United? Having scored the goal, was he supposed to disregard both his team mates and the travelling support to show some phoney and corny gesture of respect? Are these people for real? Welbeck has done nothing, including tonight, which makes me regret United selling him. He's never spoken or acted out of turn towards United, why be so mard about it?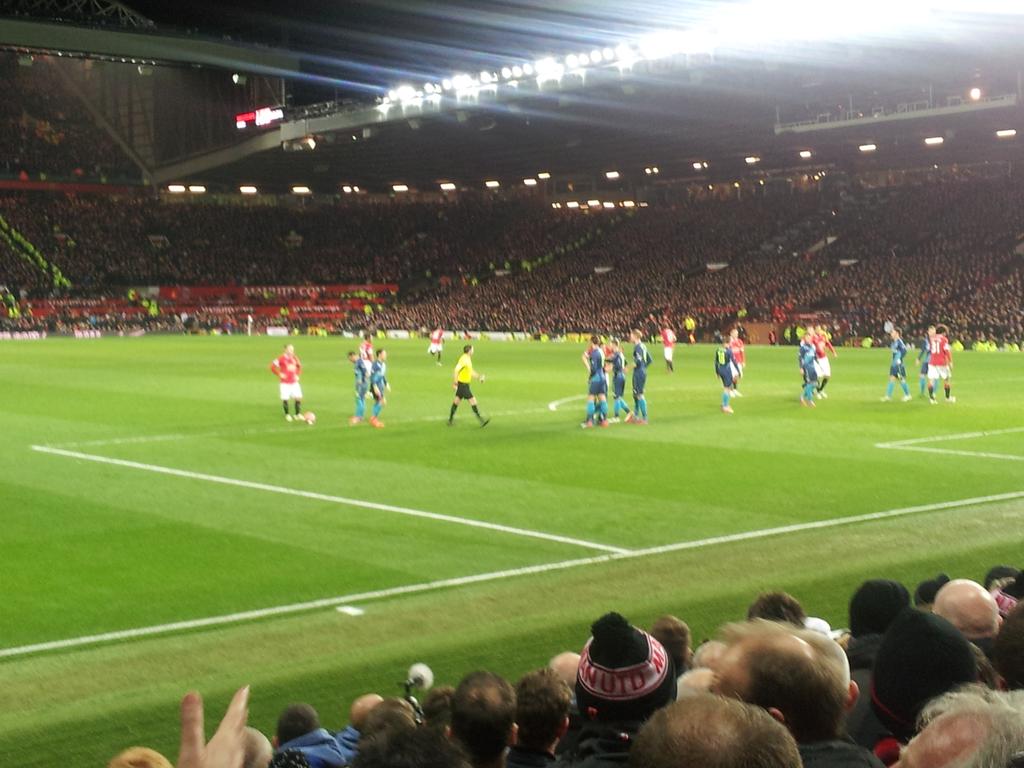 Wayne Rooney lines up a free kick in front of the Stretford End (photo courtesy of Neil Meehan)
We had two instances of United players being booked for simulation tonight. I can't be bothered talking about Adnan Januszaj, that was done to death last season, he'll probably be gone in the summer. Angel di Maria was booked for going down a bit softly in the 76th minute. Next thing I know, I can hear the Arsenal fans cheering above me and seeing a red card flashed at the other end of the pitch. It transpires that di Maria had pulled the back of referee Michael Oliver's shirt. Oliver, a referee who earlier this season had Joe Hart push his head into his face with no sanction during the Manchester derby, was not going to get caught out like this again. I've seen some stupid sendings off over the years at Old Trafford but this one is up there with the very best of them. I'm pretty sure that di Maria, like Januzaj, will also be gone in the summer. He's looking more like a liability with every passing game.
Diving in a United shirt should be a sackable offence. Disgusted by it tonight.

— Red Rants (@Red_Rants) March 9, 2015
United were up to this point desperately trying to get an equaliser against a (for once) well organised Arsenal defence, after that, it became more desperate and if anything, It was Arsenal who were more likely to score. In the final minute of injury time, Phil Jones, the footballing equivalent of Desperate Dan, had the ball to himself just over the halfway line. He beautifully summed everything up by launching the ball harmlessly for a goal kick. It epitomised both his and United's lack of idea.
I've no problem with anybody selling this if they can find somebody daft enough to buy it. My question would be who in the name of Christ buys this stuff?
It's all about top four now. Louis van Gaal admitted before the match that it was his priority, not that we needed telling anyway. Old school like myself who grew up in a time where winning the cup meant far more than finishing top four can lament the shifting of the priorities, but such is the way where being in the Champions League means more to clubs than winning a trophy, it's just a sign of the times. As for not going to Wembley this year, ah well, who bleeding cares anyway? I've been there more times than I can remember and once the novelty wears off (which believe me, is very quick), you see it for the over priced and over rated shithole that it really is. As for Arsenal tonight, I've walked away from a few matches involving them with hard feelings, this is not one of them. They deserved it. Goodnight and good luck and by the way Danny Welbeck, thanks for your service at Old Trafford, you've done nothing out of order.