After the match against Arsenal on Monday, confidence amongst reds was on the floor. When talking amongst ourselves before today's game, such was the sharp intake of breath about what could happen that when we breathed out thinking of Harry Kane, it caused a near hurricane down Talbot Road. Tottenham Hotspur are a good side, easily on paper, the best team United have played at Old Trafford in the league since the chimes of Auld Lang Syne faded out. Prior to today, they had won on their last two visits to Old Trafford, having previously gone twenty three years without winning here. We were left in no doubt that today was going to be a hard game against a side that like United, are in contention for a top four place.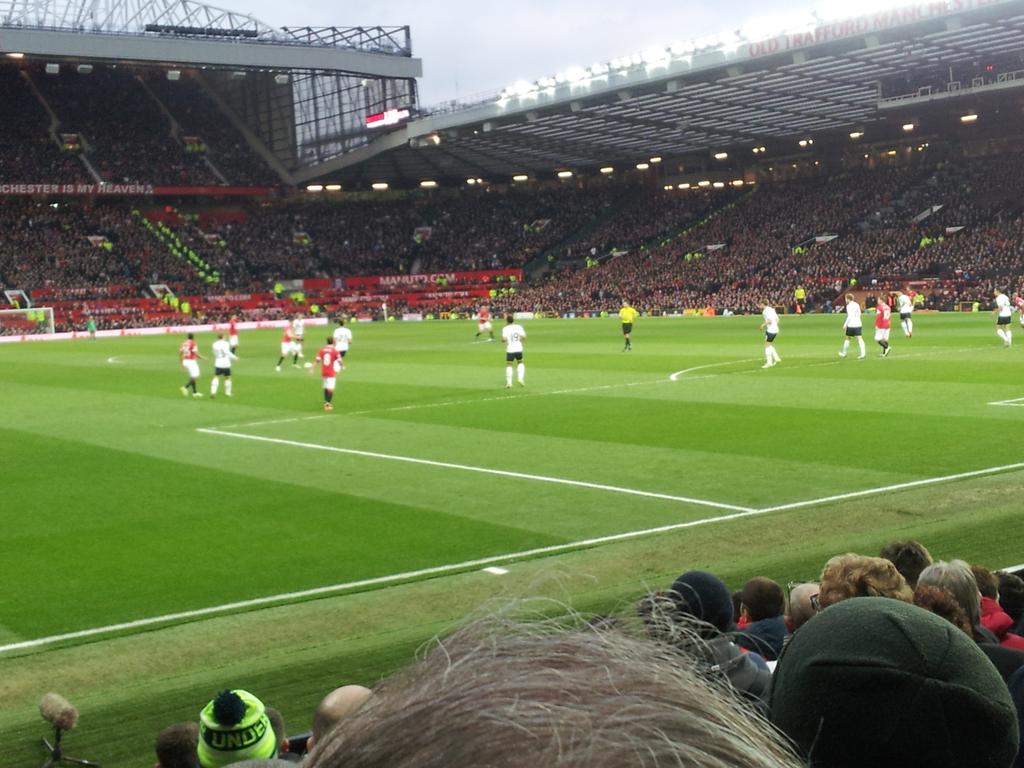 United attack in the 2nd half (photo courtesy of Neil Meehan)
Well what a load of bollocks all that pre match worry turned out to be. Tottenham, an unpredictable side, turned up today as Mr Hyde. They were rubbish. They were so bad that at half time it was rumoured they were considering putting in a bid for Fred the Red to replace Andros Townsend in the midfield. Their best attempt on goal in the first half was a Phil Jones back pass in the second minute which David de Gea had to scramble away from going into the Stretford End net. It was the last thing I remember de Gea doing. I believe that such was United's performance today, he'll only be picking up half of his wages this week.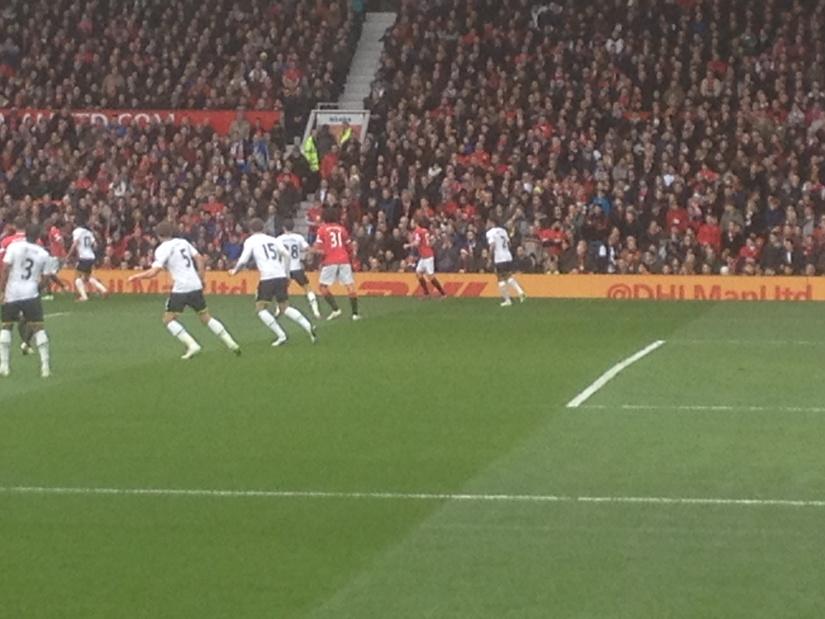 Tottenham's offsideline not working very well in the first half
After nine minutes, former Tottenham midfielder Michael Carrick, fed hopefully soon to be former United midfielder Marounae Fellaini through on goal. Such is the gait of the Belgian that he seemed to run on through on the Tottenham goal in slow motion. I was waiting for a show stopping last gasp tackle from Eric Dier to be laid on him as he shot past Hugo Lloris in the Scoreboard End net. Fair play to Fellaini, he did what he had to do and he did it well.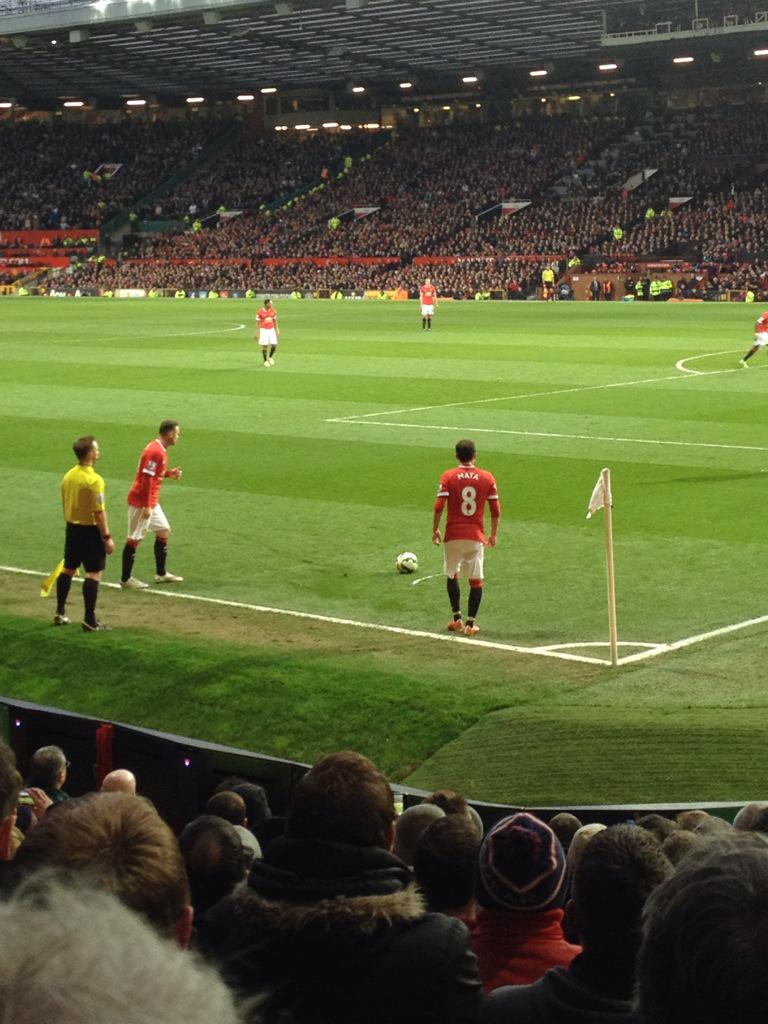 Juan Mata taking a free kick in front of the F Stand (photo courtesy of Anthony McCormack) 
Ten minutes later, a Juan Mata corner led Fellaini to returning the favour to Carrick. Fellaini made a nuisance of himself to cause the usual chaos that his presence necessitates. Nacer Chadli couldn't deal with his compatriots header and shinned the ball to Carrick, who scored the first header I can remember him putting away in a United shirt (if anybody can correct me on that, please leave a comment saying so).
Enjoying motd2 for a change. Will be even better if p.nev right hooks keown.

— Neil Meehan (@transmissionUWS) March 15, 2015
In the 35th minute, an unbelievably sloppy ball from Nabil Bentaleb gave Wayne Rooney possession forty yards out. Rooney still had a lot to do as he ran on through on the Tottenham goal. Rooney showed the three clueless visiting defenders his class to run through them like they were static chicanes to put United 3-0 up. His celebration was of the goal was exquisitely topical. He had just shown that he could deliver a knockout blow every bit the equal as Phil Bardsley could lay on him.
Wayne Rooney, Phil Bardsley and somebody with a smart phone in his house who clearly can't be trusted. It has to be said though, Bardsley has caught Rooney a beauty there
Van Gaal refuses to discuss the Rooney Prestbury knock-out. "It's a sign of the times that I am asked about it." #mufc — ian herbert (@ianherbs) March 15, 2015
Like the game against a feisty pub side like Leicester City on the 31st of January, United went in at half time 3-0 in front and took their foot off the pedal for the second half. No problem either way. Any red would've gratefully took this result before the match. It wasn't a classic or vintage United performance but, by this seasons standards, it was both excellent and encouraging for what the future may hold. As bad as Tottenham were, these are no mugs and on the right day, such as their brilliant performance on new years day against Chelsea for example, they are a match for anybody.
Good use of triangles by Utd today #MOTD pic.twitter.com/KKVYiAf7fk

— Bandit Nanna (@BanditNanna) March 15, 2015
The most memorable and perhaps pointed moment of the second half came in the 77th minute when Juan Mata was replaced by debutant Andreas Pereira. The ovation Mata got off the Old Trafford crowd as he left the pitch will  have left Louis van Gaal, the famously single minded dutch manager, in no doubt as to his popularity amongst reds. The game from there on in fizzled out. It was however a very happy crowd walking down Warwick Road post match. It was a crowd who could for a rare occasion this season, look forward to watching Match of the Day later on that night.
Danny, a @ManUtd fan on #BBC606: "We are not only going to get in the top 4, we're going to win the title." #MUFC pic.twitter.com/K9CNBwA4Z8 — BBC 606 (@bbc606) March 15, 2015
For Christ's sake
Tottenham may have had a lousy day on the pitch today but as for off it, yet again they have provided the most impressive support I have seen and heard at Old Trafford this season. They made themselves heard walking down Warwick Road before the match, not many visiting fans do that and they certainly made a racket inside the ground (until they went 3-0 down anyway). They haven't won the title since 1961 and looking at them today, that won't be changing anytime soon. For all that though, Tottenham have a history, substance and panache, both on and off the pitch, that money can't buy. Whenever I think of Tottenham, I just think respect. A respect for their traditions and demands for playing football the way I like to see it played and for their fans, pretty clued up and loyal bunch. No other club in London can for my money touch them.
Where did that come from? Best MUFC performance of the season. Finest since Leverkusen in Nov '13? Liverpool next, the 1990 league champions

— Andy Mitten (@AndyMitten) March 15, 2015