So, it's back to the old routine after the last match at Anfield, where there were so many stamps, The National Philatelic Society are thinking of opening a branch there in commemoration. From that magical afternoon, we went straight into an international break, which to me are a bleeding nuisance. During that two weeks, boyhood United fan, Raheem Sterling, gave an interview to the BBC, which has gone down in Liverpool, like Ringo Starr's infamous interview on Jonathan Ross's show in 2008. Oh, and England won one game, drew another and everybody got really excited about the amusingly named Harry Kane.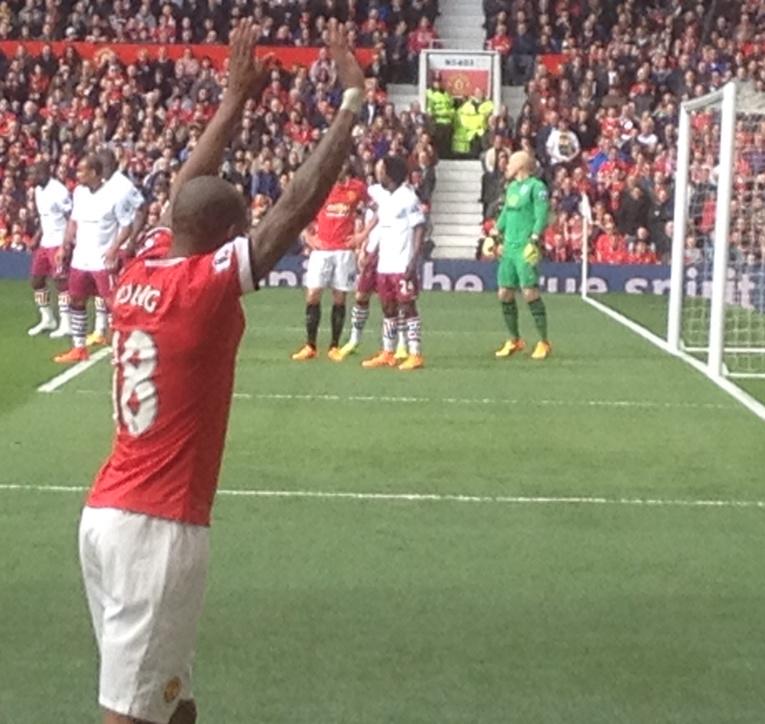 United winger and Aston Villa legend, Ashley Young, taking a corner in the 10th minute
With all that no past, it was great to be back at Old Trafford today, even if the match was a classic case of after the Lord Mayor's show. Ideally after the Liverpool match, United would've had a midweek game and capitalised on the momentum gained, having beaten our main rivals in their own backyard. Annoyingly, the international break broke that flow and we found ourselves today witnessing a match that if I was watching in a pub, I would've got the cards and crib board out halfway through the first half. It was bloody awful. Aston Villa had a well marshalled defence who were very hard to break down. It's testament to the growing confidence of this side that they kept their bottle throughout a very frustrating first half, eventually to see Ander Herrera calmly slot the ball home in the Scoreboard End net in the 43rd minute.
United completely controlled the second half but with a one goal lead and up against a lad like Christian Benteke, there was always an anxious feeling that a sudden moment of madness could see Villa gain a completely undeserved equaliser. When Wayne Rooney made it 2-0 in the 79th minute, we all breathed easy and were looking forward to watching United efficiently see this dull game out for a good three points. That didn't happen, a minute later, Benteke scored to have us all frantically check our watches for the last ten minutes.
An Aston Villa fan near Old Trafford before the match
Aston Villa fans really are not the sharpest tools in the box, but to be fair to them, they seem a happy bunch. They were occasionally singing songs about going to Wembley and also with great perception, they told us in that ever quaint accent of theirs that we were gunna win fuck all. This is something that most United fans have quietly believed this season and something that was virtually rubber stamped by Arsenal's win at Old Trafford, nearly four weeks ago. My favourite moment from the Villa fans though came after Ander Herrera's second goal in injury time which made the score 3-1. A load of Villa fans at the front of their enclosure were making "me and you, outside" gestures, to all the United fans in wheelchairs immediately in front of them. Bless 'em.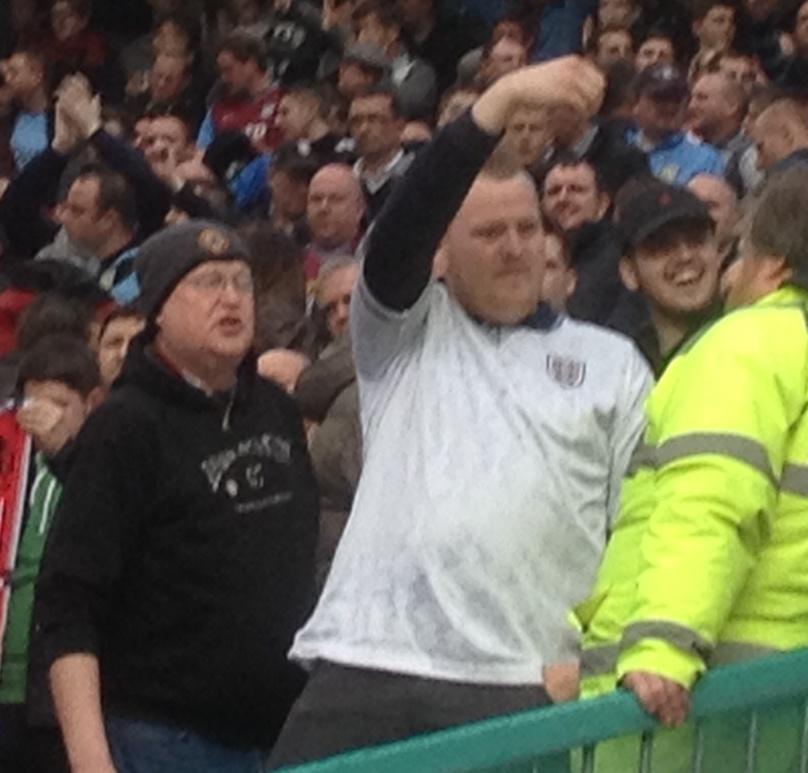 "Hold me back, hold me back" – Aston Villa's boys issuing a challenge to United's blue badge firm at full time 
Virtually this time last year, for the match against Villa, an aircraft flew over Old Trafford to display one of the most embarrassing and scabrous actions I have ever witnessed from some knobheads who claim to be United fans. Today, United are looking good to achieve what they wanted to at the start of the season, hoping to build on for next season and a decent stab at the title. With recent wins against Liverpool and Tottenham Hotspur, couple with Liverpool losing again today and as an added bonus, Leeds United getting clobbered at home, Old Trafford is a far happier place. The sun was shining properly today for the first time in a good while, in every way, let's hope it stays that way.
Oh Falcao https://t.co/d0oXJ62cHt

— TSF Fan Zone (@tsffanzone) April 4, 2015