Despite Manchester City being erratic lately, I expected them to turn up at Old Trafford yesterday and for the first ten minutes, they did. They had Manchester United chasing shadows. In the 6th minute, Jesus Navas brilliantly beat United's offside trap and only a poor finish stopped City going a goal up. Two minutes later, James Miner fed David Silva on the left flank who, in turn, set Sergio Aguero up to make it 1-0 in front of the Stretford End. Seeing this goal had me wondering if United's defence will ever learn. Silva is the best player I have ever seen in a City shirt and over the years, I've repeatedly seen him tear down the left flank against United and set up a goal.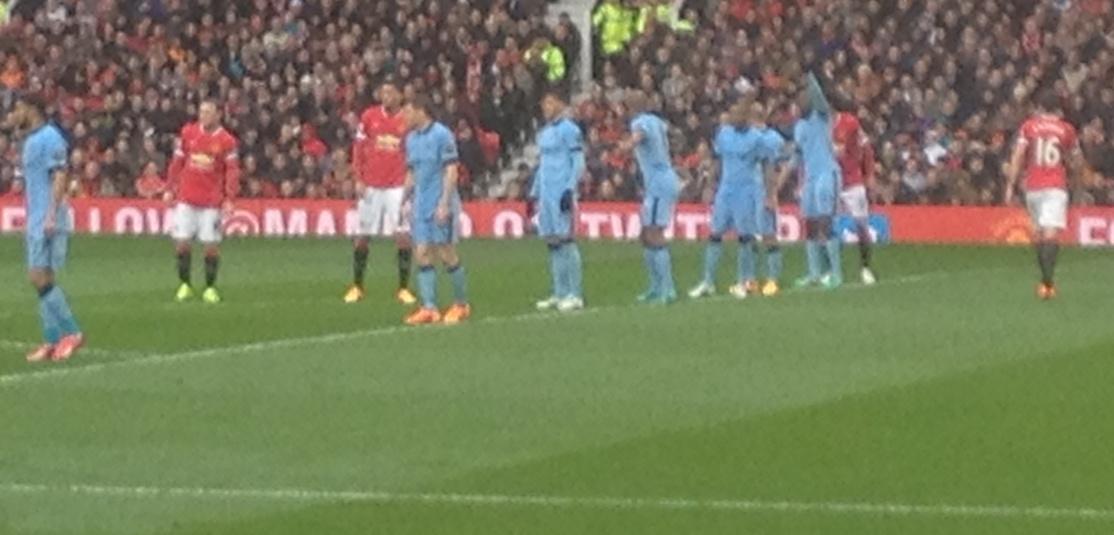 With United caught on the back foot, City inexplicably took their foot off the pedal, either that or sheer bloody minded determination dragged United back into the game. A fight and desire that was conspicuous by its absence last season reared its head and when Ashley Young equalised in the 14th minute, things changed dramatically. Young's tenacity, not something he is generally known for, shone through on this dull day and the goal was rapturously received.
Yeeeees city????????????????@aguerosergiokun !!! 1-0 OLD TRAFFORD…Stand up and shut up.

— Mario Balotelli (@FinallyMario) April 12, 2015
To any Scouser looking at this, read it and weep. Mario Balotelli is your replacement for Luis Suarez and this is probably the highlight of his season
Marouane Fellaini put United deservedly in front in the 27th minute after great work between Young and Juan Mata. Of all people, United's Number 25 deserved this moment and it was a classic Fellaini goal, headed hard and low past the keeper. Halfway through the second half, Wayne Rooney fed Mata to put the ball through Joe Hart's legs to make the score 3-1. Having looked back on the replay, it was slightly offside but to be fair to the linesman, he's had a split second to make that decision and not the forensic technology used by SKY Sports at his disposal. Eight minutes after that, an Ashley Young free kick from the left flank found Chris Smalling, who was being played onside by Eliaquim Mangala. Smalling had a free header in the six yard box to head home United's fourth.
Great game Marouanne… #MUFC ???????????????????????????? pic.twitter.com/qWoeR2wYJL — Serge Adam (@SergeMUFC) April 12, 2015
The 89th minute saw Sergio Aguero score a goal which was annoyingly similar to his first one (but at least he didn't have an open net this time). City's body language at this time was evident of why they have had seven 'moral victories' since the bells of Auld Lang Syne chimed. There was no urgency, they just trudged back into position when they could've tried applying some pressure on United in injury time. The fact that they didn't even attempt to, tells me that the very likeable Manuel Pellegrini is looking a strong bet to pick up his P45 in the next three months.
While Manchester is never a quiet place, the cacophony created by our sometimes noisy neighbours has abated dramatically over the last few months. The once ubiquitous blue and white scarves are now passé. Blues who were gleefully and incorrectly telling us a year ago that we were "the worst fuckin' champions we've ever seen" are not as visible on social media or the street. There's no doubt that City have made a better job of defending the title this season than United did last time round. However, on this form, you won't be seeing any of the Burnage Beatles at the Stade de Beswique anytime soon. Even allowing for that though, since Sheik Mansour's takeover of City in 2008, United have still won the title more times than City. After all that money has been spent and looking at the City side yesterday, there's already a root and branch restructure needed.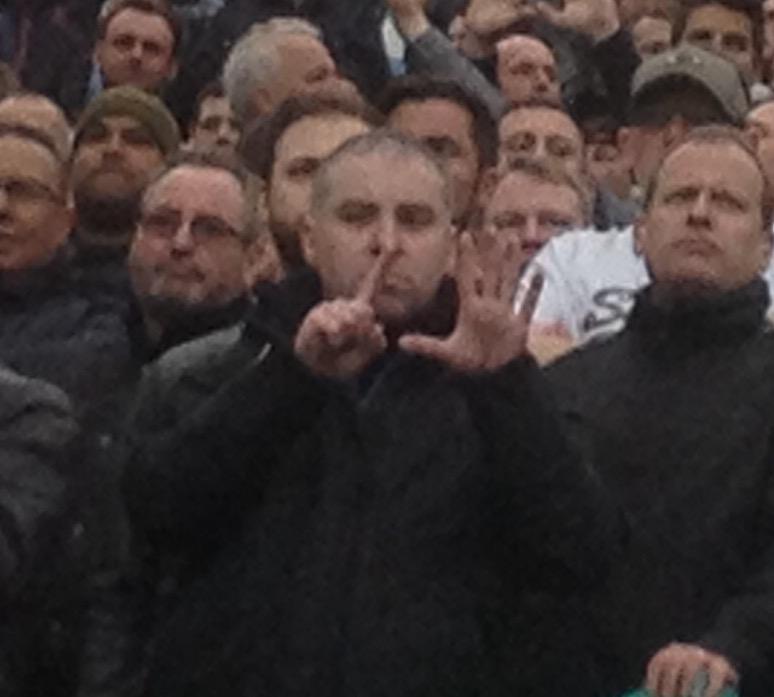 Well…..this is awkward. https://t.co/76GORXJMmB

— Jamie Bazley (@jamiebazley) April 13, 2015
Noel Gallagher, a leading cool cat face and 1980s one man crimewave coming out with his most interesting words since 1995
The blue moon is hiding behind a dark cloud for City. Knowing how moody the weather can be in our proud city (particularly yesterday…bastard), it could be a while before that moon surfaces again. Ten coaches were part of the police escort of City fans that left Old Trafford yesterday! That's ten coaches to go where precisely? Most Reds I know, walk or get a bus when United play away at City. How could the club, whose fans claim to be the true Mancunians, be using ten coaches for a game at Old Trafford? 
I know why Utd fans have been saying this is the biggest game for them. Because they know they can beat Liverpool these days and not MCFC. — Shaun Goater MBE (@OfficialSGoater) December 14, 2014
That must be it Shaun
United are in transition, we all know that. For a side in transition and bearing in mind how poor some of the football served up this season has been, Louis van Gaal may have arrested the decline that so many people, as recently as six weeks ago, thought was beyond him (you know who you are!!) Van Gaal deserves credit, if for nothing else, giving Ashley Young and Fellaini a purpose at Old Trafford. Both of these players (amongst a good few others) looked certainties to leave Old Trafford last summer. They are now actually integral to how Van Gaal has the team playing, something that nobody would have believed last August. Around this time last season, City came to Old Trafford and gave as big a thrashing as I've ever seen City give United. Numerically, the 6-1 was more comprehensive but anybody who knows football knows that the real leathering came from City last season. They looked fitter, stronger and more skilful than United. It was a painful sight and they looked light years ahead of United that night. A combination of United players buying into a new manager's ideals and City players seemingly treating Pellegrini like United players treated David Moyes last season, this fixture was a lot more balanced. If you had said to me on New Year's Day that come mid-April, United would be four points clear of City on level games, I would've thought you'd overdone it the previous night. Ultimately, for better or worse, United's main aim this season was to get back into the European Cup for next season. A few weeks ago, with fixtures against Tottenham Hotspur, Liverpool and City coming up (Aston Villa don't count), no Red of my acquaintance thought that we'd have maximum points from games that we've struggled in in recent times. European qualification isn't sealed yet, but for it not to happen now would take a collapse to match that of Liverpool's last season.
As a neighbourly gesture, I'd like to remind Blues that Yaya Toure's birthday is the 13th of May. Cakes can be ordered by clicking here.