The most celebrated event for reds this week has undoubtedly been the misfortune of Liverpool in their last two games. Their good luck seems to have run out at the most crucial time of the season. I should perhaps feel sorry for them, but I don't remember the scousers being too upset when United blew the league two years ago at home to Everton. Reds with longer memoies, like me for example, will remember the glee the scousers had in April 1992 when their win over United made Leeds United champions. With those memories still quiet fresh, their defeat to Chelsea and their outright implosion at Selhurst Park last night, where Crystal Palace tapped into the spirit of Istanbul if you will, had me pissing myself with laughter.
Liverpool fans celebrating winning the League at Old Trafford in March just passed, steady on boys…
It was said to me before tonight's match that with our reaction to that result, in effect we are all bitters now. Perhaps we are but after the gloating of Liverpool fans in the last few weeks about their almost inevitable coronation as league champions, bollocks to it. Nobody but nobody gloats with self righteous vigour like scousers and watching their self important star midfielder, equally self important fans and their very good but despicably racist forward skriking on television last night was a sight to treasure.
Steve Gerrard happily reflecting on kissing the camera at Old Trafford. He wasn't feeling as amorous towards the camera last night at Crystal Palace 
There was no sense of anticipation before tonight's final home match of the season against Hull City. There was thousands of empty seats in a crowd that has yet to be officially announced. James Wilson made his debut and with his brace of goals, scored in the 31st and 61st minute, he made a massive impression on the Old Trafford crowd. Two minutes after his second goal, Robin Van Persie replaced the 18 year old centre forward. It's hard to say what the future holds for Wilson, we all saw the fuss made out of Federico Macheda five years ago to know what can happen. One thing I can say with confidence is that in his 63 minutes on the pitch, he made a far more substantial contribution to United's season than Nani, Marouane Fellaini and Tom Cleverley have come close to in their entire season combined. That's the same Tom Cleverley who's a 24 year old promising youngster and a man whom was once touted by people with a straight face, as a potential long term replacement for Paul Scholes.
Matty Fryatt scored the goal of the game in the 64th minute, beating David De Gea from twenty two yards with a belter soon after Robin Van Persie came on the pitch. Van Persie himself settled the match with a typical bit of opportunism which he's renowned for in the 85 minute after some great work by player manager Ryan Giggs. In the second minute of injury time, Ryan Giggs came painfully close to scoring from a free kick, forcing a great save from Hull keeper Eldin Jakupovic.

Adnan Januzaj takes a cormer in front of the Scoreboard End in the 7th minute
The build up to tonights match had the exact atmosphere as expected, an end of season dead rubber. Hull didn't sell out their allocation and United certainly didn't. United were desperately trying to offload tickets for this game in the weeks running up to it with an unprecedented offer of being able to buy five tickets per membership. During the game, there were rolling advertisement billboards offering people the opportunity to join the priority list for season tickets, in front of a substantial amount of empty seats, Don't let anybody ever tell you that there isn't a sense of humour at Old Trafford.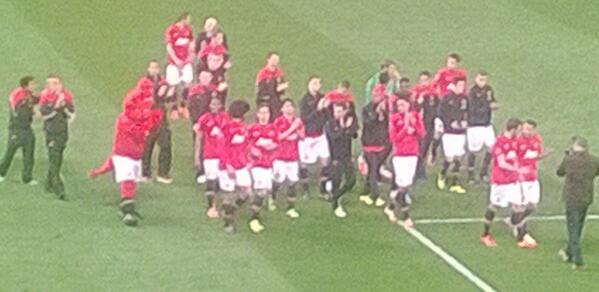 Traditional players end of season lap of honour
Thanks to Lee Thomas for his help in writing this