No other club could attract the a full house at Southampton for such a insignificant end of season game. No other club could take the volume (in both senses) of support to the other end of the country, that United took today for such a meaningless game. United fans decided that no matter what, we were going to have an end of season party today. The noise from reds was, apart from a five minute lull/breather in the second half, relentless. The concourse at half time was like an experience in a time machine which took us back to the '80's. In that respect, it was a reminder of The Dell, the decrepit old shitheap that Southampton used to play in. A toilet that was too small and which had only one entry/exit caused a crush and could've caused a riot if it wasn't for well ordered and self policing reds. Inside there, the air was thick with tobacco smoke and other exotic aroma emanating from extended hand rolled cigarettes. The United calypso started half way through the second half and lasted until the end of the game. Reds at the bottom of the stand were dancing a conga, with news seeping through that Liverpool were losing and City being two up, the atmosphere was relaxed. Our biggest fear of Liverpool winning the title was not to be realised.
The United Calypso 
The match itself was bloody awful. A disjointed United salvaged a draw with an exquisite Juan Mata free kick in the 54th minute. This was an equaliser for a Ricky Lambert goal scored in the 28th minute when in true snide scouse fashion, he elbowed United skipper Nemanja Vidic in the face in the run up to the goal. It was an elbow that would've had former Southampton striker Alan Shearer purring, like Shearer, Lambert not only got away with it scot free, he scored from the result of having a United centre half concussed on the deck.
We Knocked The Scousers Off Their Perch (pre match in the concourse)
Come the season end, Liverpool didn't win the the title but they were, according to the sage that is Glen Johnson, the Peoples champions. This is what used to be known as a moral victory. When United start clutching at straws like this, you'll know there's a problem. Steve Gerrard will go to bed tonight listening to his Phil Collins LP's and still having less league title medals than Luke Chadwick, Bebe and Kieran Richardson. I wonder if the Liverpool player who went into a local bar flashing his wallet after the City match and buying the entire bar a drink in celebration of winning the league, will ask for his money back?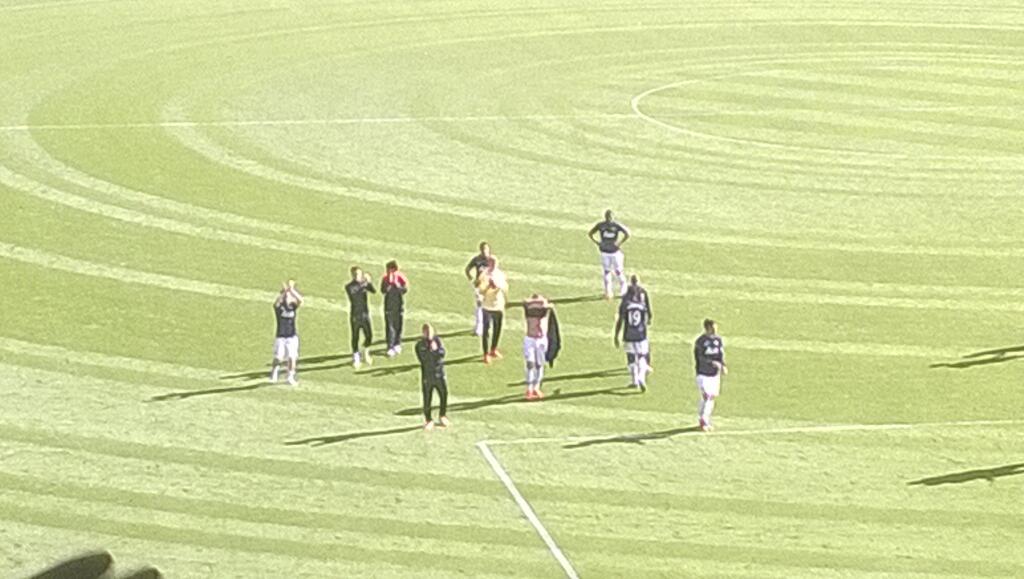 United players applauding the traveling support after the final whistle
As for City, I can only say congratulations to any blues reading this on winning the title. I know they'd be just as magnanimous if United had won the title (oh yeah). From my perspective, it's not ideal but the alternative was even worse. Judging City on the their performances against United, they were the best side I saw this season so it's only right that they're champions. Their performance at Old Trafford in March was particularly impressive. Statistically, the 6-1 result in October 2011 was better, but anybody who knows their football knows that the City performance at Old Trafford in March was more emphatic.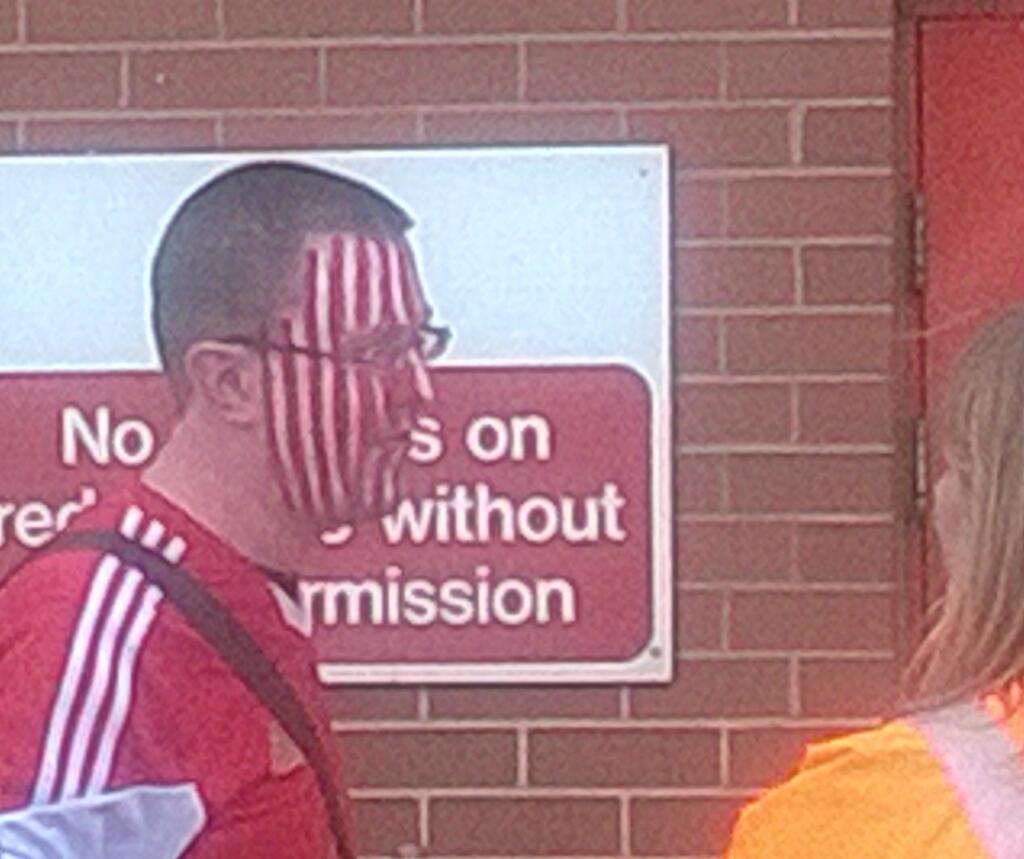 It's been a rum old season. A season of the kind that no red under the age of 35 will have ever known or have memory of. How long the malaise will last will be known next season. Whether it's a mere blip or something more long term, the type of which Liverpool are used to nowadays, we'll soon find out. With United losing at home to Newcastle, Everton, West Brom, Sunderland et al, this season has seen more records destroyed at Old Trafford since the very Christian Ku Klux Klan organised the burning of Beatles records in August 1966. This forthcoming summer is the biggest one facing United since the summer of 1969 when Sir Matt Busby retired. Not only have United got to have a root and branch rebuild of the side, they have to get a managerial appointment right too. Get it wrong, like Liverpool did with Graeme Souness in 1991, the damage could take untold years to put right.
Juan Mata equalises for United (photo courtesy of Paul Catteau)
Not once throughout this season have I got an away ticket in my own right from my season ticket. On the odd occasion, I have gained entry to away grounds through unconventional methods. For the other times, I'd like to thank (in alphabetical order) Steve Armstrong, Steve Black, Pete Boyle, Malcolm Hancock, Chris Jamieson, Pete Garton, Rick McGagh, Neil Meehan, Tommy Murphy, Lee Thomas, Mark Woods and some others who'd prefer to remain anonymous (you know who are)
For transport to away games, I'd like to thank (in alphabetical order) Denver Denton, Stephen Gregory, Ray Harney, Peter Murphy, Lee Thomas and all involved in the Red Issue/UWS Monkey Bus.
For photographs throughout this season, I'd like to thank Steve Armstrong, Daniel Burdett, Paul Catteau, Kevin Gallagher, Stuart Gwilliam, Hasan Hussein, Rob Mager, Eleni MacFarlaine, Neil Meehan and James O'Neill
Thanks to Pete Barry, Steve Burke, Craig Carroll, Barney Chilton, Tom Clarke, Terry Christian, Rita Corneille, Duncan Drasdo, Adam Higgins, Ben Hobson, Rick Kelly, Darren McGurrin, Andy Mitten, Betty Murphy, Billy Murphy, Lisa Murphy, Anne Murray, Scott Murray, Dave Randles, Noel Vazquez and Andy Walsh for their random and most welcome genorosity of various means at various times of the season.
Thanks to Craig Johnson for doing all the migraine inducing technical stuff for this website. Thanks to Kate Vickers for sub-editing my writing. Any grammatical errors you find will be down to me not having the patience to wait for Kate to do her magic
The next blog will either be at the start of next season or when England get knocked out of the World Cup and the media find a United player to blame for it. In the meantime, thanks also to everybody who has left comments, from the agreeable, contradictory, the sane, the insane, the loving and hateful, it's all much appreciated. Last, but by no stretch of the imagination least, final gratitude goes to all the people who have read this blog throughout the season. Have a great summer