At Anfield on Friday night, United beat Liverpool 1-0 in the Under 21 play off semi final. A pretty scrappy game was settled with a goal from Andreas Pereira on 44 minutes, a goal that I missed as I'd stole a march to the bar for a half time pint. I knew it was a great goal though as I was suddenly inundated with text messages by smug twats watching the game on MUTV all saying a variant of "What A Goal!".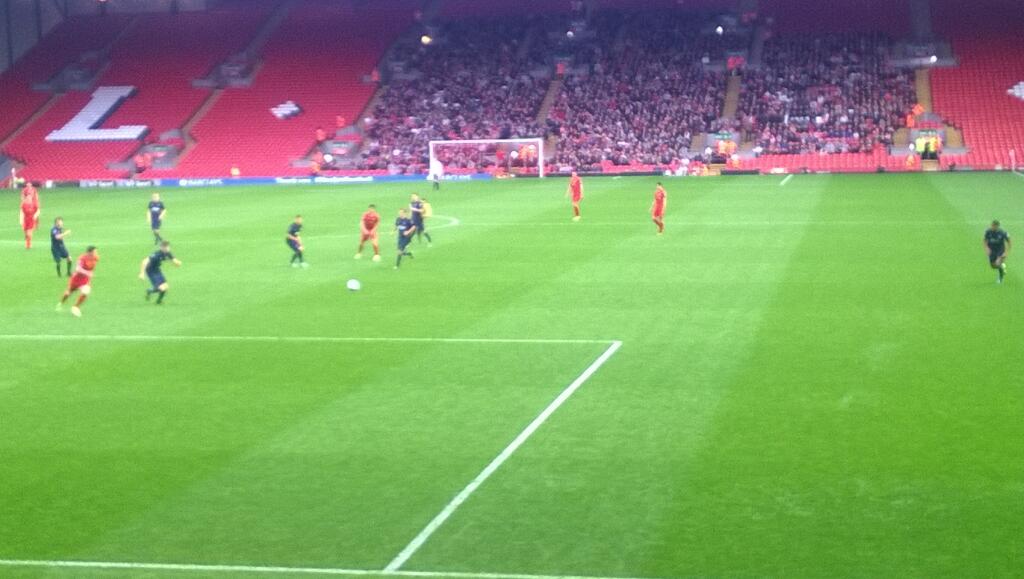 United reserves at Anfield on Friday night, photo taken from the Anfield Road end, looking out to the Kop
There was about 300 reds in the Anfield Road End. I would say most of them were gobby teenagers whom were probably out of Manchester without their parents for the first time in their lives. United and Liverpool matches are always going to be lively affairs both on and off the pitch and at every playing level. Rightly or wrongly, anything goes with terrace chants, certainly when the first teams play from both sets of fans. The dislike that fans of both sides have for each other adds to the fixtures allure, City and Leeds fans try their best but the United/Liverpool matches can't be touched. For all that, was there really any need for a sizeable amount of these travelling reds to be chanting "Shankly 81", halfway through the first half? This is a chant that I have not heard since the late 1980's. The dickheads singing this wouldn't have even been born last time I heard it. Who they were singing it to is the main question. The Kemlyn Road stand and the Main stand at Anfield were empty barring the press box and the dug outs. The Kop was about a quarter full. After the match me and the lad who I was with (to preserve his anonymity, I'll give him the alias of Peter D Gorton), were walking around the dark residential streets surrounding Anfield. As we walked down Arkles Lane, the moment we dreaded arrived. Walking towards us was a moody firm of young scousers with some of their old boys with them. It was bang on top. We pulled up our hoods, kept our heads down as this wild gang of seven year olds were moving in on us. They left us alone thank Christ. Some of the people following United on Friday would've bravely took it to this firm, I've no doubt about that. They would've shown those young mickies who the boys were.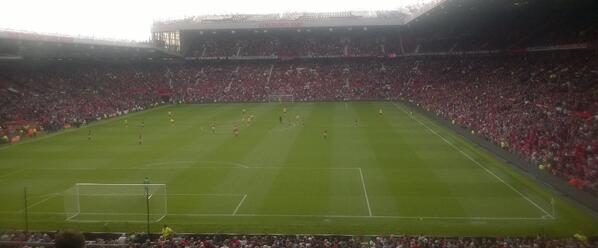 View from the K Stand for United V Sunderland
I was delighted before the match to hear Tottenham Hotspur had lost 2-0 at West Ham United. There's a lot of reds that don't want United to qualify for the Europa League but I definitely want United to be playing in Europe. I think it's arrogance of an unbelievable degree from some reds who seem to somehow think that the Europa League is beneath them. You can bet your life that if United ever get to the final of that competition, those same people would falling over each other in the stampede for tickets. United's performance yesterday was most definitely dedicated to the fans that don't want United in the Europa League. It was in my opinion, the worst performance of the season. A few weeks back when Liverpool and City went in front for their games at Old Trafford, there was a resignation around the ground that United were probably going to lose. That's just about bearable. Liverpool and City are good sides but the same feeling engulfed Old Trafford yesterday when an unmarked Sebastian Larsson scored the winner for Sunderland in the 30th minute with a volley from 12 yards in front of the Stretford End. The fact that we were confident of a Sunderland victory after they opened the scoring in the first half is worrying.
There were rumours of an aircraft at Barton Airport waiting to take off with a Giggs Out banner attached when halfway through the second half, Juan Mata was substituted while the woeful Michael Carrick stayed on the pitch. At the same time a huge groan greeted the sight of Marouane Fellaini warming up. Bringing Robin Van Persie on was shown for the desperation that it was. Van Persie wasn't fit whilst Danny Welbeck did his usual trick of running with endless energy while having the ball control of an elephant.
This is Sunderland's first win at Old Trafford since 1968 and it was fully deserved. The sheer comical incompetence of Nani and Ashley Young made Sunderland's defence look like the Inter Milan catenaccio era side. Darren Fletcher put plenty of effort in but had a poor game and Michael Carrick passing was such, that he must have thought United were playing in yellow yesterday.
It's going to be a very interesting summer at Old Trafford, There's plenty of strong speculation on who's going to be the next manager but this is United and nothing ever comes as expected. There's also plenty of talk about a 100/200 million pound "war chest" (depending on which newspaper you read). Since the Glazer takeover in 2005, United have had a smaller net spend on squad investment than Stoke City. Bearing that in mind, anybody who thinks United are going to spend anything like that amount of money this summer, want their head examining.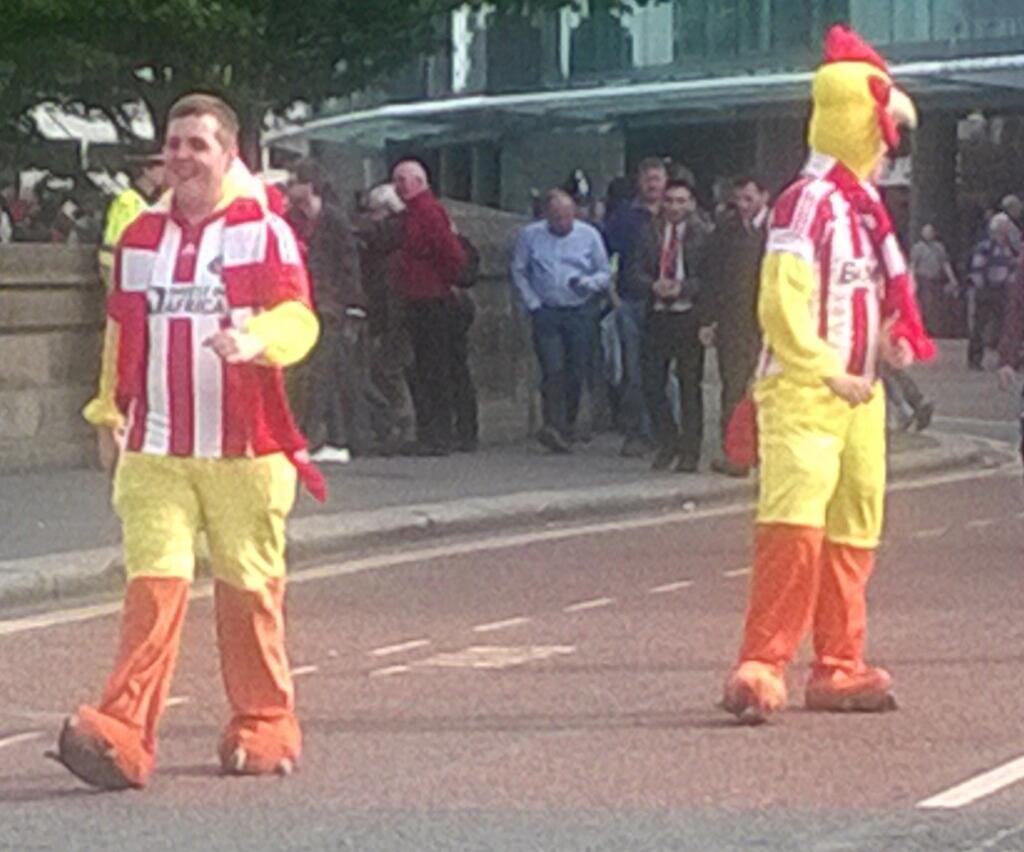 Wacky Sunderland fans walking out towards Trafford Park Road after the match
We now have the scenario where City are back in control of their destiny. You know things are getting serious when Noel Gallagher pops his head up at a City match like he did at Goodison Park yesterday. I don't know who will win the title, I just hope it's not Liverpool, especially after they've spent the last six weeks celebrating winning the title. It would appear that the chicken mourners have been spending too much time and too much money, counting their chickens.
 Tragically a United fan found out yesterday morning that his stepson had accidently taken his season ticket on holiday to Corfu. There will be a minutes silence in the Three Legs of Man this afternoon before the Crystal Palace V Liverpool match in memory of that season ticket and also, United's season itself