Yet another poor United performance, particularly in the first half, has been covered by the fact that on the appearance of the scoreline, United won easily. Truth is, United only got going after Scott Laird had given Preston North End the lead early in the second half when his shot deflected off Antonio Valencia's left foot through David de Gea's hands.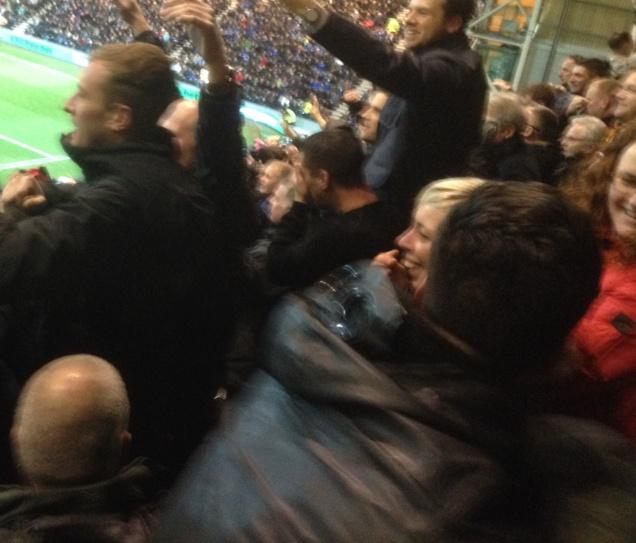 The happy chaos which greeted Marouane Fellaini's goal in the 72nd minute
What a sight it was that greeted us after that goal. As we stood on the Bill Shankly Kop, to our left in the Pavillion stand, we were greeted by the biggest bunch of let me at 'em merchants witnessed since we last played Stoke City. Suddenly, we were subjected to the truly frightening spectacle of fourteen year old lads from this Blackpool overspill being held back by coppers and stewards. They were gesturing as to the dreadful fate that awaited us when we dared stepped outside their stadium. The possible consequences of a Preston victory would have been horrific. Could you imagine for example, how unbearable the already annoying Mark Lawrenson would've been in the aftermath? As for Preston themselves, I'd love to know why for a match that had such huge demand for tickets, they had the first five rows of seats at each end of the ground covered by an advert for a finance company. The mind boggles.
@ManUtdfansblog fuck off asking for tickets in home u fucked up manc!! Fuck off

— shaun miggins (@Miggs8_pnefc) February 15, 2015
It was eighteen minutes before United equalised with a goal from Ander Herrera in the 65th minute. It was a goal which seemed to take forever to cross the line. Seven minutes after that, Marouane Fellaini did the one thing he is good at and made a nuiscance of himself in the Preston box, to eventually give United the lead at his second attempt. In the 88th minute, Wayne Rooney won a penalty from Preston keeper Thorsten Stuckmann, that was at best debatable. He took the penalty himself to make the score 3-1 and send most of the locals home after they had been to their first and probably last match for the two years. Maybe it wasn't a penalty. If it had been given against United, I wouldn't have been happy. Still, it all aided a moral victory for Preston and a real one for United. Next up in the quarter finals is Arsenal at Old Trafford. United better play better against Arsenal than what they did tonight.
It's been an eventful week or so at Old Trafford. Last Monday saw Louis van Gaal rise to a blatantly provocative remark by Sam Allardyce in a way that Sir Alex Ferguson would never have fell for. The press and opposition fans had a field day, comparing van Gaal's robust defence to Kevin Keegan and Rafael Benitez's infamous moments on the television. The most important thing about Benitez and Keegan's respective meltdowns is that it eventually cost the clubs they were managing the title they were in serious contention for at the time. This not something for Louis van Gaal to worry too much about this season. Some people mocked van Gaal for having a dossier done. Anybody with a remote idea of how van Gaal works will know that he has dossier's prepared for every conceivable thing he encounters. He's famous for his diligence in that respect and it's the reason United employed him. They must think Sir Alex Ferguson and Jose Mourinho worked off the back of a fag packet. Van Gaal's biggest mistake was to share the contents of this dossier in his defence for Allardyce's risible remarks with the media. The British press were always going to side with Allardyce in this respect. They wouldn't want to burden themselves with the labour of looking at it too closely at it and Allardyce generally gives them good copy.
Does anybody seriously think that the video above compares with video below?…
…does it bollocks
On Wednesday night, United beat Burnley 3-1 in what has got to be one of the worst games of football I have seen in a long time. Bearing in mind the amount of shit witnessed watching United over the last couple of years, that maybe some call but I stick by it. Louis van Gaal said after that performance on Match of the Day that we could now forget about this game. I don't believe he has made an observation more shrewd than that whilst he has been United's manager. The football maybe bloody awful to watch at the moment but I'm clinging to the memory of that Ajax side that van Gaal nurtured in the mid 1990's. They took time to come together but when they did, they were a great side to watch. I believe that in time it will be the case at Old Trafford, even if some of his decisions in regards to formation (eg, Rooney in midfield and Juan Mata on the bench) defy common logic. Sir Alex wasn't averse to some bizarre decisions on where to play his best players, however he usually got what he wanted in the end even if to this day, some of still makes no sense. Van Gaal is an experienced manager with a track record of getting great success at the biggest clubs in Europe.
A United comeback, away from home, with every goal irritating the wider British public. What a marvellous night. — Joe Ganley (@josephganley) February 16, 2015
Saturday sees United at Swansea in what can be loosely classed as our Euro away this season (well, it's not in England is it?). Hopefully the Euro aways will return for real next season. I believe they will, keep the faith
Worst decision last night was Dowd leaving Davies on. United won so people forget that. Happened to us all the time in 70's and 80's.

— Steven Kelly (@goat_boy_1959) February 17, 2015
This is from a Liverpool fan. When they're saying this, you know the referee's ballsed up