Last time United played a competitive match outside of England, they took a lead which lasted just under a minute. Yesterday at Swansea City, coming in at just over two minutes, it lasted twice that time, when Ki Sung-Yueng equalised after half an hour was played. I suppose that's a form of progress.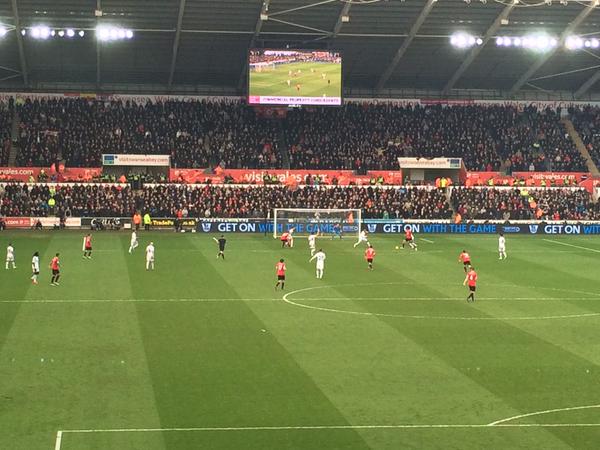 United scored against the run of play in the 28th minute when an Ander Herrera shot was deflected into the bottom right hand corner of the Swansea net by Ashley Williams. The goal was uncannily similar to United's opener at Arsenal in November, when United stole the lead in similar circumstances. The marking and defending for the equaliser was dreadful. United defended like schoolboys as Jonjo Shelvey was given as long as he wanted to cross the ball to a virtually unmarked Ki.
Train back from swansea! … Rocking! pic.twitter.com/vohSAXQQ3j

— Calum Mufc Beckett (@calumbeckett) February 21, 2015
After the scores levelled, Swansea never really looked like scoring until they did in the 73rd minute. A wildly hit shot from Shelvey deflected off Bafétimbi Gomis to go past a blameless David de Gea for Swansea's winner. Looking at the final score and then looking at the match statistics, it is easy to work out why most people think that statistics are a disingenuous way of substantiating bollocks. United had 64% of possession, had a slew of corners but for all that, only had three shots on target (and two of them were pathetically lame). Looking at the stats, you'd think United were unlucky but Swansea deserved this win. As Wayne Rooney said, "I thought we dominated but maybe didn't test the keeper enough up until they scored…" Maybe?
https://www.youtube.com/watch?v=xicWt6uaJYc
At this point in the season, United look clueless going forward. Juan Mata, a gifted midfielder with an eye for a great pass, was brought on for Angel di Maria five minutes after Swansea went in front. Di Maria has yet again flattered to deceive. His heart clearly isn't in it. Mediocre players are too often finding him easy to play against. He's not had a good game since the clocks went back and I'm not expecting him to have another one 'til the clocks go forward at the end of next month. United's attacking policy after the substitution was to use Marouane Fellaini as a target man (in the Niall Quinn mode) and completely bypass the midfield that Mata had been brought on to play in. The Niall Quinn analogy is an appropriate one, particularly if you compare United's tactics to Jack Charlton's in the late 1980s for the Republic of Ireland. Then a classy ball playing centre half (David O'Leary) was told to launch the ball. Gifted ball playing midfielders like John Sheridan and Liam Brady resembled aircraft spotters in those games, in much the same way as Mata did yesterday. To anybody who knows how Louis van Gaal's teams play football, this is obviously an anathema to him but a needs must short term gamble of getting results at all costs is in play at the moment, with the obvious aim to finish in the top four. If van Gaal achieves that, then all will be (temporarily) forgiven. If it doesn't, he'll be crucified for it. Van Gaal is a man well known for having a strong personality, with fixtures in the next month coming up against Arsenal, Tottenham and the daddy of them all, Liverpool away, we'll see how strong it is.
Di Maria: "What the fuck have I done?" Falcao: "Haha unlucky, mine's just a loan." pic.twitter.com/t1wnjjreh7

— FootyHumour (@FootyHumour) February 22, 2015
United fans were as usual making plenty of noise at Swansea. The atmosphere was subdued amongst the local leek-botherers. A pathetic Soccer AM inspired "who are ya" after the respective goals and a genuinely stirring rendition of Land of our Fathers were sporadically heard throughout the game. It would've brought tears to the eyes of a Welsh tax exile. United fans had another reason for tears but, as stoic as ever, there weren't any. We'll leave that for horse worrying Geordies at United's next away fixture a week on Wednesday.
The difference between Spurs chasing a game today and United chasing a game yesterday is palpable. One know what they're doing, one didn't.

— Daniel Harris (@DanielHarris) February 22, 2015