Gutted, absolutely gutted, were the West Ham fans in the Priory Road/East Stand at the Boleyn Ground when Robin Van Persie equalised just into injury time yesterday. It was a very pleasing sight after all the gloating that had been going on in the previous twenty minutes. The noise from the West Ham fans, in anticipation of victory was reaching a level of crescendo until Van Persie burst the bubbles. The sudden heartbroken silence was a joy to behold followed by the sheer terror in the ranks of the 'appy ammas' (sic) as they suddenly realised there was going to be a siege on their goal for the last two minutes. When Van Persie equalised, the result of a truly brilliant crossfield switch pass from Ryan Giggs, I could see United getting a winner. That United didn't was down to two dreadful finishes, one from Shinji Kagawa and the other from Antonio Valencia seconds before referee Martin Atkinson blew the final whistle.
They might as well have been have been sick, West Ham whilst technically, clearly  second best to United, were hungier for both the ball and the result. West Ham equalised with a goal from James Collins on 27 minutes, four minutes after a calm and clinical finish from Tom Cleverley had given United the lead. The equaliser for West Ham, a free header gifted to Collins from a Joe Cole cross was a scandalously sloppy goal to concede. Once can be considered unlucky but when the trick was repeated by both Joe Cole and James Collins in the 59th minute for an almost carbon copy of the previous goal, to put West Ham deservedly 2-1 in front, that was another thing altogether. I could just about forgive it if United's defence were caught out twice in the same manner in the same half but did Sir Alex Ferguson say anything to Uniteds defence at the half time break about West Hams equaliser? If so, did the players spoken to listen? This was an apology of a performance from United, the defence looked wobbly, the midfield couldn't pass water and Hernandez was caught offside so often that he reminded me of a practice that we called goalhanging when we played football on the street as children.
For the third time this season and the second weekend in succesion, Sir Alex Ferguson had to bring on Robin Van Persie as substitute to do what could be called a firemans job. The first time he did this was in Braga when Van Persie invigorated an appalling United performance to equalise and then be instrumental in a very unfair 3-1 win. Last weekend against West Bromwich Albion, Van Persie came on as substitute to calm a very nervous Old Trafford crowd to seal the result in injury time. Yesterday, he rescued a clueless and well beaten United side to salvage a replay, again in injury time. We were told before Van Persie signed for United last summer that he was injury prone, maybe he is and we've been lucky, but thank Christ for that luck. It doesn't bear thinking about where United would be without him either in the team or as back up at the moment (can any statistical fetishists out there tell me?). The one chance that always comes to a team chasing a one goal deficit late in a match came to Ryan Giggs when he put a free header over the bar seconds before the 4th official announced, to a chorus off anxious boos from the West Ham fans, four minutes of stoppage time. They may well boo but that's what happens when players who are being substituted dawdle off the pitch in the manner of Liverpool reject Joe Cole did today.
Pre kick off, there was a machine that was pumping out thousands of bubbles on the halfway line of the East Stand. Having seen this effect on the television in the past, I wasn't naïve enough to think that a mass of West Ham fans would be blowing bubbles out of a tube and plastic wand, but fuckin' hell, what's all that about? The atmosphere amongst United fans in the Trevor Brooking stand was pretty subdued throughout the game. After the brilliant performance of travelling reds at Stamford Bridge last time United were playing in London on halloween night, it was a bit of an anti climax. West Ham had for reasons unknown, slashed a thousand tickets off United's allocation for yesterdays match. It was sickening seeing reds outside the stadium on Green Street and Tudor Street looking desperately for tickets but what made it worse was come kick off, there was an abundance of un-occupied seats in the Upper tier of the Trevor Brooking stand where we were perched. I was told by a mate of mine watching the match on ITV that the atmosphere in the ground sounded brilliant. The West Ham fans in the East Stand were certainly up for the match, making plenty of noise and unfortunately reciting the usual stereotypes. At one point, they were singing to United fans 'you only live rarrnd tha coowna' immediately followed by Manchester being full of shit. Make your minds up, which one is it? One credit I will give the West Ham fans is for when they all started singing 'Let's all do the Barthez' followed by them raising their right hands up in the air, that was genuinely funny. Shame there wasn't more of that wit on display from them.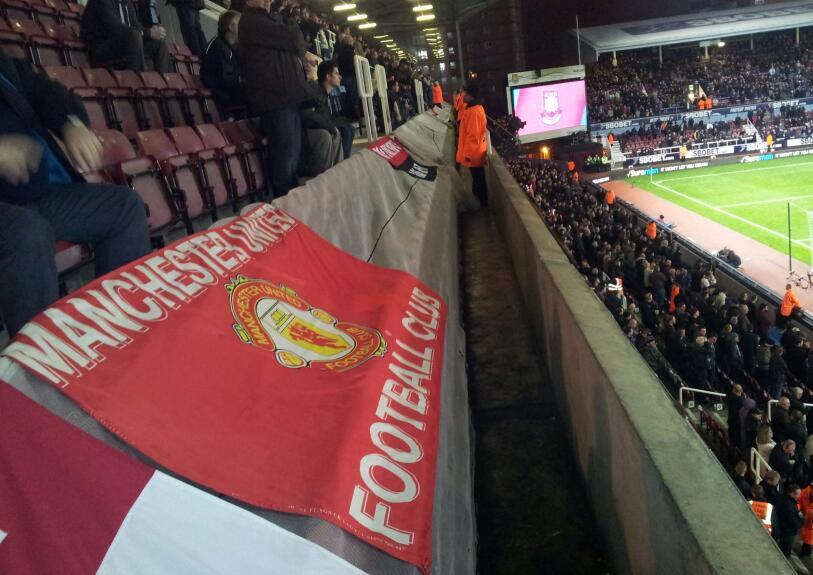 Lucky banner, yet to see United lose a match, at the Boleyn Ground yesterday (photo courtesy of Neil Meehan)
Many thanks to Chris from http://www.jamiesoncontracting.co.uk/ for sorting the tickets out