Before this match, there was a hell of a lot of hype about Eric Cantona masks whipped up by Her Majesty's press. Sami Mokbel reported in Friday's Daily Mail that Palace officials "will stop any supporters wearing a Cantona mask from entering the ground, while those who try to put them on during the game will be told to remove it or face ejection". With this in mind, I'm interested as to what may have happened if Eric Cantona turned up at the match yesterday. Would he have been turned away from the turnstile for looking like himself?
I'm confident that the overwhelming majority of United fans who went to Selhurst Park yesterday would have given you a quizzical look if you had dropped the name Paul Nixon in front of them. What we have learnt in the last couple of days is that any United fan who was going to wear an Eric Cantona mask at Selhurst Park was supposedly doing so in contempt of Mr Nixon's memory.
The problem lies in Man United fans who don't realise that the Eric Cantona incident resulted in the death of an innocent football fan

— Ed Malyon (@eaamalyon) February 20, 2014
This wasn't helped on Thursday when Ed Maylon, the Daily Mirror's online Deputy Sports Editor said, "The problem lies in Man United fans who don't realise that the Eric Cantona incident resulted in the death of an innocent football fan". I never realised when Eric Cantona attacked a man who was a proven racist, that he would be held partially responsible for a tragedy that would happen two months later and approximately 120 miles away. According to Paul Collins of the Daily Mail, "Palace fanzine 'Five Year Plan' (for it is they, no less) voiced its disdain over the plans to wear the mask, believing it was in celebration of Nixon's death almost 19 years ago". James Orr of The Independent didn't want to be left behind in the race to be outraged. Orr described Cantona's attack on a man who was racially abusing both him and his mother as a "disgraceful attack".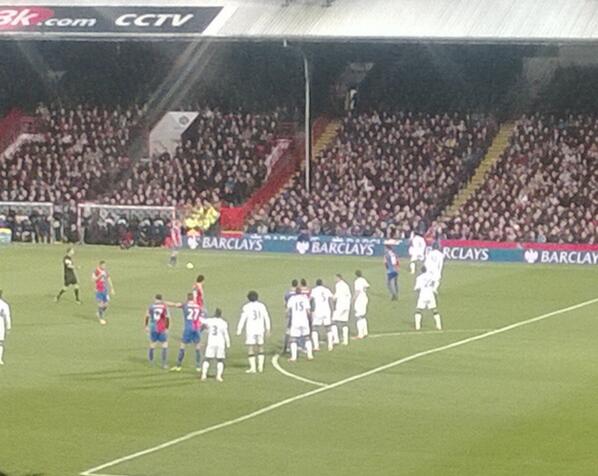 Just like an El Classico
The Palace side came out to the dreadful "Glad All Over" by the Dave Clark Five. In a way, this was appropriate due to the fact that they had a fan in the Holmesdale Road stand, banging a bass drum with all the finesse of Dave Clark. The first five rows of Palace fans in the bottom right hand corner of the Holmesdale Road were jumping up and down in a choreographed German style attempt to build an atmosphere. In the 26th minute, they decided that Wayne Rooney wasn't being paid enough by United so they started throwing coins down on him as he was preparing to take a corner. Rooney showed his appreciation by chipping the ball towards the far left corner of Julián Speroni's goal, only for Palace centre half, Damien Delaney, to head the ball off the line. Three minutes later, Adnan Januzaj had the ball in the Palace net, only to be correctly disallowed for handball by referee Michael Oliver. In the 43rd minute, Marouane Fellaini shot a good chance high and wide into the Norwood sky. It was a moment which neatly summed up his career at Old Trafford to date. The second half would be different for both Fellaini and a pathetically toothless United side.
 The highlight of the first half

The second half saw an improvement from both Felliani and United. Whilst Fellaini hasn't yet reached Roy Keane's level of imposition, he was busy and more importantly, confident in possession. United gradually asserted their superiority and, in the 60th minute, Marouane Chamakh fouled Patrice Evra as he was ran into the Whitehorse Lane penalty area. Two minutes later, Robin Van Persie sent Speroni the wrong way from the resulting penalty to put United deservedly into the lead.
In the 68th minute, the formerly angry and confused Wayne Rooney sealed the game with a volley from a Patrice Evra cross. There's been the usual consternation over the supposed wage deal Rooney has signed. The usual emotive nonsense is wheeled out about firemen and nurses. The main problem is that they can't attract 75,000 people to watch them perform their undoubtedly very worthy work every fortnight.  According to Michael Calvin in yesterday's Independent, the Glazer takeover "cost United £410,000 a week in assorted debt-related charges". Nobody appears to bat an eyelid on that.
A good win for United in a potentially tricky match. United haven't played at Selhurst Park since March 2005. A similar gap between now and our next appearance there will bring no complaints from me.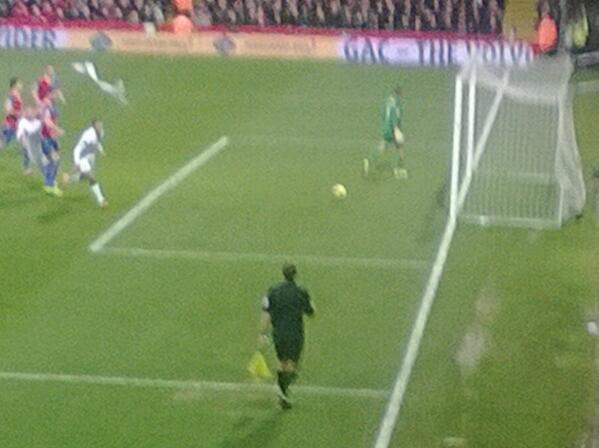 Robin Van Persie celebrates scoring his penalty to put United 1-0 up