This was so bad as to be comical in the Karaiskakis Stadium tonight in Piraeus. Throughout the team is a recurring theme of a bad dream. There's no heart, no fight, no desire and no apparent idea. Excellent has-beens like Rio Ferdinand, Nemanja Vidic and Patrice Evra are beginning to become ruthlessly exposed to being on the wrong side of the proverbial hill. Never-will-be's like Tom Cleverley, Ashley Young and Chris Smalling are being shown up even worse, through not having the quality around them that they have had in the last couple of years. This is through to the obvious decline brought on by Old Father Time of the aforementioned trio.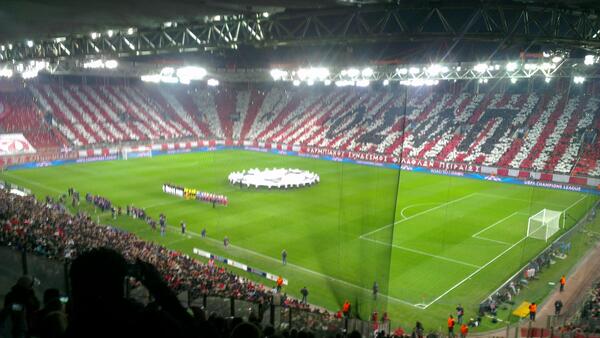 View for United fans in Karaiskakis Stadium tonight (photo courtesy of Lee Thomas)
For all that, this United side should have had the quality to at least get a draw against a game but limited Olympiakos side. It's a gift that United played the Greeks tonight and lost only 2-0. Could you imagine if United had played a top quality side like Bayern Munich, Borussia Dortmund or a declining Barcelona, that would still hand United their arses on a plate? It's a mercy that I'm grateful for.
https://www.youtube.com/watch?v=0NB_psy5FVs
The tone of the night was set as early as the second minute when Patrice Evra received one of the softest bookings I've ever seen, from Italian referee Gianluca Rocchi. Whilst United dominated possession in the first half, as per usual, despite having two world class forwards in the side, they never looked threatening. This is damning to the likes of the supply line players of the midfield. This should be no surprise though; Michael Carrick passed like an Italian tank, Ashley Young crossed nothing but a nought and Tom Cleverley did exactly what he has been doing in the near three years he's been in United's first team, a period in which he has not supplied (or assist if you insist) a single bleeding goal. That is nowt, tittota, nada, rien, nichts, fuck all. As Kevin Garside said in The Independent, "Cleverley is the anti-Xavi, in that he occupies the same space without any of the touches, at least in a forward direction". Antonio Valencia's final ball was delivered with all the subtlety, but none of the accuracy, of a late 1980s Mike Tyson punch.  In the 38th minute, a poor Giannis Maniatis shot was diverted into the right hand side of David De Gea's goal by Argentine midfielder Alejandro Dominguez. Ten minutes into the second half, Arsenal loanee Joel Campbell, placed a 25 yard shot past a partially sighted De Gea. There was no rally from United, no hint of one. There was just a pathetic meek acceptance from a team that looked like getting fleeced in Greece.
Paulo's eye's are watching you…
For some, their day to Athens was potentially already in ruins when two hundred reds were stuck at Ringway this morning. According the Reds Away forum on the UWS website, they were "waiting for their plane to take off because the pilot has gone missing". Once in the ancient splendour of Athens, Reds indulged in a hearty diet of Mythos and giros. Reds were here, Reds were there, Reds were all over Omonia Square, and that will have been one of the simple joys for the travelling army who had travelled over on a four hour flight to be eventually served the crap that they were treated to later. Two weeks ago, I lamented that travelling United fans deserved a better show than the spineless and negative bollocks that was served up at Arsenal's stadium. The thing is, that night, Robin Van Persie at least had the decency to force an early save from Wojciech Szczesny and also hit the bar late in the second half during a match seemingly dominated by Michael Carrick harmlessly passing the ball back all night. Tonight, Van Persie missed a great chance in the 82nd minute, a chance you would normally expect him to bury. I forgive Van Persie that miss; he was probably too gobsmacked at having found himself with a decent chance – a chance he had actually created himself due to his teammates playing with all the creativity of Carlton Palmer. The best player on the pitch tonight was Olympiakos' John Oates doppleganger, Portuguese midfielder Paulo Machado, he didn't even appear until 76th minute.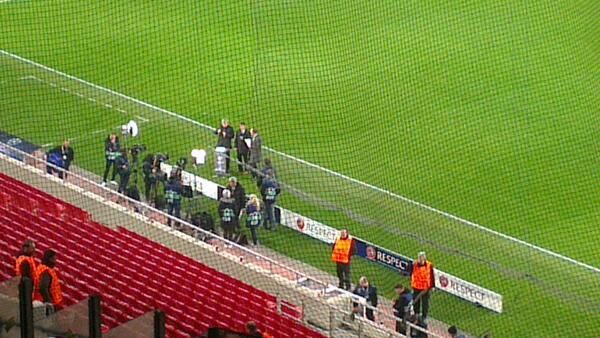 Post match lock in with Roy Keane, Adrian Chiles and Lee Dixon. Keane was lovingly, even longingly serenaded, less so messrs Dixon and Chiles (photo courtesy of Lee Thomas)
Some people have described tonight's performance as a disgrace, but to my eyes it wasn't. The Leeds United side of the early 1970s were a disgrace, the existence on the planet of Dennis Wise is a disgrace and travelling England fans in central Europe are a disgrace. Whilst it wasn't a disgrace, it was poor, very poor maybe even staggeringly poor. In three weeks time, the return match is on at Old Trafford. United might go through but I wouldn't take anything for granted. If United do go out, then it would be an appropriate exit to the final competition United are in, for what has become the worst season since 1988/1989. David Moyes said after the home draw against Fulham two and a half weeks ago that it was "as bad as it gets". I hope he was right, I really do, I fear he wasn't.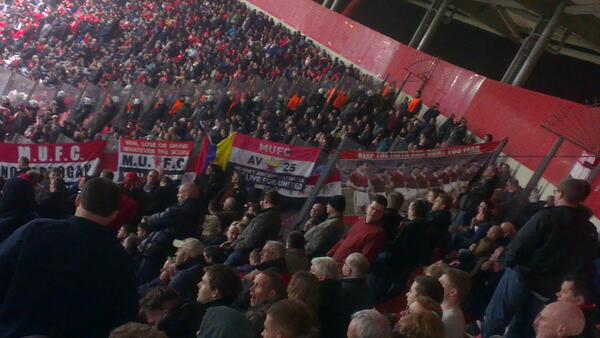 Photo courtesy of Lee Thomas