Sometimes and this is most definitely one of them, you have to just hold your hands up and admit that you've just seen your side outclassed. From literally the kick off, City were the better side. United were murdered by Liverpool the other week but at least considered the idea of giving them a game for the first half hour. United were level against City for just over half a minute tonight. United's third touch of the ball was the centre ball they had after City had gone in front. A Samir Nasri shot hit David De Gea's near right hand Stretford End post and out for Edin Dzeko. Not even Dzeko could miss from that distance although by putting the ball in the roof of the net, he had a good go at it.
City were superior in every department, Vincent Kompany and Pablo Zabaleta were imperious in defence even allowing for Kompany's professional foul on Danny Welbeck. For that Marouane Fellaini was lucky not to be sent off for a blatant forearm smash into Zabaleta's face on 29 minutes. In midfield, Yaya Toure and David Silva were up against the combined talents of Fellaini and Tom Cleverley. You have to laugh when you think about it, the alternative is to bang your head against a wall or go out and drop an acid. No matter what blissful hallucinations Ken Kesey's favourite stimulant provide, Cleverley and Fellaini will never be fit to be on the same pitch as City's midfield duo. It was fucking embarrassing watching our version of Laurel and Hardy up against those two. To give Fellaini some due, he did at least hit the target with a shot in the 23rd minute and not send the ball nine feet over the bleedin' bar like he normally does. Oddly enough, I can only recall Fellaini working a keeper on two occasions in a United shirt and both of those times were against our second biggest rivals who just happen to be our neighbours.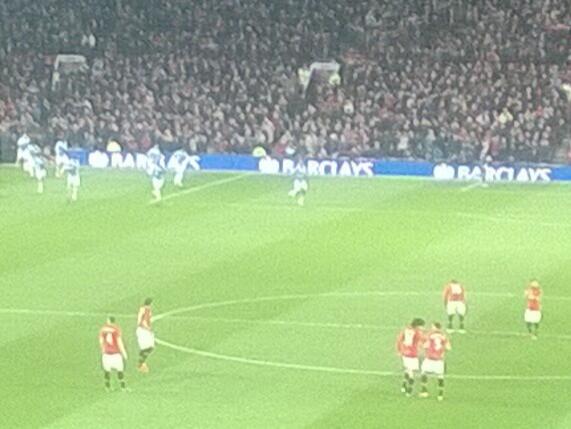 This result didn't really come as any surprise. Only a blind optimist thought United were going to win this match. A lot of people, myself included, thought United could win this game should the right circumstances occur, but there was no confidence amongst time served reds who know the score of any other result than a City win. City are the best side I've seen at Old Trafford this season. United have been outclassed at Old Trafford for the second time in nine days. While City are the best side in England (to my eyes), next week sees Bayern Munich, the best team in the world, come to Old Trafford. The video below shows what they did to City during a sequence of play last September. Watching it makes me think that all under 18's should be refused admission to next weeks game.
In the 52nd minute, Vincent Kompany was allowed a free header in the United box to knock onto Fernandinho from a Samir Nasri corner in front of the City fans. How Fernandinho missed that chance I will never know. Did United learn from that mistake and the subsequent let off? Did they fuck! On 56 minutes, Edin Dzeko made the score 2-0, He strolled across the United box unchecked to knock an easy volley into the Scoreboard End net. This was even more keystone cops defending from United with Rio Ferdinand, Phil Jones and Danny Welbeck all looking accusingly at each other. The goal, as well deserved as it was for City was still a sacrilegious one to give away. Dzeko, a centre forward that I don't rate that highly is still gonna put the ball away if given a chance as easy as that. The most incredible thing is that United were still only 2-0 down on 89 minutes. Every time City went forward, they looked dangerous. Up until Yaya Toure making the score 3-0 in the 89th minute, I thought United had got away with a result that would've been unfair to City on the balance of play. City won 6-1 at Old Trafford two and a half years ago in a result that was a travesty (even though City obviously deserved to win actual game). The statistics will still show that to be a more emphatic result but anybody who witnessed tonight's performance will know that this was the real pasting. United have to pull their trousers up and try and finish the season with some semblance of dignity.
David Moyes said after the game said United should aspire to play like City. There's no doubt that City play good football but I'd rather Moyes aspires to play like United, that'll be good enough for me.