In a day when Arsene Wenger celebrated his one thousandth game with a record equalling defeat at Stamford Bridge; in a day where Andre Marriner made a refereeing mistake that will give him indefinite sleepless nights; in a day when Daniel Sturridge bravely shook off the national vilification for his disgraceful antics last week with a goal at Cardiff (waddya mean you've heard nowt about it?), Wayne Rooney equalled, then surpassed Jack Rowley's scoring tally and stole the headlines with a goal from 58 yards at the Boleyn Ground. It's hard to say which is Rooney's best ever goal and it can obviously only ever be a matter of opinion anyway, but it's comfortably the furthest goal he's ever scored. The goal has been constantly compared to David Beckham's goal against Wimbledon at Selhurst Park in August 1996. Personally, I think it's more akin to Nayim's fantastic goal for Real Zaragoza against Arsenal in the 1995 European Cup Winners Cup Final in Paris (shown below). Like Andre Marriner, West Ham United keeper Adrian will have a few sleepless nights coming up. Even with admiring the brilliance of Rooney's initiative, a keeper should never be beaten from that distance (unless you're David Seaman)
In the 32nd minute, referee Lee Mason correctly decided that United had conceded enough penalties to whining Scousers for one week. While West Ham were still moaning about not being given a penalty for a Darren Fletcher challenge on Kevin Nolan, United countered again. Wayne Rooney fed Ashley Young on the flank. Young, for once, did what a winger should do and delivered a decent cross, which bounced off Noble's shin in the West Ham box and onto an oncoming Rooney to make the score 2-0. If Rooney's first goal was reminiscent of Beckham's goal at Selhurst Park, then Rooney's second was an almost carbon copy of the goal Eric Cantona scored at a freezing Bramhall Lane in December 1993 (shown below). Rooney, like Cantona, was in his own box when the breakaway commenced, only to pop up seconds later at the other end of the pitch to score. For that reason, I think United's second goal was at least the equal of the first, if not as obviously spectacular.
This was an excellent win for United at what has always been a pretty hostile ground. No matter how poor the hosts are, West Ham is never an easy place to come to. United fans were once again stiffed by a local council in regards to ticket allocation. Last season, United had 1,008 tickets slashed from the allocation due to alleged poor behaviour on previous visits. Last seasons police report said, regarding United's visit, that United fans "did not block the aisles and caused no real issues. This was one of the quietest Manchester United fixtures in the past few years." With that testimony, Reds have every right to expect the allocation to be back up to the usual 3,000. But no, this season the ticket allocation stayed the same due the behaviour of visiting fans from Newcastle and a staggeringly poor Norwich. Now, United are not only getting their ticket allocations reduced for the behaviour of their own fans but the behaviour of others too. The mind boggles. The United fans that did get in were fantastic. They were even kind enough to sing 'Cheerio' to the fast deserting rats on the chicken run as they slumped off towards Barking Road, aeons before the final whistle. Yet again there was no acknowledgement of the vocal support offered to the Reds by Martin Tyler, a man who was clearly gutted that United were winning.
As for the fans of the 'appy 'ammers, apart from a few whinging shouts about the referee's (alleged) penchant for sexual self satisfaction, they were pathetically silent. That's no great surprise to anybody who scratches below the surface of the media mythology of West Ham though. This is a set of fans who are constantly lionised for their loyalty but could only muster an abysmal 14,390 for their League Cup Semi Final second leg against City in January. The club, owned by a pair of men who made their money in pornography, is still looked upon laughably as a family club. The West Ham family look after their own and all that baloney. This is the same West Ham that forever trade on the fact that their skipper Bobby Moore, lifted England's solitary World Cup 48 years ago. That same skipper whom according to the Observer in 2005, "left West  Ham (in 1974) on bad terms and was never again fully welcome at the club". Then we have their manager Sam Allardyce. A man who was going to sue the BBC over a Panorama programme broadcast in September 2006. For reasons unknown, he never pressed on with legal action "over the false and highly damaging allegations." (Allardyce, 2006). The same Sam Allardyce said in 2010 that he would be "would be more suited to (managing) Inter Milan or Real Madrid". The 59 year old manager is presently serving his apprenticeship at West Ham while Inter and Real are for the time being making do with Walter Mazzarri and Carlo Ancelotti (respectively). After what I saw yesterday, I have no doubt that very soon he will be alerting a very patient Real Madrid and Inter Milan to his availability. I bet the followers of the Nerazzurri or the Madridistas can't wait for Allardyce's arrival. His tactics of banging the ball forward to a formerly ponytailed Geordie carthorse who was once valued at £35m by Kenny Dalglish will certainly arouse passions in Madrid or Milan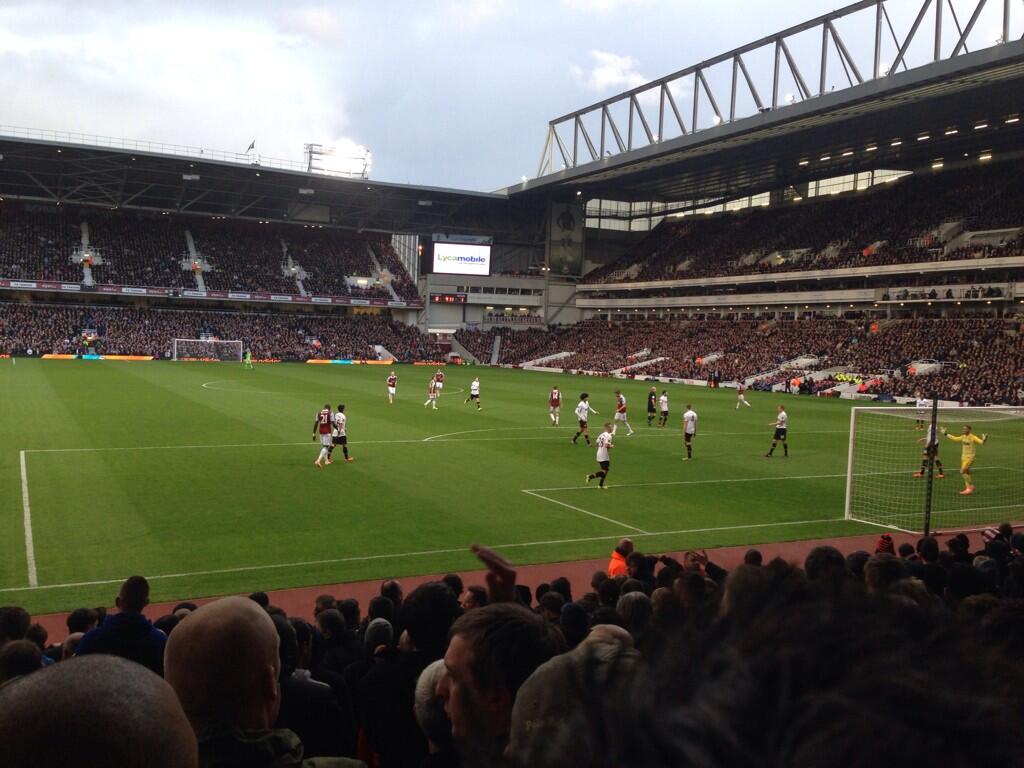 Photo courtesy of Hasan Hussein
United are still champions but won't be for much longer. We might as well enjoy it while it still stands. Reds have got to blow the roof off Old Trafford this Tuesday for the visit of the pride of Ashton New Road.
Information about the ticket allocation was supplied by Reds Away, a part of the United We Stand website, which can be subscribed to for a very reasonable £10.00 per annum