The roof first truly fell in on Louis van Gaal's philosophy at Arsenal in October when, after 20 minutes, the home side were 3-0 in front. For all that, United actually won the game in van Gaal's eyes due to having 62% possession. Another thing which helped him immeasurably that day was the sacking of Brendan Rodgers – following a 1-1 draw at Goodison Park.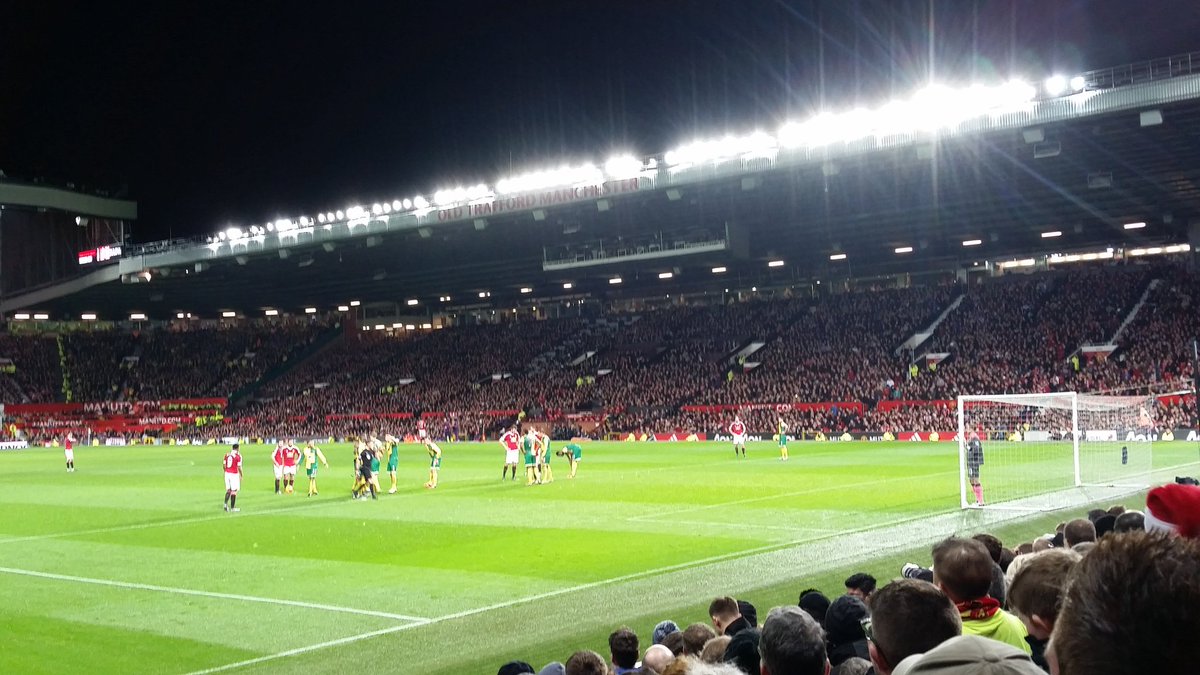 Juan Mata lines up a free kick which ends up in the freight Terminal behind the Stretford End (photo courtesy of Neil Meehan) 
A sacking this week, this time at Chelsea, could have the opposite effect on van Gaal's tenure. Jose Mourinho, a man many fans at Old Trafford wanted and expected to take over from Sir Alex Ferguson in 2013, is now back on the job market, having been given his don't come Monday by Chelsea on Thursday afternoon. Mourinho himself has, with his usual mischief, said that he has no intention of taking a sabbatical from football, like he did when he was last sacked by Chelsea in 2007. With Carlo Ancelotti about to be confirmed as Bayern Munich's next manager, there's not an awful lot else about.
Sources: Jose Mourinho, fresh off his Chelsea dismissal, wants Man U to be his next stop: https://t.co/leH15EllhJ pic.twitter.com/oyIu44Oh9M

— ESPN (@espn) December 18, 2015
Meet the new boss, same as the old boss (Pete Townsend, 1971)
A lot of United fans that I know would be delighted to have Mourinho as manager. The 'Special One' has the ego to take on a job like United, but he'd need more than that; van Gaal isn't known for his lack of ego either. Reds wanting Mourinho also say that he is a proven winner, his track record proves that too. Then again, van Gaal's track record isn't too shabby either when it comes to success. Ultimately, Mourinho gives great soundbites and great copy. He is, to use a modern cliché, box office gold and for obvious reasons – most journalists love him. His press conferences, wherever he goes, will be as entertaining as ever. However, anybody who thinks the play on the pitch will be any more palatable than recent games must still have the remnants of the smoke smuggled back after Eindhoven away.
This is my idea of a footballing philosophy
The Inter Milan team that won the European Cup in 2010 is a classic Mourinho side. Playing with the catenaccio style of football that Inter Milan are famous for, they turned defensive football into an art form. Scream for Mourinho all you want, he is a brilliant coach at what he does, but do not expect to be entertained on the pitch should the clamour be successful. Whatever success Mourinho achieves at his next club, you can bet your shit Christmas jumper that he won't be in-situ long and when he does go, he'll leave a smell as bad as any sprouts will induce this forthcoming Yuletide.
I should've known the way this day was going to pan out when a tout, who I've known all my life, offered me two free tickets for this game prior to kick off. This fella, a good lad and a good laugh, but he's also the kind of bloke that wouldn't give the door a bang. He wasn't doing this out of the kindness of his heart; he was doing it because people were actually demanding money from him to take the ticket off his hands. With growing discontent amongst Reds, the consensus was that van Gaal needed not just a win, but a convincing win today against a staggeringly poor Norwich City side.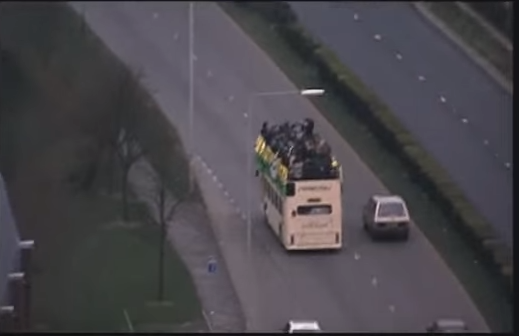 Norwich City players this afternoon on the A11, waving to their adoring hordes
Norwich haven't won at Old Trafford since Gary Pallister's disastrous debut in August 1989 and nobody, even the most optimistic of the croaking Canaries expected that to change today. By the time Cameron Jerome put Norwich in front on 38 minutes, we knew this wasn't going to be straightforward. When Alex Tettey made the score 2-0 in the 54th minute, the mood around me was mutinous, in much the same way as it was of Ron Atkinson's final days in 1986.
Anthony Martial's goal in front of the Stretford End in the 66th minute gave United a temporary reprieve to the growing anger in the ground. With the Old Trafford crowd getting fully behind the home side, we were hoping that there would be a bombardment on Declan Rudd's goal. There wasn't. For anybody who has grown used to (and indeed now getting rapidly sick of) van Gaal's notorious philosophy, it was no surprise.
Like the debacle at Arsenal in October, United may have lost the game, but boy did we win the possession statistics again. United today had 71% possession so to all those Norwich fans who have just got home on their tractors thinking you won the match, you didn't. United won it with the possession statistics so stick that in your bootiful turkey twizzlers and chew away.
After United drew 0-0 against Manchester City on the 25th of October, the forthcoming fixtures looked quite benign. Since that match, United have gained nine points against the likes of West Ham, Crystal Palace and Watford. In consecutive matches, United have lost to teams that were promoted in the Summer and made hard work of winning a point against a feisty pub side like Leicester City.
Louis van Gaal was given a massive amount of slack by United fans last season. It was a tolerance that surprised van Gaal himself, who's more used to the impulsive and impatient Latin mentality with their white handkerchiefs. This season has seen ever-growing exasperation amongst the fans. It properly reared its head at Selhurst Park at the end of October, but even then, it was reigned in.
The tide seemed to turn today. Around me, I could see people screaming abuse at the United dug-out immediately after Norwich's second goal. The media are now smelling van Gaal's blood and polls conducted on United fan sites are now overwhelmingly wanting him out (and no, I'm not fucking putting one on here). Van Gaal might be able to ride out those factors; he is a genuinely hard man. However, Andy Tate, self appointed voice of the fans, has now called for van Gaal to leave. Game over Louis, get your bag and don't forget to leave your keys on the way out.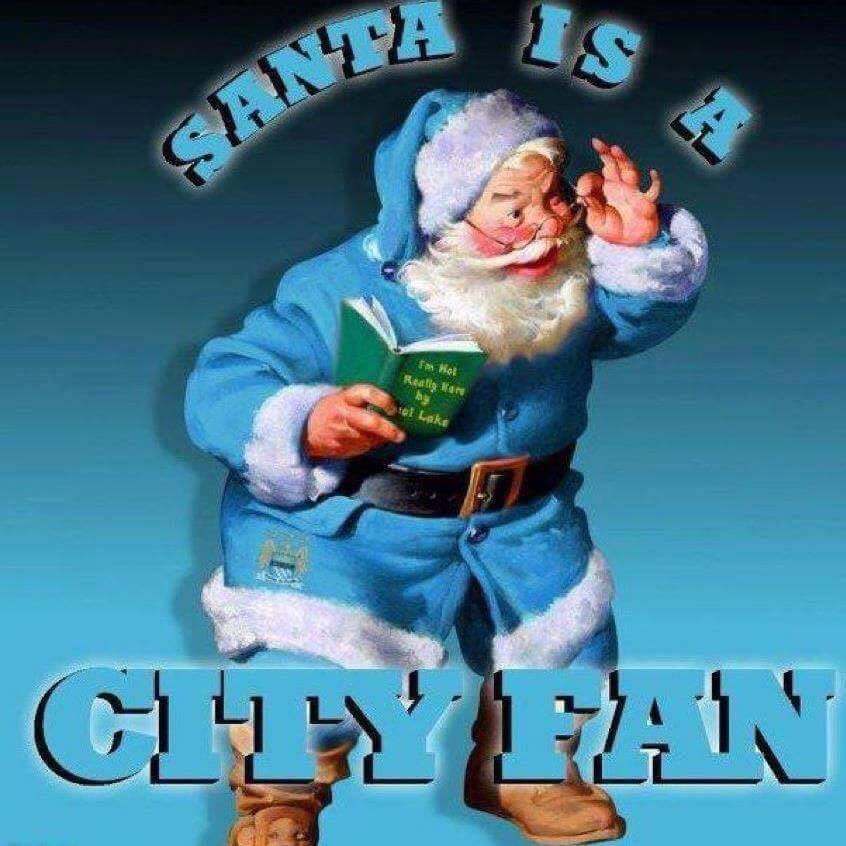 As Matthew said in the King James Bible* "thou shalt love thy neighbour as thyself". I say this as a Christmas greeting to our dear and deeply religious neighbours who skip Sunday matches so they can go to church. Over on the East side of town, with their Santa Claus clad in blue, Manchester City have their very own East Side Story for Christmas. Following the recent announcement that the club will pay for laser removal to change old laser blue tattoos, reports are now coming in that the New Year will see City fans undergo a mass blood transfusion where its colour will change from red to blue. This initiative, funded by Sheik Mansour, will also see their hearts (yes, they do have them apparently) change colour from red to blue, (I see a red heart and I want it painted blue). The ever altruistic Sheik Mansour was also going to re-enact the gospel of John and, with five loaves of bread and two fishes, feed an expected quarter of a million blues stood over four thousand holes on a hill in Blackburn, Lancashire, and then buy them all a house near the the Stade de Beswique. The fact that only 3,007 turned up slightly scuppered his plans.
Merry Christmas, see you at Stoke on Boxing day (oh the joy…)
(22.39 if you want to look it up)