Twice in the first eleven minutes Petr Cech was caught badly out of position to allow United to run up a quick 2-0 lead. When Javier Hernandez was found by a perfect Michael Carrick cross in the third minute I was convinced the ball was going over the bar, so was Peter Cech as it looped over his head and into the net. Eight minutes later after a foul by Victor Moses on Nani, Wayne Rooney floated the resultant free kick into the Chelsea box and past a crestfallen Cech to make it 2-0. United looked like running rampant here, by thirty minutes Hernandez had nearly made it 3-0 and then Petr Cech reminded me why I think he´s the best keeper in the Premier League by making an incredible double save to stop a David Luiz own goal.
At half time and United cruising serenely, Chelsea looked down and out. The much reviled and heavily criticised Chelsea manager Rafael Benitez pulled a masterstroke by substituting the out-of-sorts Victor Moses and replacing him with Eden Hazard on 53 minutes. Within seven minutes Hazard had pulled the score back to 2-1 and suddenly an expectant anxiety took hold of a freezing Old Trafford. Like Tuesday night, people started checking their watches to realise to their dismay that there was still at least thirty minutes left. When Ramires equalised on 68 minutes it was a surprise to nobody in the ground. United started the second half making schoolboy errors and Juan Mata and Ramires were running Patrice Evra and Rafael ragged. This is not the first time this season that United have been this sloppy but it is the first time United have been this sloppy against opposition of this quality. After the Ramires equaliser, if anybody was going to win the match, it was Chelsea. On 89 minutes, Juan Mata turned Jonny Evans in the six yard box and we were just waiting for the Stretford End net to ripple. David De Gea magnificently saved with his right foot to put the ball wide for a Chelsea corner. With another two David De Gea saves in injury time from Fernando Torres and Eden Hazard, from being comfortable, United were lucky to be in the semi final draw which pitched us against our dear moustachioed stopfordian neighbours should we prevail in the replay.
Today saw the most pathetic away support I´ve seen at Old Trafford in a good while. Chelsea were offered 9,000 tickets for this match and they couldn´t even sell 6,000. I wonder what they would put that down to, maybe it´s a protest against the incumbent interim manager Raphael Benitez, maybe the recession has kicked in good and proper and the impoversihed population in the mean streets of Kensington can´t afford to go to Old Trafford or maybe it was because it´s Mothers day. The mind boggles hearing fans in a two thirds full away section singing about Uniteds support being "fakkin shit". Uniteds support is not perfect (nobody´s is) but whatever rights and wrongs we have, one thing we´ll never be is anything like Chelsea fans. Instead of supporting their team, they spent the best part of (at least) three hours heading up the M40 and M6 to sing songs slagging off their manager. It takes a special kind of twatty behaviour to have me feeling sympathetic to Raphael Benitez and they have succeeded in making me feel that way. A truly horrible plastic football club with a clueless, ignorant and mostly racist following, no matter how much money gets invested in that cesspit of poison, Chelsea will never have any class. They sang about wanting "their" Chelsea back, presumably that´s wanting people like Ken "electric fences" Bates back running them. Hopefully they´ll get their wishes, John Terry, Ken Bates and Chelsea are perfect for each other.
Even with a twelve point lead and with the bookies and pundits in the media already declaring United champions, nobody at Old Trafford will be daft enough to take the League title as a given, especially after last season´s collapse. We could have a repeat scenario of the the photograph shown above from 1969 which is classic City. Taken in the immediate aftermath of City´s victory against Leicester City in the 1969 Cup Final and still in possesion the League title after winning it in 1968 (Leeds United, managed by ex City forward Don Revie were on the verge of becoming champions), they had this photograph taken to appear as if they were double winners. Only United or Chelsea can prevent them repeating this because even if United are mathematically champions come Cup final day, City will still be in possesion of the Premier League trophy until the final day of the league campaign. After the shenanigans at Wembley in April 2010, it will be interesting to see the volume of support that City take to Wembley for the semi. Two months ago having not sold out their allocation at Arsenal, we were told that it was an organised boycott by City fans due to the expense of the tickets. I wonder if City fans will have a similar fit of principle as the tickets for the semi won´t be cheap either. I would also implore the FA to make sure that the City semi final is played on a Saturday as a Sunday match could affect the amount of tickets City sell. According to Dave Wallace, the editor of the "humurous" City fanzine King of the Kippax in February 2011, "Churchgoers would have found it tricky to get to the ground in time for a 2pm Sunday kick-off" when he was asked why there was nearly 10,000 empty seats at the tripe colony for a quarter final match against Reading.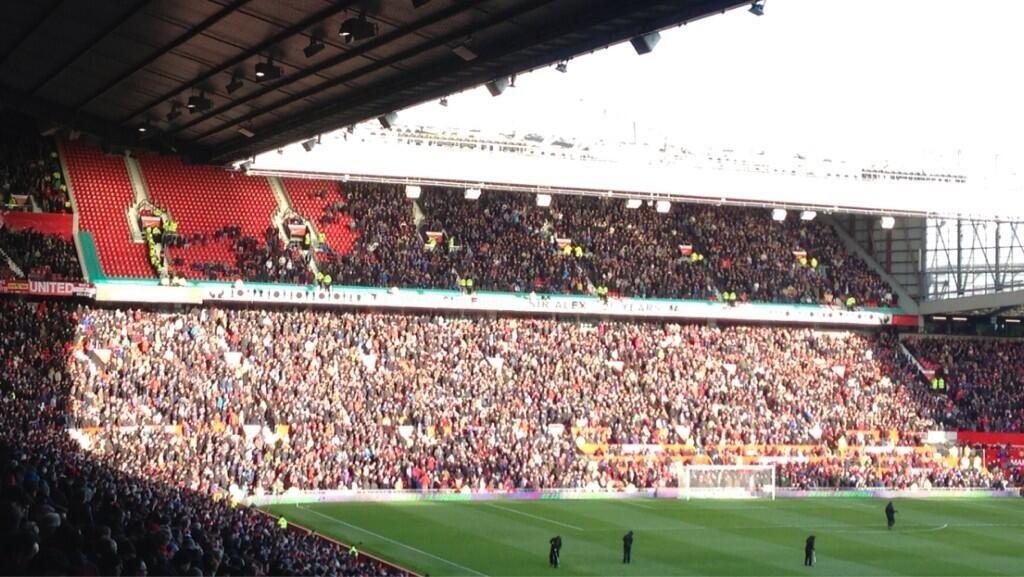 Top of picture: An abysmal away following and this from a club who were subsidising their fans coaches to come up to Manchester