I'll be amazed if United have an easier game again this season than today's match. Hull City are, by a distance, the worst side I've seen at Old Trafford since.. Hull City last played at Old Trafford last May. Having looked at the match stats, (something I'm not usually that big on), I see that United had 77% possession. I don't think Barcelona, even in their tiki taka peak of 2009/2011, ever enjoyed such a generous percentage as that over ninety minutes. Statistically, QPR have had the worst result at Old Trafford this season; they were so bad as to make a feisty pub side like Leicester City, who are now bottom of the table, look like the aforementioned Barcelona. As bad as QPR were, Hull were even worse. Looking at today's match, Steve Bruce has got a job and half keeping this side up and stopping the Hull City fans returning to their first love of Rugby League. It gives me no pleasure in saying this; Bruce is held in great respect and affection by United fans old enough to remember him playing.
On Boxing Day last year, as Hull raced into a two goal lead against United, their fans gleefully sang to the travelling Reds that "you're getting mauled by the Tigers" whilst making clawing gestures at us and decked out in their tiger onesies, wearing their black leather jackets, the kind last seen worn by the Fonz. This time round, they attacked United with all the vigour of a litter of kittens. At no point today, there wasn't a hint of any outcome other than a resounding United win.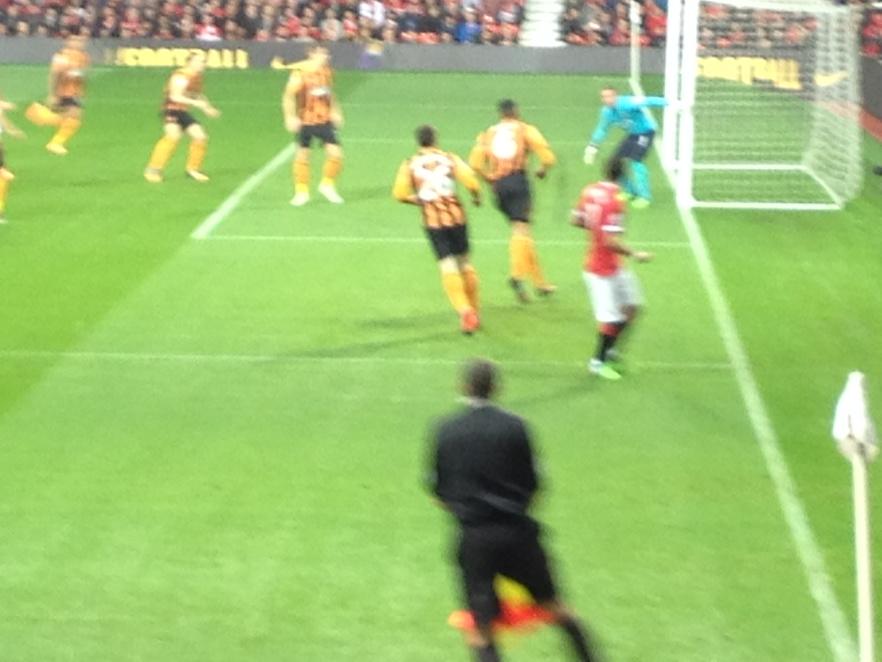 An early cross from Angel di Maria
In the 16th minute, a goalmouth scramble led to Chris Smalling scoring, coincidentally his first goal since scoring against (of all teams) Hull last season. After Marouane Fellaini went for a header, Robin van Persie had a chance before Smalling scored on the far post. The Scoreboard End roared for a goal and the United players in the penalty area ran with their hands up claiming a goal. This is the first goal I've seen awarded at Old Trafford due to the newly implemented technology. With my seat in the ground being level with the Scoreboard End goal-line, I couldn't be sure in real time if the ball crossed the line. The nearby linesman didn't give the goal (fair enough) and referee, Anthony Taylor, wasn't going to give it until he had been notified by the technology.
From this point, I don't recall Hull ever once making a United defence of Antonio Valencia, Marcos Rojo, Chris Smalling and Ashley Young look remotely vulnerable. When Wayne Rooney cleverly put United 2-0 up in the 41st minute, the game was up. The only wonder at half time was how many goals United would win by.
Van Gaal: "It's the first match we've dominated from the first minute to the last in a way that I like. I was very pleased."

— Andy Mitten (@AndyMitten) November 29, 2014
A thoroughly professional performance was slightly dampened by a hamstring injury to Angel di Maria, who walked off the pitch with a hamstring injury after 13 minutes, to be replaced by Ander Herrera. This is the 41st injury that has occurred to a United player this season. You can have bad luck with injuries but for a squad to have that many occurrences before December is ludicrous.
In the 64th minute van Persie finished brilliantly in front of the Stretford End to make the score 3-0. Soon after, he was substituted for a slightly rusty Radamel Falcao. The Colombian missed a good chance late in the game. However, if there was ever a game to miss a chance like that, it was this one.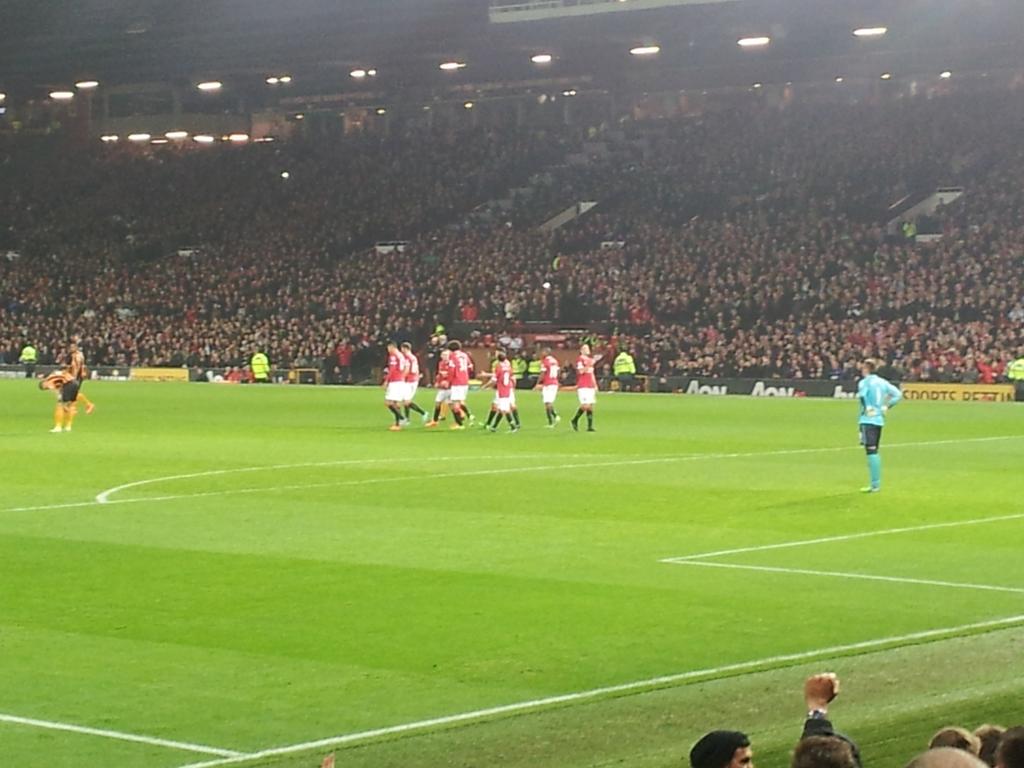 United players head back to their own half after Robin van Persie made the score 3-0 (photo courtesy of Neil Meehan)
Tonight, United are in fourth place. A club that was supposedly in crisis less than eight weeks ago are now in a position that we would settle for at the end of the season. United have played all teams that are expected to be near them at the end of the season – apart from the biggest one of all, Liverpool. That comes in a couple of weeks. There will be a lot more confidence going into that fixture amongst Reds as there was last March when Liverpool came to Old Trafford and murdered United. There's a long way to go but with Liverpool apparently imploding, Arsenal being as good on the eye and soft in the midriff as per usual, a Champions League should be achievable come next May. Following last season's debacle, surely we would all take that.