The canaries were singing so far out of tune as to make "Metal Machine Music" by the recently departed Lou Reed sound melodic. What started out as a song turned quickly into a squawk by the time referee Kevin Friend, gave United a penalty in the 20th minute for a foul committed by Leroy Fer on Adnan Januzaj in the 20th minute. It is possibly one of the softest penalties I've ever seen conceded but all the same, a correct call by the referee. Why Fer felt the need to take a walk on the wild side and trip Januzaj when neither he nor the ball was going anywhere threatening to Norwich, only Fer can answer. The fact is that Fer tripped Januzaj in the box, so it's a penalty regardless of goal threat of whether Januzaj was in control of the ball. The Norwich players and the impressively numbered travelling fans were understandably incensed by the penalty but they should have been blaming Fer for his numb headed stupidity rather than screaming blue murder to the referee. Javier Hernandez sent Norwich goalkeeper Mark Bunn the wrong way wit the resulting penalty. Up until the goal, Norwich looked as staggeringly poor as they normally do. After it, they played with all the promise of a turkey in Bernard Matthews slaughterhouse. In the second half, a headed goal from Hernandez on 55 minutes, a volley from Phil Jones on 88 minutes and a flick from the returned Fabio in injury time sealed a 4-0 win for United. A Phil Jones volley and a goal from Fabio? It was one of those nights.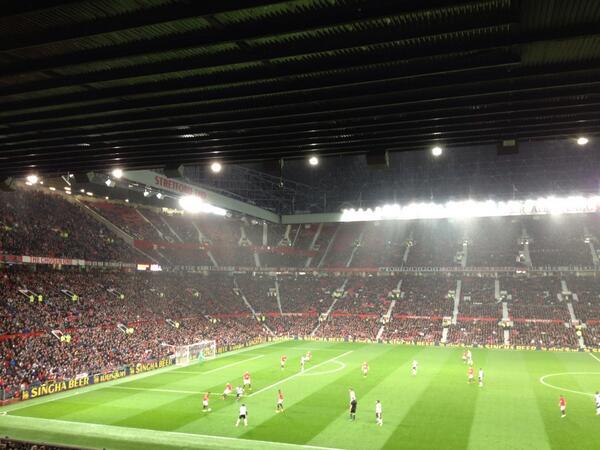 View from the C stand on a not so bootiful night (Photo courtesy of Daniel Burdett)
Nobody knew what to expect tonight going into Old Trafford. A fringe lead United side could have put on a great performance or potentially a horror show to match the disgrace against Crystal Palace a couple of years ago. Despite the 4-0 result, the truth is that it was neither. United were efficient and played well without thrilling the crowd. On recent observations, David Moyes would rather pick his nose than pick Wilfred Zaha. Tonight he showed flashes of brilliance and naiveté. Without going into or even dignifying some of the more far fetched conspiracy theories that have been flying around about Zaha recently, it does leave me wondering how Moyes can pick some body like Ashley Young over him. Young tonight had by his recent standards, an ok game. For that though, Young, like Nani, either hits a cross like a fairy or an elephant. Whatever else he does, I'm just glad that Young doesn't drive an American tank in the gulf.
We wait with baited breath for tomorrow nights draw. For the sake of my bank balance, I'm hoping for an away match but failing that, I'm hoping for a draw which would have me feeling like it could be £37.00 well spent. Like the last round against Liverpool for example. Matches against Liverpool will never be low key, unlike the match tonight against a staggeringly poor Norwich side. The key was so low as to make a bass clef sound high.
https://www.manutdfansblog.com/norwich-city-1-0-manchester-united/