Four days after the turkeys were stuffed, United decided yesterday to continue the avian theme and stuff the canaries in deepest Norwich. After a lie down and a warming bowl of porridge, I'm now of the knowledge that yesterday was a good win for United against a staggeringly poor Norwich.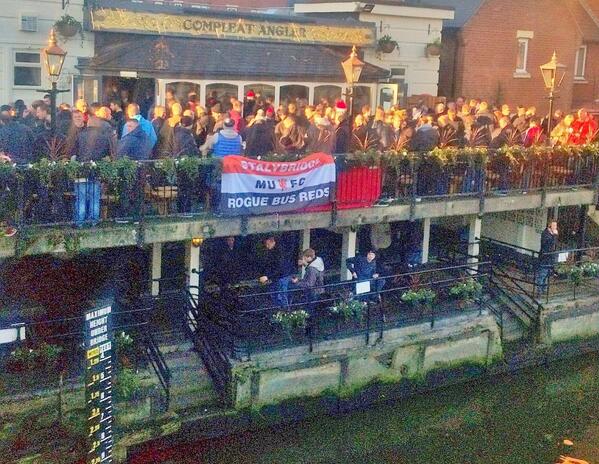 United fans in the Compleat Angler on Prince of Wales Road before yesterday match
United fans had already resigned themselves to being one down in the 15th minute when Wes Hoolahan somehow missed an open net in the Barclay End of Carrow Road. The rest of the first half saw Norwich have the upper hand without actually looking like scoring. The main difference from Boxing Day is that yesterday, United were playing a side nicknamed after a benign yellow bird as opposed to a predatory feline. The difference in both the sides and the metaphor of the respective nicknames was apt.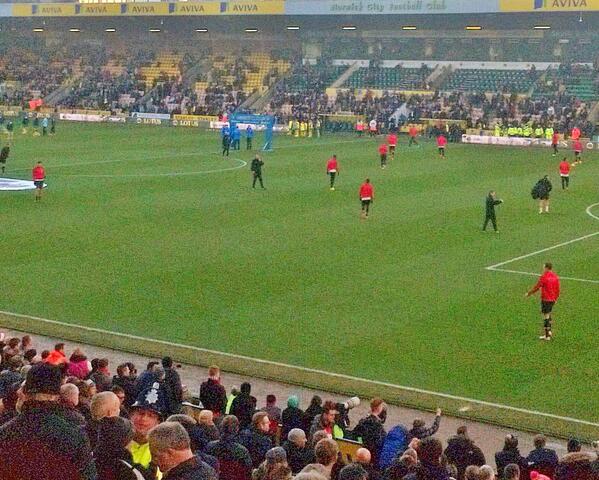 View from the corner of the South Stand and Barclay Stand of Carrow Road Yesterday
With David Moyes swapping Ryan Giggs for Danny Welbeck at half time, United began the second half with more attacking purpose than they had in the entire first half. Ashley Young was unlucky not to score on 48 minutes with a shot from 18 yards that went just over the goal after a good run. Young is obviously getting some of his old confidence back after his recent star performance at Stoke. He has never been my favourite United player but at least he's playing now like somebody who believes he can beat a defender as opposed to the shrinking violet that we've witnessed since his nightmare performance at Villa Park in November 2012.
Welbeck's dogged persistence combined with a bit of overdue good luck, contributed to United's winner on 56 minutes. From a Chris Smalling throw, Javier Hernandez flicked the ball onto Welbeck. Ryan Bennett intercepted and attempted to clear the ball, not as much from danger as into the new year. Instead, the ball glided off Hernandez into Welbeck's path. Welbeck was helped by the split second of indecision of Norwich keeper John Ruddy, as to whether to come for the ball or not. When Ruddy decided to come, Welbeck was favourite to reach the ball first and with some cool headed calm, took the ball around Ruddy and into the Norwich net from an increasingly tricky angle. Like Tom Cleverley's goal at Villa Park a couple of weeks ago, this goal was celebrated boisterously by both United players and fans.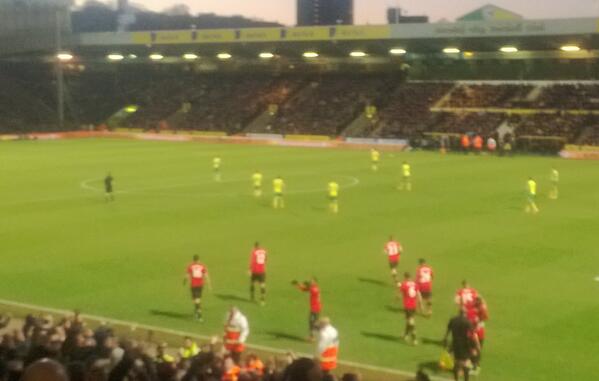 United players celebrating Danny Welbeck's goal with Reds in the South Stand at Carrow Road
It was with some relief that the travelling Reds greeted the final whistle. Norwich is a long long way to come to watch a performance as mediocre as this from United against a staggeringly poor side. The scrappy and slightly scabby 1-0 win made the five hour coach journey home a lot easier for the travelling Reds. Having said that, on the UWS/RI Monkey bus, the crack was great and I imagine it would've been only slightly less so if United hadn't won. With an atmosphere fueled by Orange juice, coffee and electronic cigarettes, the atmosphere on the coach was nearly as good as it was in the ground. With songs abundant in homage to Adnan Januzaj to the melodies of Simon & Garfunkel's Mrs Robinson, David Bowie's Starman and Gilbert O'Sullivan's Ooh Wakka Doo Wakka Day (lyrics below), United fans, both in the stand and on the way there and back had a ball with these new tunes being sung ad infinitum combined with other old classics.
As for Norwich fans, for self proclaimed canaries, they have an appallingly small repertoire of songs in support of their team. One of them is a touching declaration of the fact that they do support their local team that we've all heard a million times before from supporters of other small time football clubs. I couldn't hear any others on the odd occasion when they decided to try and chirp up to a United dominated crowd atmosphere. United fans' retort of 'You've Only Come To See United' however is alas, not factually true. Yesterday was Norwich's second highest crowd of the season. Their biggest (to date) was against Swansea two weeks ago. It must be some sort of avian solidarity, birds of a feather and what have you. I can tell you without fear of contradiction that in this instance, the Swans are far more melodic than the canaries.
A Norwich City fan by the River End of Carrow Road yesterday
To the melody of David Bowie's Starman
"There's a starman, on the left hand side. He plays for Man United and his name is Januzaj"
To the melody of Gilbert O'Sullivan's Ooh Wakka Doo Wakka Day 
"I want to tell you, I might as well do, About a boy who do anything, He comes from Belgium, his name is Adnan, Januzaj, Januzaj, Januzaj"
To the melody of Simon & Garfunkel's Mrs Robinson
"And here's to you Adnan Januzaj, we don't care what country you play for"
 Happy New Year