We're back to that time of year when the trees have come down, Father Christmas is back on the dole and everybody's bills come through the letterbox. The time of year when people go off the beer and there's slightly less cheer as the festivities disappear. That can only mean one thing; we're back to the third round of the FA Cup. This is when players and supporters of smaller clubs get condescended by clueless commentators from ITV and BT Sports. Bemused players, who didn't grow up in the UK are asked, "just what did the FA Cup mean to you as a boy growing up in Spain/Holland/Germany etc"? Before that though, we had the New Year's Day fixtures.
It's not been a good week for United fans. To my eyes, United were unlucky against Tottenham. United attacked Tottenham for most of the game and were worth at least a draw. Not for the first time, Chris Smalling allowed an opponent a free header which resulted in a goal. It happens to the very best centre halves occasionally but it's happening to Smalling way too often. It was Smalling who was caught out by Vincent Kompany at the Ashton New Road stadium in April 2012 for a goal that cost United the match and ultimately, the title. Smalling allowed Anthony Pilkington a free header in November 2012 that gave a staggeringly poor Norwich City side a 1-0 win against United. Smalling, for a centre half and a lad of 6'5", shouldn't be getting caught out for free headers with the frequency that he does and is not good enough to be a long term centre half for United (or short term come to think of it).
Tottenham's second came courtesy of Antonio Valencia going to sleep at fullback whilst Wayne Rooney was screaming "man-on" at him as Christian Eriksen sneaked round the back and put the ball in the back of the Scoreboard End net. I'll forgive Valencia as he's a) not a full back and b) one of my favourite players. When Danny Welbeck pulled a goal back for United a minute later, it sparked a siege on the Tottenham goal that, alas, didn't yield a goal.
There's a need for some calm heads at Old Trafford at the moment. This is maybe the worst football that anybody under the age of 35 has ever seen; anybody over that age will remember the late 80s and will know what a crisis is. This isn't one. Whilst it's not a crisis, it's not good either. United haven't lost an away match in any competition since getting hammered by City in September. Since that resounding defeat, United have lost five times at Old Trafford, mostly to teams who had forgotten what it was like to win at Old Trafford. With Swansea winning at Old Trafford this afternoon for the first time ever, today if anything, surpassed those defeats. There were plenty of reds who were pissed off with United's performance against Tottenham. I think they were being harsh but today's performance against Swansea? Now that was as bad as anybody said the Tottenham performance was.
The first noticeable thing as the teams came out on the pitch was that the Swansea side looked like a load of traffic chicanes in their blue and yellow kit. it was a course of chicanes that United, after a lively start, found too complicated to negotiate. In the 13th minute, seconds after Javier Hernandez missed a good chance, Wayne Routledge put Swansea 1-0 up by lobbing an out-of-position Anders Lindergaard. Three minutes later, Hernandez atoned for his previous miss by equalising from six yards after a cross from Alexander Buttner.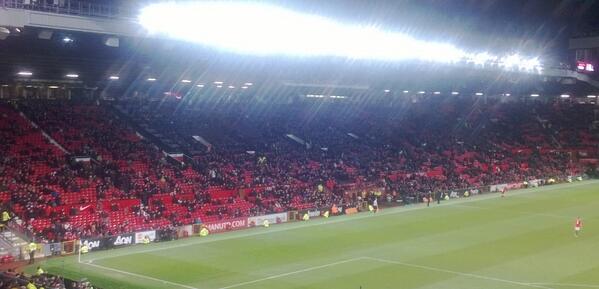 Not a scene from The Book of Exodus in the Old Testament but the Main Stand at Old Trafford whilst the match was still playing after Swansea's winner
Rarely have I seen so many passes made by United players in the opposite direction to the opponent's goal. United's attack play resembled an Italian tank. The longer the game went on, the more reticient the play was. They actually looked scared of going forward. It got to a stage that when Fabio Da Silva was correctly sent off for a ridiculous studs up challenge on Canas in the 82nd minute, I was wondering if United could hold out for a replay. I then had to pinch myself to remember that this wasn't Arsenal, Liverpool or City that United were playing against, this was Swansea City that I was hoping that United could cling onto a draw against. In the 89th minute, Routledge beat Darren Fletcher on the left flank to cross the ball. In the six yard box, Wilfred Bony was unmarked, between Chris Smalling and Jonny Evans, to score yet another free headed goal that United have conceded. Immediately after that goal, there was an exodus from the ground that would've impressed Moses. The fourth official signalled that there would be a minimum of four minutes injury time. If anybody was going to score in that four minutes, it was Swansea. Still, we can look on the bright side, there'll be no more automatic Cup Scheme extractions of £37.00 from our bank accounts to watch a fringe side play with a pink football in a cup that nobody really gives a fuck for anymore.
Time was, and it wasn't that long ago, that a visiting side to Old Trafford would be lambs to the slaughter following a United home defeat, especially a side like Swansea whom before today, hadn't won in seven games. It became apparent after thirty minutes of this debacle that whatever else was going to happen, Swansea were not going to get a hiding. The 4-1 defeat that United inflicted on Swansea four months ago, feels like a hell of a lot longer.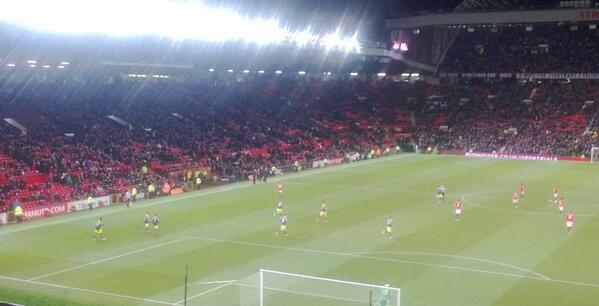 Anybody who had any denomination of Christianity shoved down their throats as children, will know that tomorrow is the feast of the epiphany. The epiphany came a day early for United fans with this performance. Bob Dylan famously said fifty years ago that a Hard rain was a-gonna fall and today we got it both metaphorically and literally. The weather as we slumped out of Old Trafford today was as bad as I can remember in recent times. There was also the thought that of a very interesting five months that we now have in front of us. We can now say, with tongue firmly in cheek that we can concentrate on the league. The reality is though that United are in a dogfight to make fourth. Can they do it? The answer my friend, is blowing in the wind.