Real Madrid have to play Barcelona twice immediately before the return leg at Old Trafford in three weeks time. I've heard it said that Jose Mourinho might shuffle his squad around for those matches, but like United against Liverpool, pragmatism goes out of the window when the el classico is played. Madridistas would, under no circumstances forgive a half cocked effort against Barcelona any more than we would against Liverpool.

Twice in a week, eleven months ago, United were outclassed by a team from Bilbao who didn't even qualify for this seasons Champions League. On those nights against Athletic Club, United looked light years behind a team that eventually finished 10th in La Liga. Tonight in the Bernabau, in front of a full house and the biggest United none final following since Milan in 2005, United got a very well deserved draw. It could have been so much more but for some sloppy finishing but when all's said, any and every red would've happily taken 1-1 before kick off and it wasn't as if Real Madrid didn't have chances too.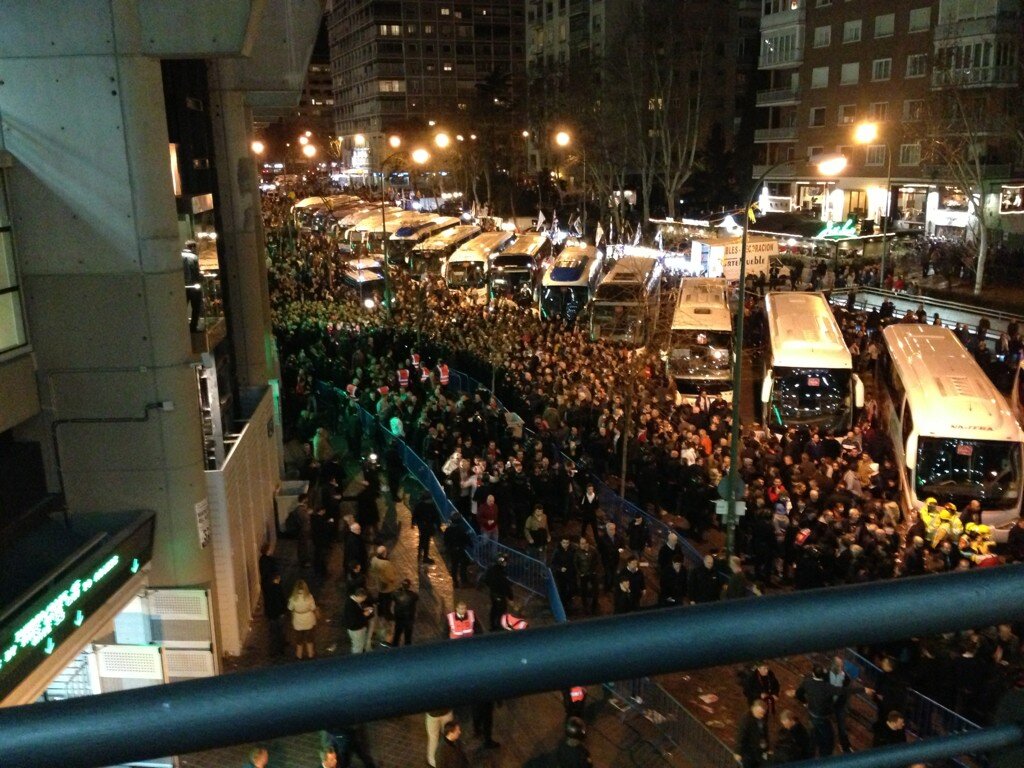 Before tonight's match, the predictable scenario unfolded when yet again, a Latin police force pulled their batons out when an English team visited. This is nothing new, it happened to United fans in Valencia in 1982 and countless times in Italy and Portugal as well as Spain with all travelling English clubs since then (if not before!!). In all that time and with all the innocent heads twatted with batons by these lunatics with semi military power dressed in police uniform, I believe it's only a matter of time before somebody gets killed due to their aggressive incompetence. I've been involved in and witnessed some truly frightening scenes in Spain, Portugal and Italy in the twenty odd years that I've been watching United play in Europe. Tonight, the Madrid police were at it again, indiscriminately lashing out at United fans arriving at the Bernabau in the last hour prior to kick off. As per usual, UEFA will do absolutely fuck all about this and when the inevitable international incident happens, it will end up with collective of football followers being officially blamed.
We all knew the magnitude of what was required of United tonight and young players like Phil Jones and David De Gea had a blinder. I wouldn't be as soft as to say that Jones had Cristiano Ronaldo in his pocket, but he fared a hell of a lot better against him than I expected. In the fourth minute, German referee Felix Brych gave Robin Van Persie a very harsh yellow card when Sergio Ramos did a facial clutch when he'd hardly been touched. Two minutes later, De Gea made his first brilliant save of the night when he tipped a Fábio Coentrão shot onto the inside of the post. Up to Danny Welbeck's goal, whilst Real Madrid had plenty of possession, it was hardly a siege on United's penalty area. Wayne Rooney floated a brilliant corner into the Madrid six yard box and Welbeck was somehow allowed a free header to glance past a gobsmacked Diego López in the Madrid goal, who was there in place of the long established and injured Real Madrid skipper Iker Casillas.
Ten Minutes later, Cristiano Ronaldo defied gravity, just like he did in Moscow nearly five years ago to somehow hang in the air like a helicopter, awaiting a cross from Ángel Di María from which he scored. De Gea had no chance, my first instinct was that Patrice Evra was at fault, but having seen it again, it reminded me of Lionel Messi beating Rio Ferdinand to a header in Rome in 2009. Some players are just genius and when they have a moment like that, all you can really do is hope that they're off target.
On 54 minutes, Michael Carrick played a fantastic defence splitting pass for Evra to run on to. Thirty yards from goal and as last man, Evra was fouled by by Real's centre half Raphaël Varane in an echo to a similar incident at the same stadium involving Ryan Giggs and Aitor Karanka in April 2000, the referee waved play on when Varane like Karanka 13 years ago, should've been sent off. Eight minutes later, De Gea made his most spectacular save of the night when he somehow kept out a Coentrão shot again on his far post. How he got to that shot, only he knows. A save like that can't be taught or trained into a goalkeeper, it's already there and I believe it to be the best save I have seen a United keeper make since Peter Schmeichel did his Gordon Banks impression in Vienna in December 1996.
United could've won this game tonight, Giggs hesitated with a great chance on 81 minutes, Welbeck was chronically unlucky not to get a second five minutes after Ronaldo equalised, Van Persie hit the bar with the same fervour as Paul Gascoigne on 71 minutes and Van Persie again,  forced an excellent save from López with what turned out to be the very last touch of the game. That the referee didn't allow the resulting corner to be taken despite the minimum amount of injury time not yet being played means that with a bloke like him officiating, doing his best impression of Clive Thomas, I'm just relieved United didn't lose.