If you told me immediately after the match against Tottenham last September that come the final whistle on the return game, United would be five points clear at the top of the table, I wouldn't have believed you. United now have Liverpool, Newcastle and Tottenham completely out of the way and have played Chelsea and City away from home. Only a fool would ever take anything for granted, especially after the way last season concluded (just in case we didn't already know) but looking at the respective fixtures both United and City have, give me United's any day. Out of the teams in the top seven, United only have to play away at Arsenal.
Clint Dempsey equalises in the 2nd minute of injury time
David De Gea made some great saves today but yet again, his preference for punching the ball has, I believe, cost United. Halfway through the second half, he punched the ball out of a crowded penalty area under no pressure or challenge which created chaos. He punched a cross two minutes into injury time which allowed Aaron Lennon to roll the ball to Clint Dempsey, giving Tottenham a deserved draw. It's always disappointing to concede a last minute goal, especially against such formidable opposition, but I would've taken a draw prior to kick off. With the possession and attacking threat of Tottenham in today's match, especially in the second half, a draw is a fair result.
The pavement outside White Hart Lane today, fans in ice skates and ski's not in the picture (photo courtesy of Barney at www.rednews.co.uk )
Just prior to Christmas 2010, I was in London for the weekend that United were due to play Chelsea. The weather on Saturday, the day before the game, was atrocious so Chelsea, who were in disarray at the time, somehow managed to get the game postponed a full twenty four hours before the match was due to be played. I mention this due to the fact that the weather in London today was, if anything, worse than that day two years ago. The main difference between the two occasions were the club United were playing. Tottenham Hotspur are historically a football club who will turn out come what may and play a match without any snide or sharp practice. Chelsea, as we all well know, are not. There has been a lot of rubbish this week on SKY TV about 'payback' regarding today's match but I'm not really sure why. Tottenham came to Old Trafford last September and beat United fairly. The second half of that particular match was one of United's best performances of the season but it was too little, too late. I have no feeling of United being robbed or hard done by so I'm not quite sure why SKY Sports felt the need to bill the game as 'payback'. Add to that, of all the football clubs in London, Tottenham are the one I have the most respect for.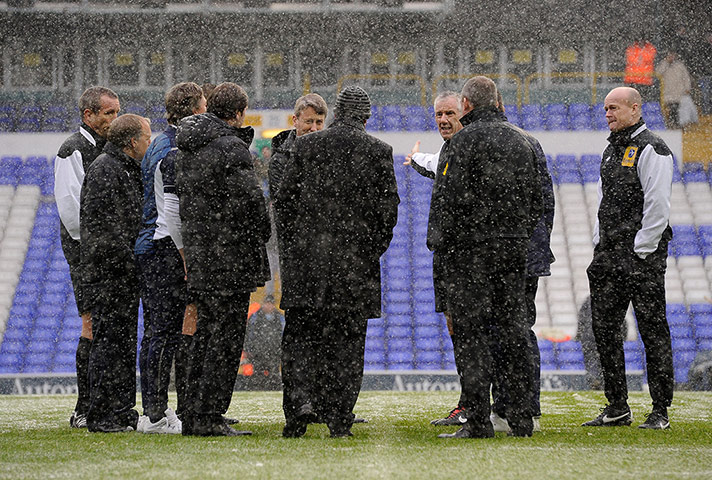 Pitch inspection with the match officials and representatives from both Tottenham and United
United started the game with plenty of possession and aggression. On 24 minutes, Danny Welbeck found Tom Cleverley and whipped in a perfect cross for Robin Van Persie, who lost Kyle Walker and nodded a free header past Tottenham's French goalkeeper Hugo Lloris, on his near post. From there, United, whilst not rampant, looked in good control of the game. United's defence of Rafael, Evra, Ferdinand and Vidic had the best game I've seen them have in a good while. In the midfield, Phil Jones had a good game and Michael Carrick had a blinder. Half time was inconvenient for United; any momentum that had been built up was lost by the time the two teams came back out for the second half.
Robin Van Persie heads United into the lead on 24 minutes
United fans were back on form today after the subdued performance at the Boleyn Ground a couple of weeks ago. It also helps that White Hart Lane is a ground conducive to a good atmosphere. Swansea fans do a rendition of Land of Our Fathers which is magnificent but, for me, the slowed down version the Tottenham fans do of When the Spurs go Marchin' in has the hairs on the back of my neck standing. I do hope the one hundred mile an hour merchants that populate the Stretford End have seen that the same way I have. I won't knock anybody for creating an atmosphere at Old Trafford (especially after the other night) but does everything have to be so fast?