Last week, United beat Swansea City 2-0 with goals from Antonio Valencia and Danny Welbeck to seize a losing run. It was at times sloppy and Swansea gave United a scare or two in the first half, but United ended up winning comfortably. Yesterday, with United's recent results in mind, some bookies were offering 4/1 on a straight United win. I reckon it's over twenty years since odds as good as that, were offered on a United win. Even with odds as enticing and knowing that even now, United are capable of beating anybody on the right day, I don't know anybody who had a serious punt on a United victory. Most reds I spoke to prior to yesterday were secretly dreading the potential leathering United could have got. The 3-1 result looked emphatic for Chelsea, anybody who watched the game will know that was far from the case.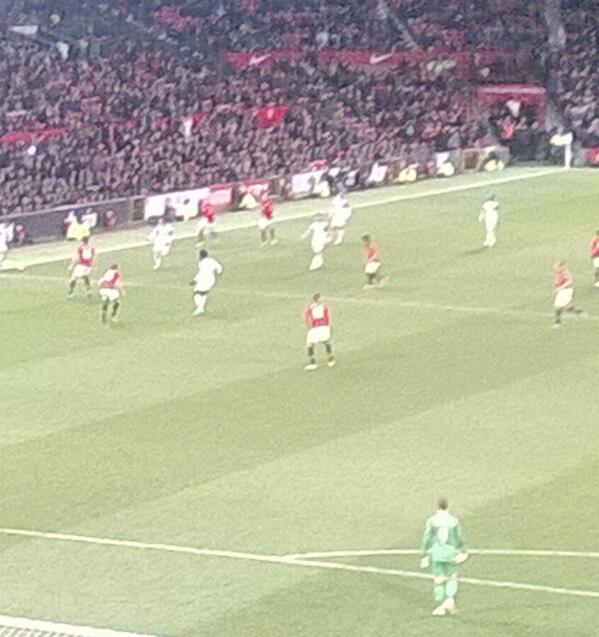 Yet again a merciful United attack spared the opposition when playing well. It was a surprise to nobody watching the match that with United dominating the early part of the game, Chelsea took the lead in the 17th minute. Samuel Eto'o sold Phil Jones far too easily on the right flank and then let fly with left footed shot that hit the back of the net right in front of the traveling reds via a Michael Carrick deflection. Before that, Ashley Young had forced the excellent Petr Cech into a save in the first minute. For all that possession up to Eto's goal, I'm convinced that United, Young, Rafael and Evra in particular,would struggle to deliver a news paper, never mind a decent final ball. The quality of the crosses when in a good position was as bad as anything I've ever seen Nani deliver.
The 38th minute was symbolic of the luck that David Moyes has recently had in his tenure as United manager. Danny Welbeck, with only Peter Cech to beat was fouled by Chelsea right back Cesar Azpilicueta from eight yards out which referee Phil Dowd waved on. If United had have got a penalty or a goal at that moment, anything could've happened. It would've been no more than United deserved. Instead, Eto'o applied the coup-de-grace by side footing Chelsea into a 2-0 lead from a Gary Cahill cross, in first half injury time.
Within five minutes of the second half starting, United were 3-0 down after Eto'o completed his hat trick. This was now turning into a similar day as the last time United lost away in the league, at City at the end of September. That day, a final score of 4-1 was a mercy on United, this however was an absolute travesty. Ultimately, Chelsea had a forward of Samuel Eto'o's experience and renown, United with Robin Van Persie and Wayne Rooney out injured, had Danny Welbeck. A popular and honest lad, but in brutal terms, not in the same league as the aforementioned players
At that point, I was fearing a totally undeserved thrashing. I'm pleased to see that didn't materialise. Even though the game was lost, United played on with the same previous intent and in the 78th minute, got the very least they deserved, with a goal from Javier Hernandez. United kept plugging away but as per usual in recent times, the final ball was wanting.
What United didn't need was to have Nemanja Vidic sent off. It was a stupid challenge and definetly a booking, but a straight red? I'd love to know the reasoning Phil Dowd, one of the better referee's in my opinion, had for that being a sending off. Two minutes later, Rafael, did a two footed tackle on Cahill which was a far more obvious sending off than anything Vidic did. Why Rafael did that on Cahill is anybody's guess. After a similarly reckless challenge at Sunderland two weeks ago, anybody would think he was trying to match up with his older brothers stupidity, after he got sent off against Swansea in the FA Cup immediately prior to the Sunderland match.
This Wednesday's semi final against Sunderland is now taking far more significance than anybody would have realised, even three weeks ago. If United play like they did against Chelsea yesterday, then I expect them to go through. Nobody however can say with any confidence how United are going to turn out. I guarantee that Sunderland will fancy this on Wednesday and because of the match's sudden importance, I'm expecting the best atmosphere at Old Trafford since the Liverpool match in the same competition, immediately after the defeat against City in September.
Yesterday saw the very thing that United's custodians didn't want to see. A banner was unfurled (pictured above) in the bottom right hand corner of Chelsea's Shed End, expressing disquiet at the Glazer stewardship of the club. I'm all for protest but there's a time and place for it. When United are 3-0 down at Stamford Bridge and the banner gets released? it must have had the same effect as a fourteen year old child having a tantrum and telling their parents that they hate them. Would the banner have been displayed if United were winning? If the answer is no (and I expect it to be) then it's nothing more than an empty gesture in a fit of pique. The people who took that banner to Stamford Bridge yesterday clearly expected United to lose the match. If they didn't, why did they wait 'til yesterday to display it? The Glazers have been in-situ since 2005. All we've had since then was an originally well intentioned Green 'n' Gold protest in 2010. Ultimately that campaign benefitted nobody and nothing apart from the Warwick Road swag grafters. The only thing that would get rid of those parasites is not some soft banner at Stamford Bridge when United are losing 3-0, it would be the value of the shares, that they've yet to pay for, dipping. The way things are going at the moment, this might happen far sooner than anybody believes credible.