I've seen Liverpool beat United at Old Trafford before. Quite a few times in fact and one thing I can guarantee after a Liverpool win at Old Trafford is that the forecourt that faces onto Warwick Road would be a bearpit. Especially after a result like today. These are different days though. Despite the protestations of protagonists from West London, North London and East Manchester, this fixture has the similar worldwide enticement of Real Madrid against Barca, Inter against AC Milan and Boca Juniors against River Plate. That allure resulted in the forecourt near the Megastore being flooded with smiling Oriental tourists after the game, all wearing half'n'half United/Liverpool scarves. Such was the numbers involved that Man United Fans Blog can exclusively reveal that they can call off the search for the missing Malaysian Boeing 777. The flight covertly arrived at Ringway Airport last night for this match.
Because of the importance of this fixture, rightly or wrongly, a little extra is required from the players. A bit more commitment, a bit more fire and a bit more guts. From the United perspective, there was none of that visible in this risible showing today. Liverpool won comfortably and were well worth their win. The most painful thing is that despite the laughable claims of the giddy visiting supporters of "We're gonna win the league", Liverpool are a good side but nowhere near good enough to win the title. For that, they were a class apart from United today.
 Photo courtesy of Steve Armstrong
United started with decent possession but at no point looked like scoring. When you have a team with personnel like Juan Mata, Wayne Rooney, Robin Van Persie and Adnan Januzaj looking  as lost in attack as they all did, something is seriously wrong.  In the 32nd minute, Rafael earned a yellow card by clattering into Steven Gerrard. The Liverpool skipper rolled on the grass long enough to get Rafael booked before getting up and recovering his gait in just a few seconds. A minute later, a fully recovered Gerrard shown his Lazarus-esque abilities by hitting the perfect penalty past David De Gea after Rafael handballed under pressure from Luis Suarez. The Liverpool players, while understandably happy, were very provocatively celebrating the goal in front of the Stretford End. If United players had ever celebrated a goal in front of the Kop in such a manner, there would be so much moaning that a charity record would be released soon after in aid of aggrieved Kopites.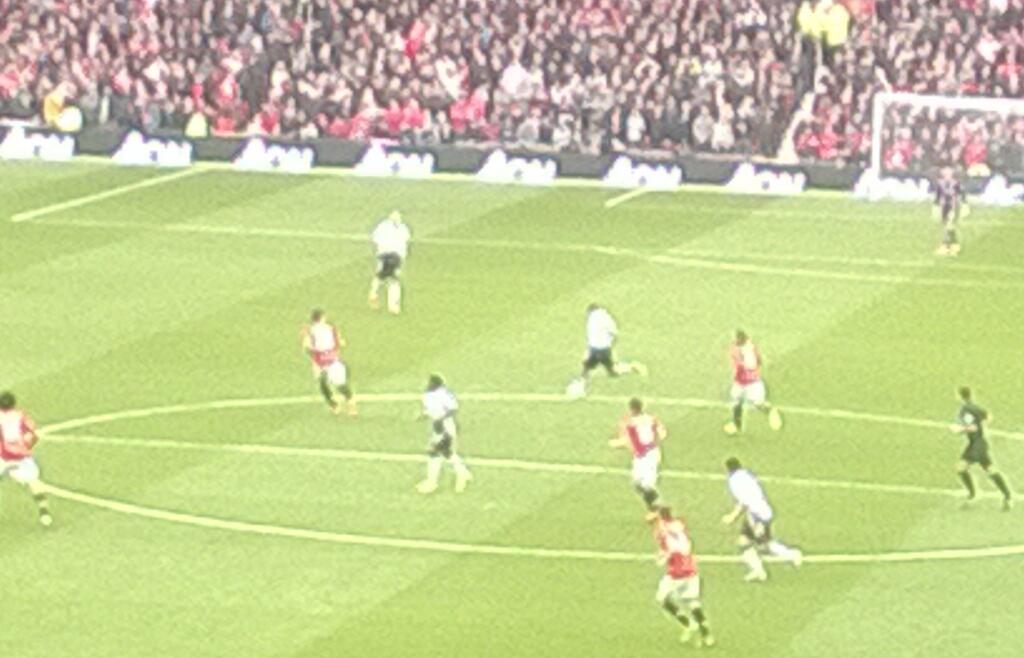 Liverpool kick off what was a very, very long second half for United fans
In the first minute of the second half, Phil Jones gave away another penalty when he clumsily challenged Joe Allen in the Scoreboard End box. The Phil Collins-loving Liverpool skipper Gerrard again put the the perfect penalty past De Gea and from here on in, we knew an abject United were in trouble. Liverpool were well in control with any attack by United thwarted by either incompetence or an expertly marshalled offside trap from the scousers. In the 77th minute, Liverpool won another penalty when the sneaky little shithouse that is Daniel Sturridge dived in the box to both win a penalty for Liverpool and get Nemanja Vidic sent off into the bargain. It will be interesting to monitor the reaction from the media to this despicable bit of sportsmanship and how it compares to the justified panning Adnan Januzaj got earlier in the season. The truly horrible prospect of Steve Gerrard scoring a hat-trick at Old Trafford was now a glaring reality. Gerrard hit the post to elicit the the biggest cheer from the desperate and now relieved crowd of the afternoon. Two minutes after that, Michael Carrick tripped the verminous Sturridge for what was, to my eyes, a certain penalty. Referee Mark Clattenburg waved it away. A couple of minutes after that, De Gea provided possibly his finest ever save when Suarez was clean through. In the 84th minute, Suarez finally got the better of the superb United keeper to wrap up the scoring.
A final score of 3-0 was a relief. This could have been so much worse. David Moyes said after United's last home match, a 2-2 draw against Fulham, that it was as bad as it gets. He's about to realise the fallacy of that statement. The shambles against Olympiakos was a particular low point; today has reached another depth. United's next home league game is against City. A City side that in my opinion are a far better team than the Liverpool players that have hammered United today. Before that, we have the return match against Olympiakos; there's no bravado from Reds about either fixture.
United fans can only hope that Cardiff and/or Swansea stay up as Wales is the only possible country United will be visiting next season. None of our wives or girlfriends will be saying "How bleedin' much?" about Euro aways. Our passports will be having a well earned break – and there's a chance our manager will be too. I'm not sure if David Moyes will have the last laugh, but if he does, you can bet it will be the longest.