Old Trafford wasn't overcome with confidence pre match tonight. Sure we all knew that United could and should beat Olympiakos, but after the first leg and the shambles on Sunday, it was a cautious crowd walking down Warwick Road.
The crowd were frenzied early in the game. The noisy contingent of Greeks in the upper tier of the Scoreboard End were drowned out by the fervour of United fans. This isn't always the case for home matches in Europe but a comprehensive defeat in Piraeus three weeks ago had rallied the Old Trafford crowd in the hope of rallying the team.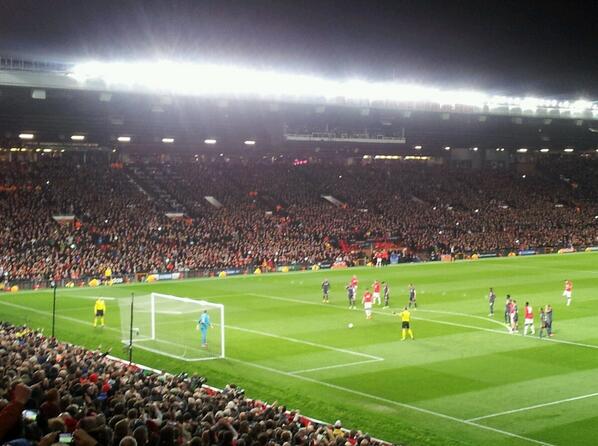 Robin Van Persie opens the scoring in the 25th minute following a push by José Holebas (photo courtesy of Neil Meehan)
In the 16th minute, a Wayne Rooney header bounced of the Roberto's right hand side post of the Scoreboard End. In the 25th minute, for reasons known only to himself, José Holebas pushed Robin Van Persie in the back to gift United a penalty. There must have been a couple of minutes between foul and penalty in which Roberto acted in the most anti corinthian manner with Van Persie as he waited to take the penalty. It was a waste of time for Olympiakos spanish keeper. Van Persie slammed the ball to Roberto's left to lift the roof off the stadium. Two minutes after Van Persie's first, Roberto made a fabulous save from a Patrice Evra header, which only revved the Old Trafford crowd up even more
In the 38th minute, David  De Gea made a jaw dropping double save with both of his legs to really pull United out of the shit. The first save, on his right shin was from a Fuster header. The second was pure instinct as his left foot worked as well as Christy Brown's to stop Dominguez from scoring an easy chance on his near post.
https://www.youtube.com/watch?v=AtVlpIoe2uM
In the first game in Piraeus, the statisticians were out in force, gleefully informing the world that there was only one pass between Wayne Rooney and Robin van Persie all game. I'm not sure how many there was tonight between them but I do know that in first half injury time, Rooney set Van Persie up beautifully to equalise for United in the tie. This goal sent an apprehensive Old Trafford crowd to half time in a boisterous mood.
Ryan Giggs and Wayne Rooney give post match interview to Geoff Shreeves (photo courtesy of James O'Neill)
Seven minutes into the second half following a stupid foul by Manolas on Welbeck, Van Persie completed his hat-trick by wrong footing his nemesis, Roberto, and putting United in front in the tie for the first time. The last 38 minutes were excrutiating. The crowd definitely needed a fourth goal to relax, purely because we all felt that Olympiakos were perfectly capable of scoring an away goal. Whilst United could be sloppy in defence, Rio Ferdinand and Patrice Evra gave a performance of experienced guile. Normally a player scoring a hat-trick would be man of the match but for me, David De Gea was again outstanding tonight and then we have Ryan Giggs. There was a groan amongst people near me when they heard he was starting. It's fair to say he's not the marauding winger who first terrorised defences TWENTY THREE years ago but tonight, he was superb.
Olympiakos didn't score and United's season lives to see another day. The ecstacy on the final whistle was markedly different from the one which greeted a similar comeback against a Diego Maradona led Barcelona in March 1984. Then United were in serious contention to win the European Cup Winners Cup, ultimately unluckily losing to a Michel Platini inspired Juventus side in the semi's. This year's comeback was greeted with more relief than expectation of what United could do in the next round, Looking at who's left in the competition, on present form, I wouldn't back United against any of them with any decent money. I'm just hoping that we don't draw Chelsea as I'd like one more decent Euro away before we start spending Wednesday nights watching Coronation Street for a year or two. Where there's life, there's hope. Maybe United could somehow work a way to the final in Lisbon. It sounds daft, but who in their right minds gave Liverpool a chance against a far superior AC Milan side in 2005? There was exactly the same scenario with Chelsea against Bayern Munich in 2011. Whatever happens, we might as well enjoy it while we've still got it.
http://www.youtube.com/watch?v=FMwgchJDfzA